Got A Sauce That's BOSS?
The Sauces of Honor is the only National Sauce Contest That ANYONE  Can Enter!
Deadline is April 28, 2017. 
Sign Up Here!
Quick and Easy BBQ in 60 Seconds

Charcoal Chimney Steak
A collection of different and fairly simple barbecue and side recipes put together in quick 60 second videos for your BBQing pleasure! We are putting these videos together as a way of showing some different, fun and hopefully easy dishes that will make lighting your fire a more flavorful experience. See the entire collection here…ENJOY! 60 Seconds to GREAT BBQ!
April Issue Cover Story!
The world of barbecue has seen many different organizations come and go over our 27 plus years in the business. Some were gone before they ever got started, and others just could not find enough support to survive. On March 20, 2017, we learned of a brand new sanctioning organization that we think will not only survive, but will actually thrive.
March Issue Cover Story!
Our March 2017 issue features Stan Hayes from Operation Barbecue Relief (OBR) is caught in the act of serving Whole Hog to the crowd that attended the Players Super Bowl LI Tailgate Party that was hosted by Guy Fieri. The fellows were asked to come help cook and serve barbecue to the 2,500 attendees. Without a doubt the OBR crew hit a grand slam and brought a ton of awareness to their very worthy cause!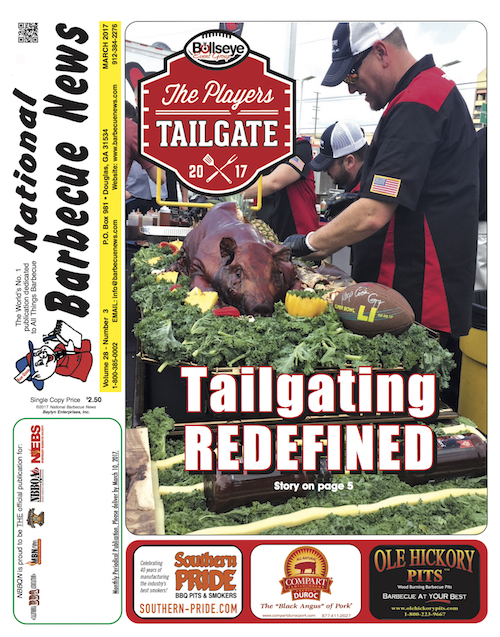 "The Fit Chef" Eddie Jackson talks Whole Hog
By: Kell Phelps
National Barbecue News Publisher
info@barbecuenews.com
We had a chance to catch up with the Fit Chef and Food Network star Eddie Jackson at the Super Bowl LI Players Tailgate Party in Houston. Trust me when I say that this fellow may be a fitness guru but he knows all about "Whole Hawg!"
The interview was part of our Facebook Live event that we did from Houston. The full story about this event is the Feature Story in the March 2017 Issue. Check out our YOUTUBE PAGE for all the other videos and interviews that we recorded from the event that was hosted by Guy Fieri!