Get Your Barbecue Game On
Recent Articles About Competition Barbecue
BBQ Profile: Chiles Cridlin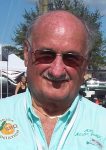 T. Michael Garrison
The Flying BBQ Judge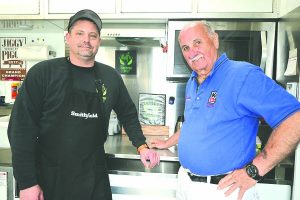 This month I will be presenting a true champion in the competition BBQ World. When he shows up, the other teams respond as he always gets a walk and usually ends up in the top rankings. It's none other than Chiles Cridlin and his team Wolf's Revenge. Years ago he formed a competition team and named it Big C's Stew and Que — a real mouthful. He began getting criticism from mothers and they put pressure on Chiles to change the name. He got together with his 9-year-old God Son to come up with a better name — something to do with wolves. He felt the wolves needed some revenge. They came up with Wolf's Revenge BBQ.
He trademarked the name and it has been his team name since that time. He has two loyal helpers who join him for many of the contests — Barry and Randy are important members of the team. Chiles never had backyard cooking or anything over fire in his background. There are rumors in his family of Q participation that led to bigger things. However, he has never been able to confirm any of these rumors, so he asked me not to mention them in this profile, so I am not.
In 2007 and 2008 he was invited to cook for the Virginia Folklife Association Big Apple Fest. He really enjoyed cooking for a group and he came home with a very nice smoker. Since he had the smoker he decided to compete in a KCBS event. He got a 1st place in Chicken and he was hooked. He never looked back. Soon after he got his first Grand. Today, he has 28 Grand Championships and 29 Reserves. Chiles has competed in 220 contests, so unquestionably, he has an experienced team. He has taught classes sharing his procedures that led to much success. One of his favorite events is the Smoking in the Foothills Barbecue Competition and Festival in Lenoir, North Carolina. After a contest, he keeps his leftovers and takes them home. He shares them with former students, classmates and friends because he doesn't want it to go to waste. As these judges gain experience, they can give him tips and pointers on how he can improve his products for future contests.
One thing that really impressed me about Chiles is that he is giving back to the competition BBQ World. He has served on the KCBS Board for several years. Most recently he chaired the committee that was formed to provide online continuing education for judges. He handpicked his committee from across the country to make sure all areas were represented in the decisions. They developed the Judge Certification Update Program. This involves an online education program that covers several different parts of the judging procedure. Each part is followed by an online test and the participants must get 100% to complete each section. I have taken all the sections in the JCUP program and it was very helpful. There are many judges who took their judge training more than 20 years ago. I am one of them. I really appreciated the refresher classes and they helped me in the judging process. I think serious judges will see the value in this program and take the training. Chiles is always looking for ways to improve his product. He has designed a number of materials to hold his meats while cooking or smoking. Many of these are now commercially available and other teams are using items he designed. Chiles designed his smoker and had it professionally built, and did the same with his trailer. He is even trying out some new items for his brisket preparation at this contest.
He travels to events from his home in Richmond, Virginia. Chiles assist in managing data centers for the federal government. He has irregular hours and has been able to negotiate Fridays off so he can compete in BBQ events. He has a blue star list of sponsors with Smithfield leading the list. Then followed by Royal Oak Charcoal, The BBQ Superstore, Oklahoma Joes Smokers, Heath Riles BBQ, ARP Wood Products, ARShot Southern Honey, and Sweet Smoke Q. Chiles is the type of person we need in our BBQ Family. He is always willing to help other teams when there is a problem and always contributes to the contest where he is cooking and always giving back. He carries this attitude up to his position on the KCBS Board.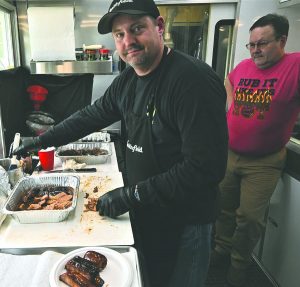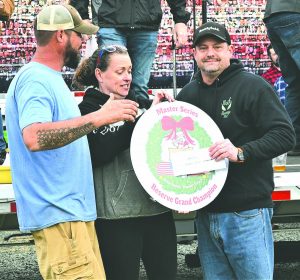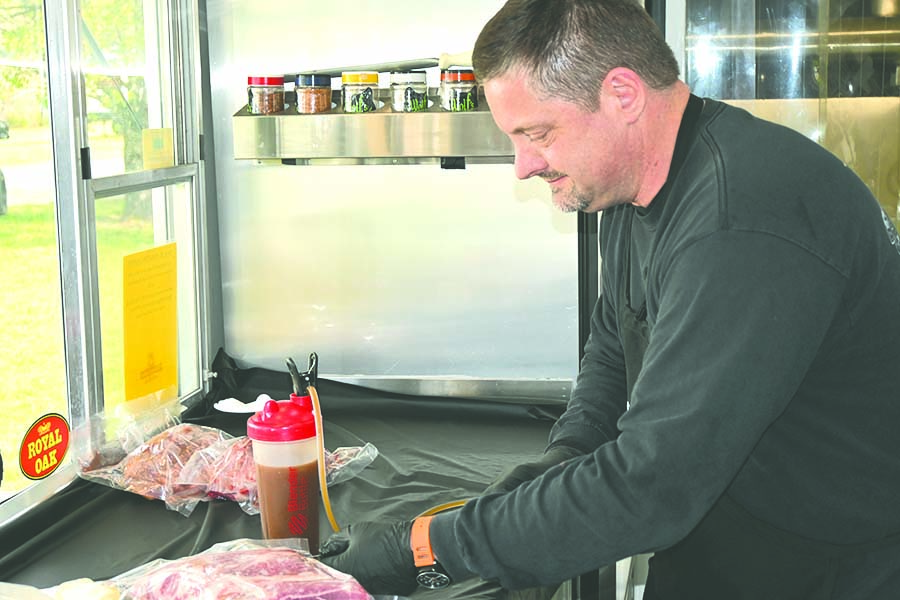 Gotta Get Down to Arkansas!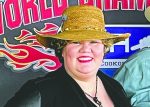 Christy Jones
"All the boys and the girls down there sure do know how to have a ball. If you wanna get down, gotta get down to Arkansas" – Chris Stapleton
I think Chris knew what he was talking about. If you are not cooking in Arkansas right about now, you are missing a lot of fun. Arkansas has established its own points race for SCA steak and ancillaries this year. With over 28 events planned so far, you will have plenty of chances to pick up points.
While there, be on the lookout for Sonya Birkenstock. Although short in stature, she walks tall when the awards begin. She recently finished 25th in the world for the Wamplers Sausage Ancillary in Ft. Worth. She made her way to the Eric Johnson's Esperanza Bonanza and picked up 9th place tacos. The second half of this power couple, her husband Dylan, took 2nd place wings and 4th place ribs that day. If you don't spot them in the crowd, keep your ears open. You can hear this couple having a good time, cheering everyone on throughout the day. Don't be surprised if you hear a little "Mississippi Meat Mafia" chant. True story, their friends once got so excited cheering for the winner that I didn't realize I had won the steak contest. When I finally got up to walk to the stage, they cheered even louder.
Another Arkansas cook you will be blessed to know is Jimmy Davis. Man, if this man isn't a walking inspiration, I don't know who is. He recently traveled down to Ft. Worth to cheer on his friends. He en-couraged us when we needed it the most. Selfless is a word that comes to mind. He is a great cook too. In Marion, he played host to his buddy Dwayne Hunt who make the trip all the way from Florida. Dwayne walked away with 2nd place ribs, 8th place chicken wings, and a whole new love for the SCA family.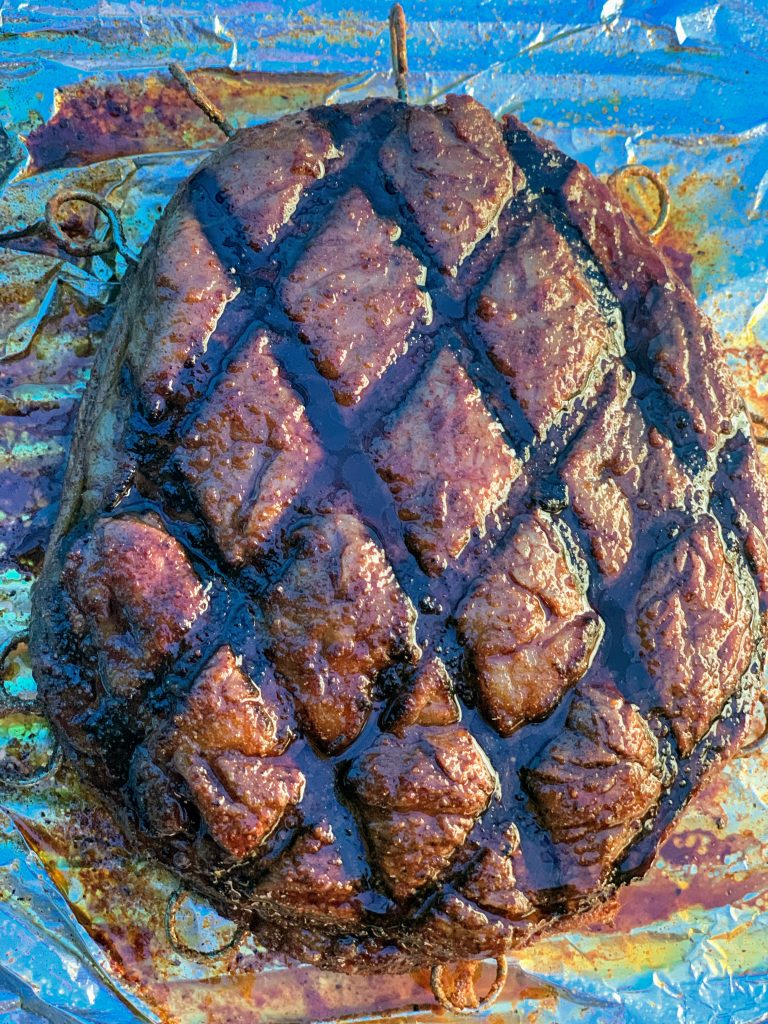 In April, B.J. Green and John Tullos did one heck of a job putting on the Arkansas State Champions in Carlisle, AR. Mark your calendars for their next event Thanksgiving weekend. You can get a little duck hunting in while you are there too.
Head on down to Melbourne, AR on August 13th for the Townsend Spice & Supply Steak Cookoff. With a $2,500 1st place payout, they are making it worth the drive. Bring the kids to compete in the kids pork chop too!
This month's recipe is an easy one. Steak! Bring that ribeye to room temperature, hit it with Big D's Q STEAK OUT.
Let it sweat in for about 10 minutes.
Put it on the grill and turn it about halfway through. Cook to desired temp. Enjoy!
VIEW MORE FROM THIS EDITION HERE!
Bama-Q Captures Action At SCA World Steak Championship
By: Lisa Blackwell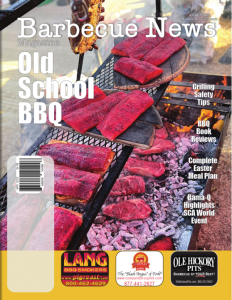 Bama-Q cameras were rolling as cooks from all over the world faced off against each other the SCA World Steak Championship in Fort Worth, Texas. Around 500 teams competed in ancillaries and steak over three days in challenging, roller coaster temperatures. Bama-Q crews roamed the site filming cooks as they put together some of the most creative side dishes we've seen. All of this also included grilling up some of the tastiest steaks we've ever sampled. Check out the cute pig side dish that really impressed us and had everyone asking "How did you do that?!" The show Bama-Q will bring viewers all the action soon on the season "The Steak Out". The SCA World Steak Championship is the finale to an energy packed season of steak coverage on Bama-Q. Bama-Q is a food sport show that stars host Lisa Blackwell and the award-winning cook teams who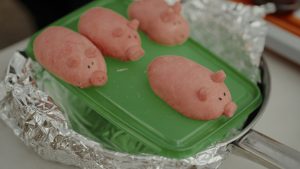 compete in multiple competitions including BBQ and steak. The show streams on the Bama-Q App which can be downloaded on Apple and Android devices, Samsung and LG Smart TV's, Roku and Glewed TV. The Bama-Q App also offers great recipes created by some of the best cooks in BBQ, Live Over the Fire Cooking and Steak on Cooking With Bama-Q. Download the free App today and get in on all the action! You can also find more info about Bama-Q via their website at www.bama-q.tv.
BBQ Profile: Boog-A-Lou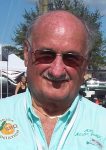 T. Michael Garrison
  The Flying BBQ Judge
This month I am featuring a fun BBQ team. This team is a family affair and has lots of fun when they participate in competitions. Led by Mark Zondervan his team consists of his wife Tina, and son Travis. As far back as Mark can remember his family has always gathered on Sundays for a special dinner. Not always BBQ but always a special meal that is looked forward to and attended by his family. Mark's family still gathers on Sundays for that special dinner and gathering, which sometimes will include award winning BBQ.
Travis developed a keen interest in BBQ, particularly competition BBQ, and that led to the formation of their team: Boog-A-Lou Smoke Crew. Travis had a young daughter that everyone adored. Her name was Brooke but everyone called her Boog-A-Lou. They decided if they ever formed a BBQ team it would be named after Brooke. Mark isn't out to win points or to be on top of any points chase. He does want to know if they can compete with the leaders and score alongside them in the major contests. When they approach the awards stage at a contest, which they seem to do that pretty often, Travis is always out front leading the group.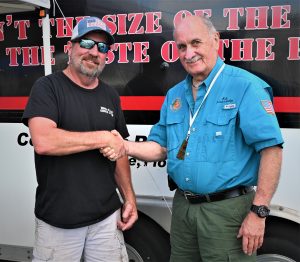 Tina is the fun team member and is almost always clowning around in the photos. You will see that in most of their award photos, she is having a great time, but so are the other team members. Recently at Apalachicola the organizers would only let one member of the team come to the awards stage. When Boog-A-Lou Smoke Crew got a call Mark went to the stage. Just as the award was given and the cameras were flashing the entire team was in formation for the photos, led by Tina.
As Mark reminisced with me over their start in competition BBQ he recalled, "We entered a contest in Suwanee and did terrible." He recalls they were last in just about everything. They got their act together, identified what they needed to do to improve, and then competed in Bainbridge, Georgia. They got two calls and finished 12th overall. Infinitely better than their first try at competition BBQ. Jim Elser from Sweet Smoke Q took them under his wing and served as an advisor. He would show them his entries and suggest they come up with similar presentations. Jim still serves as a sponsor today for their team and Mark and Jim are very close friends. In Jim's own words "OK, I was next to them at their first contest and looking back it didn't take then long to figure out what it takes to be competitive. Boog-A-Lou Smoke Crew doesn't compete as much as some of us but when they show up, they're always in the hunt for a top finish".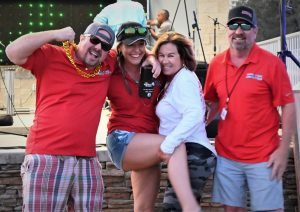 Mark has numerous stories from the contests where he has competed, some I don't feel I can repeat, and many are just what we hear within this fabulous BBQ family. In a contest in Pensacola several years ago it turned cold and I did not bring warm clothes. Mark did not even know me but he loaned me a jacket for the weekend to keep warm until I was ready to fly home. At the time it was very much appreciated. I have observed him helping others in a similar way through the years.
He recalls they have earned a KCBS Grand, an FBA Grand, and numerous reserve awards through the years. Earlier they were competing in a lot of contests but now they only cook about 10 events a year. They have competed in the American Royal, Sonny's Showdown, but yet to get the draw for the Jack.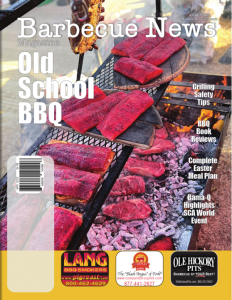 Mark buys his meats from the Butcher Shop in Pensacola. As he made this known more several other teams started buying their meats from the Butcher Shop too. The Butcher Shop is getting so much business he has built a new building just to service the numerous competition BBQ teams. They attribute much of this success to Mark and his association with the BBQ family. Today they actually sponsor Mark's team. Their other sponsor is Rub Bagby and his one man team, Swamp Boys who has been Team of the Year several times in the FBA and is certainly a leader in competition BBQ. He knows Mark well and recently said "Mark, and the entire Boog-A-Lou Smoke Crew, epitomizes everything that is great about the BBQ community. Mark is so down to earth and genuinely caring and helpful to anyone. He's passionate about BBQ as well as his great family. If you have not had the chance to meet him yet, do it! You'll be glad you did." Everyone has nothing but nice thigs to say about this team and gives them nothing but praise.
BBQ Profile: Matthew & Yvonne La Rou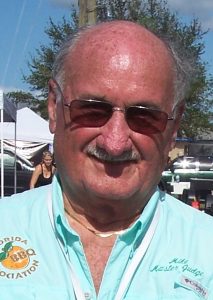 T. Michael Garrison
The Flying BBQ Judge
I have received several emails about last months missing BBQ Profile. I want to let you know how much I appreciated all your comments. I was in the hospital over the end of the year and unable to write the article. As I prepare my articles each month I wonder if anyone ever reads my work. Although I am never happy with missing an issue, I was really appreciative of your comments.
This month I am presenting a very unique couple that I think you will find very interesting. Florida's number one BBQ contest takes place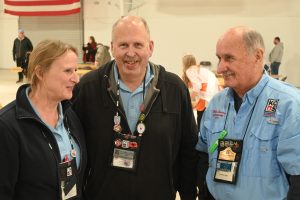 the last weekend in January in Lakeland, Florida. The PigFest draws over 100 teams to the Sun-N-Fun grounds at Lakeland Linder airport. I judged all the ancillary contests on Friday evening and the BBQ contests on Saturday. Sharing my table in the Pro judging was Matthew La Rou, a KCBS Certified judge from The Hague, in the Netherlands. Also judging at the PigFest was his wife Yvonne, a KCBS Certified Judge. The couples' presence in Florida is as Snow Birds. However, when they learned about a KCBS sanctioned contest they decided to judge it and see how BBQ events are done here in the U.S. They couldn't have picked a better one to participate in for sure. This was the 25th year for the PigFest event.
Matthew was exposed to open fire cooking early in his childhood. He was raised in Michigan and his father cooked steaks, Northern Pike and a variety of meats over a gas grill in their backyard. This was a small portable grill, but it was open air cooking over a direct flame. Matthew evolved into charcoal grill cooking with an 18 inch Weber grill and used that a lot from 1976-1989. He still has that Weber charcoal grill today and uses it a lot.
In 2000 Matthew followed the blonde to the Netherlands and there he married Yvonne. That is where they both became more interested in open fire cooking. BBQ was not in the European culture at that time. He reflected that finding BBQ equipment and accessories was very difficult in Europe. Around 2013 Europe started developing an interest in BBQ and stores started offering grills and grilling accessories, sauces, rubs, and what any serious griller needed to practice their craft.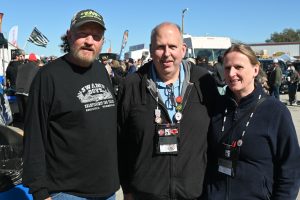 Both Matthew and Yvonne recall watching the TV show Grillmasters and how it made them want to do more grilling. He also recalls the difficulty of finding cuts of meat desirable to most BBQ and grilling folks. He walked into a local butcher shop in The Hague, his hometown, and couldn't believe the lack of meat cuts available versus what he found in Florida. In 2011 he cooked his first beer can chicken with overwhelming success. In 2015 he entered his first Grillmaster chicken in a KCBS contest in Amsterdam. The very first contest he judged was Tony Stones event and has since judged this contest several times. Matthew's next contest was the Regahfest in The Hague. Both have judged this contest several times and have also judged the Suydersee.
Yvonne volunteered to help at the Tony Stone contest, and she was put on the grazing table. She loved that experience so much that she quickly became certified as a KCBS Judge. When talking with Yvonne she explained to me how she loves the taste and variety of meats when smoked but she isn't interested in the cooking part. She has someone doing the cooking for her and that allows her to enjoy eating the end result. Her role at most competi-tions was to run the grazing table. Unfortunately, most events have stopped having a grazing table with all the problems associated with the current pandemic.
Matthew is both a firefighter and an EMT. In his words, "I play with fire in my profession and also in my cooking." His only regret is the limited number of contests in Europe. The last contest, until this weekend, was in Amsterdam in 2019.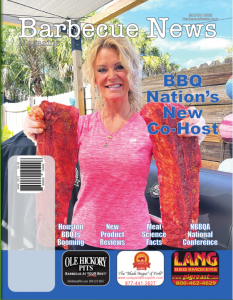 Jim Elser and his team, Sweet Smoke Q, competed in the Pig Fest event which allowed him time to reminisce about this great event with both Yvonne and Matthew. Rub Bagby, from The Swamp Boys, brings another Europe connection to Florida through a judge's class he taught in Amsterdam. They recalled that experience as well while attending Pig Fest. They also appreciated meeting Kevin Sandridge and learning more about the BBQBeat that he runs.
Four teams started a local BBQ competition in the Netherlands but currently Matthew's interest is more in judging than cooking so he has withdrawn his entry from that event. Matthew is currently sponsored by Slow'N Sear, which is a U.S. based BBQ equipment manufacturer. Matthew says cooking with their equipment is a huge improvement over anything he has used to date.
This is a remarkable couple with a true love for BBQ. They continue their love for this wonderful sport that we share, even against all the challenges they face while creating their art in Europe. Please give a hearty welcome from our beloved BBQ Family to Matthew and Yvonne La Rou.
2019 Memphis In May World Championship Barbecue Cooking Contest Results
The sights and smells of World Championship Barbecue Cooking Contest have been smoking out Memphis since 1978. The history of the competition is as rich as the sauce smeared over each piece of barbecue – and it only gets better every year.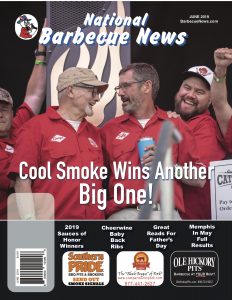 Proud to be the Official Publication of the following BBQ and Grilling Organizations!


Originally it started as a printed newsletter to let avid barbecuers keep track of upcoming events and results from past events. Today we have evolved into a barbecue and grilling information super highway as we share information about ALL things barbecue and grilling.