Most avid Grill masters and Pitmasters love to learn from others. BBQ Cookbooks have a tremendous following and in this section of our website we share with you honest reviews of these books we use as tools to sharpen our skill set.
The Epic Outdoor Griddle; Smashed; Blackstone Griddling; And The Ultimate Big Green Egg
Resident Book Guru
So I'm here today to offer a mea culpa (per Webster's Dictionary, mea culpa – a formal acknowledgment of personal fault or error). I was wrong.
OK, now I feel much better having that off my back.
What's that? You want to know what I'm 'fessing up to? Well, OK, I may as well come clean.
A few editions ago I wrote a review on a book that covered griddle cooking and was naturally geared toward the new Blackstone griddle. At the time, I praised the book but dismissed the need for a Blackstone, saying a $40 Lodge griddle on top of your cooking appliance of choice would work just as well and is much cheaper. I was wrong. And its all my kids fault.
Last November, Blackstone put a four-burner griddle on the Black Friday sale for about half price and my kids thoughtfully chose to get that for me for Christmas. It sat in its box for over a month and it was early February when I finally assembled it. I did the usual cheesesteak on it and it turned out really good. Then I tried smash burgers and they were great. I even put a steak on it – something I thought I'd NEVER do – and it was outstanding. Fast forward to now and I am cooking on the Blackstone every chance I get. I feel pretty certain there are many of you who also got one for some special occasion so today I am reviewing three books on griddle cooking in order to help you find the resources you'll need when you get tired of the familiar rotation of cheesesteaks/smash burgers/fried rice/about anything related to breakfast.
The Outdoor Cook, The Grill Sisters' and Healthy Drinks
Resident Book Guru
If you've read this column for long (and let me say thank you very much to those of you who have), you are no doubt familiar with my lament on books with over-the-top titles, such as "The Ultimate Encyclopedia to Everything There is to Know About Barbecue in the Entire World and Beyond" and similar variations. There's been too many times where I've picked up a book with such a title and unfortunately found them to be lacking in enough meaningful content to even come close to backing up such a boast. It's happened to me so frequently that I oftentimes cast a jaundiced eye upon books making these tall claims.
BBQ Book Of The Year
Resident Book Guru
Where has the time gone? I know, I say that every year, but seriously it doesn't seem like 12 months have passed since we announced the Rodney Scott book as the Barbecue News Magazine Barbecue Book of the Year. Nonetheless, here we are in December again and that means it is time to hand out the 16th annual Barbecue News Magazine Book of the Year award so let's dive in!
First, let's take a look at the state of the publishing world for books on barbecue. It was a bit of a lean year, probably a bit of a hangover from the pandemic. I'd had the privilege of taking part in Brian DeCoud's monthly Zoom meeting of barbecue judges and I'd mentioned to that group how book publishing seems to be in a transition period. The pandemic certainly juggled things, such as those always important PR and media contacts at each publishing house, but technology has also played a role in bringing change. Does that mean every new release is going to be digital from here on out? No, not at all. I still see a strong market in printed books. But things have changed.
BGE Basics and Guinness
Resident Book Guru
I'd reckon that most readers of Barbecue News magazine are familiar with Ray Sheehan, either as a contributor to this publication, the founder of the BBQ Buddha line of sauces and rubs, a member of the BBQ Buddha competition barbecue team or in his latest venture as an author. Last year he released "Award-Winning BBQ Sauces and How to Use Them", which was favorably reviewed in this space. He had quickly followed up with his newest book (released just weeks ago), "Big Green Egg Basics From a Master Barbecuer" ($21.99, Page Street Publishing, 168 pp.).
As an owner of a BGE (shorthand for Big Green Egg), I was amused to see a cover blurb from "Famous Dave" Anderson, referring to a BGE as "the Ferrari of the world's best barbecue grills". BGEs – which is a brand of kamado-style outdoor cooker – are incredibly versatile as they seemingly do very well at both grilling and smoking and also make for great pizza ovens. From my own personal experience, they are a lot of fun to use and are amazingly forgiving when compared to other sorts of grills, smokers and cookers. However, that versatility seems to be a bit intimidating to some and is likely a barrier to ultimately purchasing one.
NBN's 2016 Barbecue Book 

of the Year
By Doug Mosley
Ten Years. 10. A decade. TEN YEARS!
December 2016 marked the 10th year that we have had the p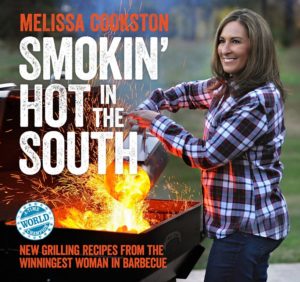 rivilege to present to you the one and only the National Barbecue News Barbecue Book of the Year Award. My goodness, it seems like it was just yesterday I was praising Ray Lampe for his wonderful book, Dr. BBQ's Big-Time Barbecue Road Trip, making it the very first honoree of this award.
Speaking of past awards, let's do our prerequisite review of the previous nine winners:
2007 – Dr. BBQ's Big-Time Barbecue Road Trip by Ray Lampe ($16.95, St. Martins Griffin, 272 pp.)
2008 – The Best Barbecue on Earth: Grilling Across 6 Continents and 26 Countries With 170 Recipes by Rick Browne ($22.95, Ten Speed Press, 254 pp.)
2009 – Big Bob Gibson's BBQ Book: Recipes and Secrets from a Legendary Barbecue Joint by Chris Lilly ($24.99, Clarkson Potter, 256 pp.)
2010 – The Kansas City Barbeque Society Cookbook 25th Anniversary Edition by Ardie Davis, Paul Kirk and Carolyn Wells ($24.99, Andrews McMeel, 318 pp.)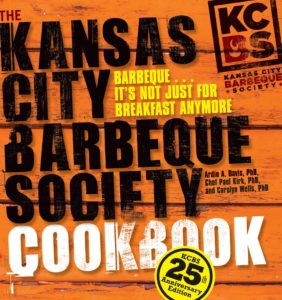 2011 – Smokin' with Myron Mixon: Recipes Made Simple from the Winningest Man in Barbecue by Mixon and Kelly Alexander ($22, Ballantine, 192 pp.)
2012 – Wicked Good Barbecue: Fearless Recipes from Two Damn Yankees Who Won the Biggest, Baddest BBQ Competition in the World by Andy Husbands and Chris Hart ($21.99, Fair Winds Press, 224 pp.)
2013 – America's Best BBQ Homestyle: What the Champions Cook in Their Own Backyard by Ardie Davis and Paul Kirk ($19.99, Andrews McMeel Publishing, 180 pp.)
2014 – : Secrets That Old Men Take to the Grave by Wiley McCrary, Janet McCrary and Amy Paige Condon ($19.99, Gibbs Smith, 216 pp.)Wiley's Championship BBQ
2015 – Franklin Barbecue: A Meat- Smoking Manifesto by Aaron Franklin and Jordan Mackay ($29.99, Ten Speed Press, 224 pp.)
Great books stand the test of time and I'd still today recommend every one of those to be part of every respectable bookshelf of barbecue books. That list is well-represented by some of the biggest names in barbecue, a mix of restauranteurs and competition circuit regulars. To demonstrate just how competitive this is every year, we've only had one two-time winner – co-authors Ardie Davis and Paul Kirk – although others have come very close. Two publishers have won twice – Andrews McMeel and Ten Speed Press – which is likely indicative of the great barbecue books each one turns out every year.
Well, enough with the nostalgia, let's move on to this year's nominees. First, let's review the rules that determine eli- gibility for The National Barbecue News Barbecue Book of the Year Award. To be considered, a book must come from the genre of outdoor cook- ing. Second, a book has to have been printed within the 12 months beginning with the November of the previous year to the November of the current year. This is simply to allow for when this publication goes to press for each December edition in November, but in reality there aren't many eligible books that are released during those months. Once we've arrived at a list of books that meet those qualifications, we whit- tle down the number until we come up with just a handful which we call our finalists. And then, after a good night's sleep, careful reflection and prayers, one of those books is picked to be the winner. So now, without further ado, here are the books that made finalist this year, or in other words: Put each one of these books in your letter to Santa Claus this year.
I know there will be somebody out there who will send me another emailabout my man-crush for Steve Raichlen, but his new book Project Smoke: Seven Steps to Smoked Food Nirvana ($22.95, Workman Publishing, 294 pp.) was easi- ly one of the best books of the year. When you write as many books as Raichlen has it becomes a challenge just to stay fresh and somehow he over- comes that with each new release. Project Smoke is much like his prior books and much different from them as well. If there's a Mount Rushmore to be sculpted of barbecue book authors, I'm making a strong case for his inclusion (yeah yeah yeah, include that in your email of ridicule as well!).
From Raichlen, let's just go ahead and cover my other bromance as well – Guy Fieri. I know he can be a polarizing
figure to many but I still love every one of his books. And his shows. And his restaurants. And his donkey sauce. I found a reason to review most of his previous books in this space even when he didn't talk much about barbecue, so it was a relief to me when he made it easy this time with Guy on Fire: 130 Recipes for Adventures in Outdoor Cooking ($14.99, William Morrow Cookbooks, 352 pp.). It's pages full of his useful flair, edgy recipes and, of course, wild hairdo and tats. Pure Fieri.
You know I always wax poetic when I find books that tell the great stories of barbecue, as I did when I reviewed The One True Barbecue: Fire, Smoke, and the Pitmasters Who Cook the Whole Hog by Rien Fertel ($25, Touchstone, 274 pp.). I don't mind when they skip on the recipes when you have a talented author like Fertel telling a wonderful and wondrous story like this one.
America's Test Kitchen TV show and Cooks Illustrated magazine have always been favorites of those on the competition circuit so I knew right away that Master of the Grill: Foolproof Recipes, Top-Rated Gadgets, Gear & Ingredients Plus Clever Test Kitchen Tips & Fascinating Food Science by America's Test Kitchen ($29.95, America's Test Kitchen, 454 pp.) would be very positively received. It is an impeccably well- done book, as it is with everything from ATK.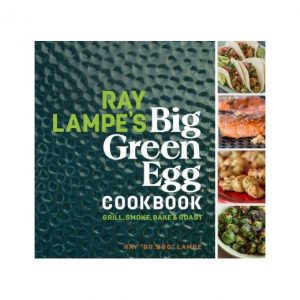 A great friend to all of us, the only surprise from Dr. BBQ in the book he released this month is that he authored it under his actual name. Ray Lampe's Big Green Egg Cookbook ($25, Andrews McMeel Publishing, 160 pp.) is an excellent book that is nearly as entertaining as it was on the message boards back when he was trolling the BGE crowd.
That brings us to two final books. I have gone back and forth on this decision for over a week now. I'd con- sidered making co-honorees but then realized that's just a cop-out. I thought I'd bought myself another month to decide when the lovely Melissa let me know I'd strayed well past deadline for turn-in (but then she gave me a short extension with the unsaid threat that I would be let- ting her down if I failed to comply, and we do not want to be letting down lovely Melissa!). So the time has come, I have to decide…and the decision is…
I absolutely loved Meathead Goldwyn's new book, Meathead: The Science of Great Barbecue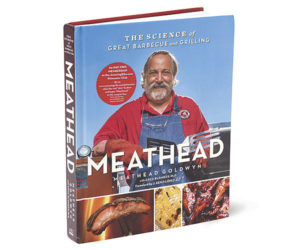 and Grilling ($35, Houghton Mifflin Harcourt, 512 pp.). I loved his brash style, his willingness to be boastful while at the same time having the know-how to back up his claims, even ones that were long-held as gospel. Goldwyn wrote an outstand- ing book, really one of the best I've ever had the privilege to enjoy. It was so doggone good that it finished as the runner-up to this year's winner.
Smokin' Hot in the South: New Grilling Recipes from the Winningest Woman in Barbecue by Melissa Cookston ($22.99, Andrews McMeel Publishing, 192 pp.) is the year's the National Barbecue News Barbecue Book of the Year Award winner. In a year of great books, this one was the great- est. That is likely no surprise to any- one who knows Cookston because she holds herself to an incredibly high standard. In this instance, her first book was super and finished as a finalist for this award. This year she came back with an even better book and clearly earned this honor. So congratulations to Melissa Cookston as this year's honoree and to Andrews McMeel for becoming our first three-time winning publisher.
So with the minutes past deadline clicking away, it is time to say thank you once again for permitting me the privilege to tell you about these books each month. Special thanks to my wonderful editor, Kell, and of course the lovely Melissa Lott.
Enjoy the upcoming holidays, watch some football (Boca Raton Bowl, Tuesday, December 20, 7 p.m. ET on ESPN), ring in the New Year and come back here in January for many more great books on barbecue.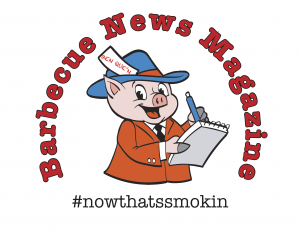 Originally it started as a printed newsletter to let avid barbecuers keep track of upcoming events and results from past events. Today we have evolved into a barbecue and grilling information super highway as we share information about ALL things barbecue and grilling.
© 2022 National Barbecue News:  Designed by ThinkCalico