Testimonials From Our BBQ Buddies 
The National Barbecue News has been the source for barbecue news since we started on the competition circuit in the late 1980s. The Phelps family's commitment to and championing of barbecue has never wavered. We're proud supporters of the National Barbecue News! ~ Mike Mills
National Barbecue News has been an invaluable resource in promoting our restaurants and our consulting business. If you want to know the latest and greatest in the world of barbecue, this is the place. ~Amy Mills
     The National Barbecue News is your gateway to BBQ Success! As the co-owner of The Shed BBQ & Blues Joint I find that two of the most important keys to our success is our Networking and Marketing.  These go hand and hand, yet serve different purposes in our everyday business.
      The National BBQ News serves as a perfect gateway for both our National marketing campaign and networking with our fellow BBQ industry partners across the Nation.
      The Shed BBQ and Blues Joint has many fascists in the Industry from slinging Que at our home base restaurant in Mississippi to our proprietary sauces on grocery store shelves nationwide and our traveling BBQ competition team. Through our subscription and advertisements in the National Barbecue News we have met many of our BBQ mentors, partnered with other BBQ companies to excel our brands, and gained new customers across the Nation. Regardless of the barbecue message we are trying to get across, the National BBQ News satisfies our demand and meets our advertising budget! Not to mention, the Phelps' are a one of a kind, genuine family that makes us feel proud to be in the BBQ Business!
When you think of influential people and the impact they've had on their profession you have to think of Elvis Presley and his impact to Rock N' Roll, Micheal Jordan and his impact on basketball and even Tiger Woods to the world of golf. When you think of products and their influential impact to their industry—there is no denying the impact Harley Davidson has had on The World of Motorcycles. Now when it comes to barbecue you can't help but think Kingsford when it comes to charcoal or Weber Kettles when it comes to grills. In The World of Barbecue there are many Pitmaster Legends like Tuffy Stone, Melissa Cookson, Johnny Trigg, Mike Mills, Brooke and Brad Orison, Big Moe Cason, Dr. BBQ and of course Myron Mixon. BUT when it comes to Barbecue News there is no doubt that Kell Phelps and The National Barbecue News is our own Walter Cronkite to The World of Barbecue News! Kell Phelps is like our own Billy Graham of "The Good Barbecue News" traveling the country and spreading the love of all things barbecue. If you're as passionate about all things smokey, firelicked, and charred—like I am—then there's no doubt you are a big fan of The National Barbecue News. Every month I can't with to get my sauced & sticky hands on the latest issue of The National Barbecue News. Everything you need to know about barbecue is inside those pages and whether it's a new smoker you're looking for, or you need a new rib rub or BBQ Sauce… some well known BBQ Guru is spilling the beans on their secret award winning recipe. The latest news about all things barbecue and the latest on  big bbq competition winners —its all in The National Barbecue News. I'm a huge huge fan. I keep my current issue with me wherever I go—maybe that's why I'm "Famous?"— if you love all things barbecue you'll love The National Barbecue News too—get yours now and devour it!
As a past two time winner of the shoulder category at Memphis in May and owner of five BBQ restaurants, we at Lillie's Q have great respect for theNational  Barbecue News.  It gives us us new ideas and methods to improve and gain advantages over our competitors.  If you aren't using the National Barbecue News to increase your business and winnings, you will always be looking at our back!
The National BBQ News has been our "go-to" information source since The Paradise Ridge BBQ Team was formed. It's informative to all barbecuers. Its a got a down to earth style… and if you knew Poppa Joe or know Kell… you can tell it comes from the heart. It's the classic definition of "make the best you can every time"…and isn't that really what we all strive for every time we "fire up"?
When you read the tag line, "The World's No. 1 publication dedicated to All Things Barbecue" you can take that to the bank.  The National Barbecue News was started by the Phelps family to give the BBQ community a guide to the what, where and whens, of all things BBQ.  Fueled by the passion of the Phelps family, National Barbecue News is also an extremely important educational tool. Filled from cover to cover with recipes and wonderful articles, National Barbecue News  appeals to all levels in the bbq industry; BBQ the Backyard, BBQ the Business and BBQ the Sport.  The National Barbecue News is truly a sincere friend to our industry.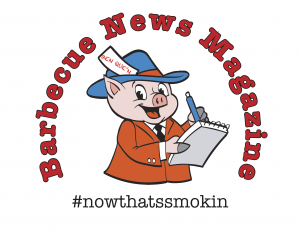 Originally it started as a printed newsletter to let avid barbecuers keep track of upcoming events and results from past events. Today we have evolved into a barbecue and grilling information super highway as we share information about ALL things barbecue and grilling.
© 2022 National Barbecue News:  Designed by ThinkCalico