Welcome To The Backyard
Everything You Need Know About Backyard Barbecue
March Issue Cover Story!
Our March 2017 issue features Stan Hayes from Operation Barbecue Relief (OBR) is caught in the act of serving Whole Hog to the crowd that attended the Players Super Bowl LI Tailgate Party that was hosted by Guy Fieri. The fellows were asked to come help cook and serve barbecue to the 2,500 attendees. Without a doubt the OBR crew hit a grand slam and brought a ton of awareness to their very worthy cause!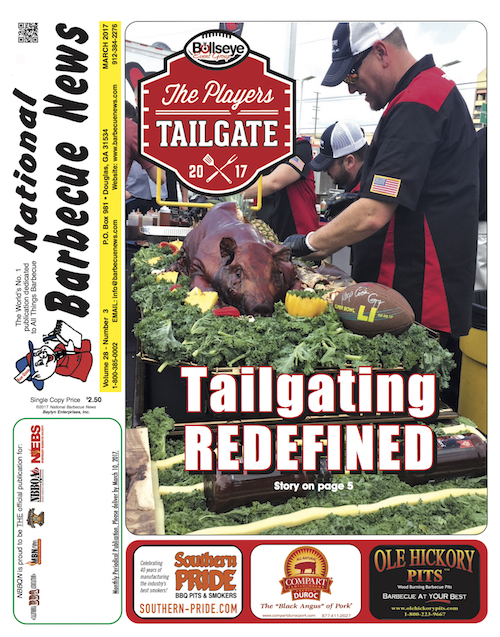 Fireboard really measures up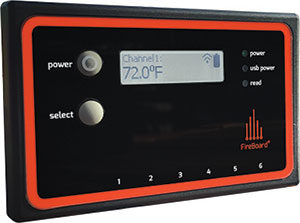 By NBN Cooking Crew
High tech devices have left a lasting impact on the barbecue world. Let's face it…if you are guessing or not really sure of any step of your barbecue process, then you simply should be looking  to educate yourself. The amount of information on the barbecuing process is really astounding, and just about everyone of the correct articles, blogs or stories tells you that temperature is the biggest secrect of all.
A few weeks after Iowa Smoky D's BBQ won the Sam's Club Invitational, Darren Warth shared his thoughts about why his team is so sucessful in the competition and restaurant arenas.
"When I taste other people's BBQ, it all tastes the same. People get tied up on the taste, and they forget about the tenderness. I am really good at producing the right level of tenderness in my meat."
Tenderness is defined by doneness and that is without a doubt going to be measured by internal temperatures.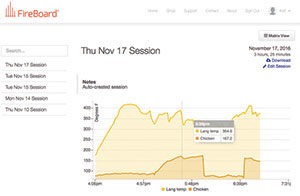 Photo by NBN Cooking Crew
View from computer tracking a chicken cook
The new FireBoard is a very tech-savvy and super easy-to-operate temperature measuring device like few others we have ever come across. It offers literally hundreds of different was to use it, while being smart enough to text or email you what is happening at your pit while you are away. The control unit is just barely bigger than the average business card at 3.9 " wide by 2.4″ high by 1.1″ deep. The complete unit is easy to transport and super easy to set up.
The Fireboard uses both Bluetooth and wifi technology and includes a very useful smartphone app to help keep you aware of what your pit or grill is doing. The control unit also uses a Li-ion rechargable battery, so there is no need to have an electrical outlet to run it. It can even be recharged by a portable USB power pack during the middle of a cook. Another really neat feature is the Fireboard actually offers a Cloud service with each unit, so you can always see how your pit changed with different situations. All of this information can be seen from your home computer or smartphone app.
Compared to simular units we have tested in the past, the FireBoard is world's apart from most of them, and because of that fact, this unit will cost a little more. We also suggest not letting the baker of the house see this unit in action, as it might cause it to go missing from the pit area and be found on the kitchen counter measuring the oven and all of its creations. Its ability to measure six different items at once is really what sets it apart from other thermometers.
The base unit comes in at $189 and comes with the unit, one ambient probe, grill quick clip, and one food probe. They also offer an Extreme BBQ Edition package that includes six food probes, two ambient probes, two quick grill clips, and the operating unit itself for $249. The unit we tested was the basic unit, but when we order, there is no doubt we will order the bigger package.
You can find more details about this super new BBQ-friendly product on their website at www.FireBoard.com, by calling at (816) 945-2232, or by emailing them at info@FireBoard.com.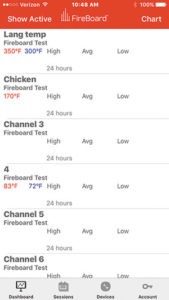 Photo by NBN Cooking Crew
iPhone app view of Dashboard
Smoker or work of art?
You be the judge!
Photos by Otis Griffith
Otis Griffith, a UK self-taught welder and artist, has been creating various art-forms for around 20 years using recycled and new materials He has just finished his latest project for those sunny days in the garden. The Truck BBQ is a 6 foot long 2 compartment BBQ (traditional grille and  slow roaster) weighing in at approximately 18 stone/120 kg /250 lbs. Otis hopes to make more of these bespoke BBQ and welcomes commissions.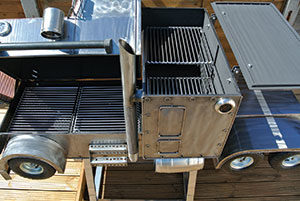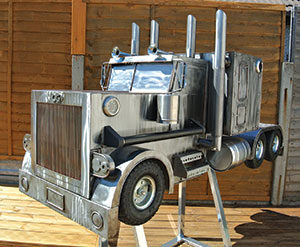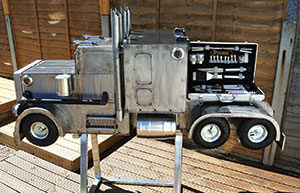 Reverse-flow custom smoker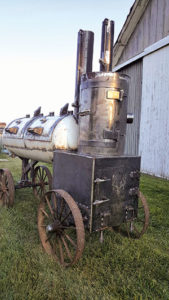 Photo by Derek Artz
Derek Artz of Hagerstown, MD, is almost finished building a reverse flow smoker. This all-custom work smoker will be sandblasted and painted soon.