Dan Pastorini's Rub Collection scores big
While attending the Players Tailgate for Super Bowl LI, we got to meet and chat with Dan Pastorini, who was not only a childhood football hero but also a hero in our teenage years as an NHRA Top Fuel Champion driver. Little did we know before seeing him that he is also a huge barbecue fan and is actually producing his own line of barbecue rubs.
Guy Fieri told us, "This is the stuff I use every day and use a lot of it." That's when we jumped at the chance to give them all a try. Little did we know all the barbecue that we got to eat at the tailgate party had been seasoned with these products…including the whole hogs from the front page!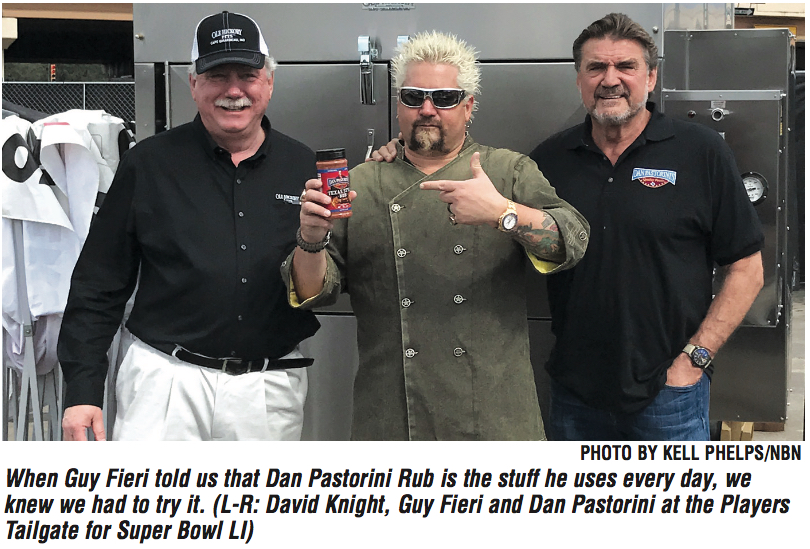 Kettle grill attachments from Grillin Solutions
By: Barbecue News Cooking Crew
Over the years, we have used kettle type grills as a standard for our product tests. Any time new attachments for this type of grill come along, we love to give them a whirl, but sadly many of them will not make the grade to be included here. The new Grillin Solutions attachments have proven worthy of being shared with you and is also now on our top five list of best grill helpers for kettle type grills.
Photo by NBN Cooking Crew
Whole chicken on rotisserie unit
The attachment these guys have produced will turn your kettle into a Santa Maria style pit by offering a way to raise or lower your grilling grate. They have also designed a way to take the grate off and use a rotisserie unit with the attachment. We used the attachment both ways, but we fell in love with the rotisserie unit after we did a whole pork loin using the Bandito's BBQ seasoning that they sent with the unit. No offense to any Georgia Barbecue Association cooks who prepare these as part of their competitions, but this was hands down the most flavorful pork loin we have ever tasted! The only draw back to using this in a competition would be the small hole in the center of your entry might disqualify you or cost you a few points on presentation.
The attachment that we tested was a prototype and was sent to us even before they had their website up and going. We actually questioned them about a few rust spots that we saw popping up, and they have since added a stainless steel ring and crank handle on the units. The rust issue was the only negative thing we noticed about the unit, but the stainless steel will most certainly fix that issue. We really loved using this attachment because it opens up a different style of cooking without having to purchase another complete grill or pit.
The unit itself lists for $174.99, and set up is super simple, very easily attaches to your kettle style grill in minutes. The rotisserie attachment is listed at $119.99 and even accepts a few different baskets they have designed as well. You can find a video on our Facebook page where we were testing the unit and find more details about Grillin Solutions on their website at www.GrillinSoutions.com. The Bandito's BBQ seasoning is made and offered as well by Oak Pit BBQ Company from Arroyo Grande, CA. You can find them on the web at www.OakPitBBQco.com.