2013 Sauces Of Honor Top 10 Winners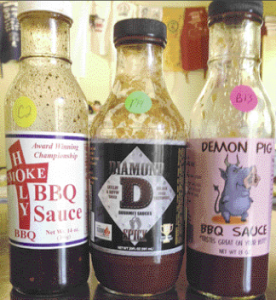 Top 10 Chicken Sauces
 1) Holy Smoke BBQ Sauce
 2) Memphis Barbecue Co. Original BBQ Sauce
 3) Diamond D "Original" BBQ Sauce
 4) Jenks "Sugar Britches" Sweet & Sticky BBQ Sauce
 5) Eroc's "Black Cherry Mango"
 6) Sweet BBQ Sauce from Wellspring Bar-B-Que
 7) Lynch BBQ Sauce – Spicy
 8) Uncle Kenny's BBQ Mustard Sauce
 9) Sam Dog Barbeque Brown Dog
10) Diamond D "Spicy" BBQ Sauce
Top 10 Pork Sauces
 1) Diamond D "Spicy" BBQ Sauce
 2) Lynch BBQ Sauce Original
 3) Eroc's "Peach-Bourbon-Pomegranate"
 4) SuckleBusters Original
 5) Uncle Kenny's BBQ Mustard Sauce
 6) UBONS Sauce
 7) Uncle Kenny's BBQ Original Sauce
 8) Smoky Jon's Original
 9) Lynch BBQ Sauce- Spicy
10) Southern Soul's Sweet Georgia Soul Signature BBQ Sauce
Top 10 Beef Sauce
 1) Demon Pig Original
 2) Jenks "Sugar Britches" Sweet & Sticky BBQ Sauce
 3) Millie's Sweet & Tasty
 4) Eroc's "The Other Sauce" (Blackberry Based)
 5) Lynch BBQ Sauce Spicy
 6) Millie's Sweet & Spicy
 7) Smack Me Hard Smackin' Sauce – Hot
 8) Original BBQ Sauce – Memphis Barbecue Co.
 9) A Lil'Cocky – Jeff Deckard
10) Diamond D "Original" BBQ Sauce
READY TO BBQ?
Find your next event HERE!
Steak Cookoff Association

KCBS

International BBQ Cookers

California BBQ
[wp_bannerize group="Ending Ads" random="1" limit="1"]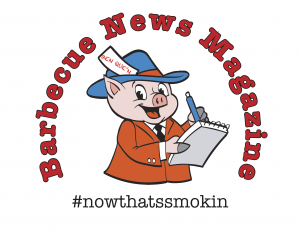 Originally it started as a printed newsletter to let avid barbecuers keep track of upcoming events and results from past events. Today we have evolved into a barbecue and grilling information super highway as we share information about ALL things barbecue and grilling.
© 2022 National Barbecue News:  Designed by ThinkCalico