Award Winning Really Does Make A Difference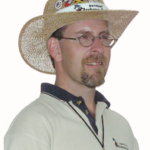 By Kell Phelps
Publisher, National Barbecue News
Is there any better feeling than getting confirmation from those for who you are working? I honestly believe that the occasional pat on the back can do wondrous things for people. These simple gestures of approval can have enormous effects that can become immeasurable in certain situations. Your National Barbecue News just received one of these pats on the back, and it has stoked the fire that causes us to keep smokin' at a crazy fast and furious pace.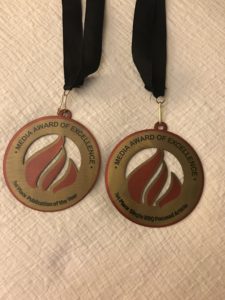 Your National Barbecue News was just awarded the Media Award of Excellence as "Publication of the Year" by the National Barbecue & Grilling Association. In addition to this, I personally received the award for the "Single BBQ Focused Article" with the October 2017 article that focused on how Operation Barbecue Relief efforts in Houston and Florida used barbecue to supply the needs of those impacted by the storms by providing them with a much needed hot barbecue meal. We have always loved and enjoyed working for YOU…our readers and advertisers over the past 28 years. Getting positive confirmation from the folks you are working for is very satisfying. Knowing that barbecue fans from every aspect of life are enjoying the fruits of our labor is going to help us push harder than ever before to bring the positive spin of all things barbecue to YOU…our readers, followers, subscribers and advertisers.
We would not or could not continue to function without our support staff of contributors. We are in the process of having copies of the award for "Publication of the Year" made and delivered to every writer and contributor as their efforts are truly immeasurable to the monthly publication and without that "Award Winning" content the magazine would not exist. Can you imagine how lame this issue would be without having Doug Mosley book reviews, Ardie Davis tales from the BBQ world, FBA info from Dana Hillis, Funny Man article from Vic Clevenger or photos from Frank Boyer? What if those amazing recipes from Steve Collins, Ray Sheehan, BBQ Hall of Famer Paul Kirk, Kent Whitaker as well as others were not inside each month? What if the monthly updates from the California BBQ Association, Minnesota Barbeque Society or Northeast Barbecue Society were missing each month? Or what if new contributors like Saffron Hodgson was not sharing her travel experiences and recipes with you? YOU would most likely pass on your annual subscription….and I cannot say that I would blame you!
I have always been told and totally understand that it is better to give then receive, but I would be lying through my teeth if I said this pat on the back doesn't feel really good. In reality, I hope it feels as good to the dozen or so content creators that will also be getting a medal as well!
Until Next Month…Keep It Smokin'
Kell