Funny Car Champ Smokin' More Than Tires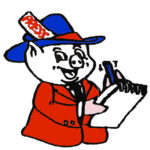 Mr. Ben Que'n
Stories/Info from our readers
Photos courtesy of Kasha Burlington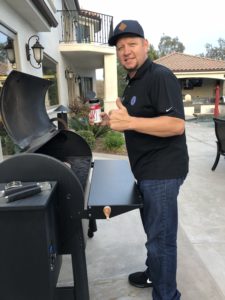 Two time and defending NHRA Funny Car champion Robert Hight knows all about how to light up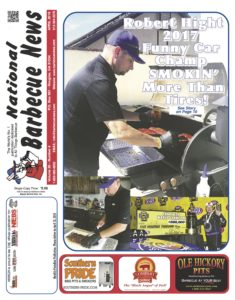 a set of tires during the burn out process of a pass down the drag strip. Lucky for his family, friends and entire team he also knows how to fire up a barbecue pit for some tasty treats at home and at the track. Your National Barbecue News crew had the opportunity to ask Robert a few questions about how he mixes his racing life with his BBQ hobby.
NBN: Drag Racing and BBQ are indeed totally different speeds of life. How do you mix the two into one weekend at the track without getting distracted or losing focus on your job?
RH: Drag racing and BBQ are definitely 2 different speeds. When at the races, I only cook for my team and it isn't an all day process. Gotta stay focused at the races. Sometimes on a Thursday, (day before the race) I will make ribs, which could take 6 hours. Drag racing is all about science and trying different things to go quicker and faster. BBQ is very scientific also, and you gotta try new things all the time to make the food taste better.
NBN: Tell us a bit about how or who got you into BBQ and grilling?
RH: I have always liked to cook and be outdoors. After a long weekend at the track, I enjoy being in the backyard grilling and having a cold one. After being on the road so much and eating in restaurants all the time, it is nice to eat home-cooked meals. Also eating in restaurants all over the country gives you new ideas to try when you get home.
NBN: What is your favorite meat or item to grill/smoke and what items does your team always ask you to cook?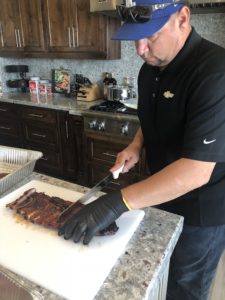 RH: I think my favorite thing to grill is ribs. It is fun to try different rubs and sauces all the time to try and come up with something that is your own. My team always requests the ribs.
NBN: Would you consider yourself a low & slow type of cooker or hot and fast?
RH: Usually at the track, I am in a hurry, so it is hot and fast. Nothing better than a good steak! If I am at home on an off day, I try to make something that takes most of the day to cook. That is usually when I will watch the NHRA races on my DVR or watch a NASCAR race. Also you can play quite a few games of cornhole while grilling ribs or brisket.
NBN: What is your favorite style of grill or smoker?
RH: I would definitely say my favorite grill is the Traeger pellet grill! Nothing like the taste of real wood smoke! These grills make it easy to cook like a real pitmaster.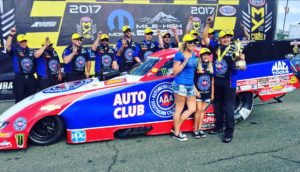 NBN: Have or will you ever compete in a BBQ or grilling contest?
RH: Unfortunately there aren't a lot of BBQ competitions where I live in Southern California and with my racing schedule, it is hard to make it to competitions. I want to definitely check out how the competitions work and try my hand at it in the near future. I even have a name for a team, 340 MPH BBQ! Would you like to ask Robert a question about his barbecue and grilling?
We will have the opportunity to hang out and cook with his team and family when they come to Atlanta Dragway for the Southern Nationals on May 4 thru 6, 2018 and we will indeed be doing another article all about that event. Email your questions to us at [email protected] and be looking for that follow-up article for Robert's answers to your questions. We can not guarantee we will get them all answered but will certainly do our best!