Barbecue Heaven in Houston
Although the first day of April is "Fools' Day," everybody knows that trickery isn't limited to one day of the year. Brer' Rabbit, Anansi, Raven, Coyote, and more than a few people you know, can be tricksters any day of the year. Maybe you're one!
Regarding barbecue excellence, however, readers of the National Barbecue News can't be fooled. You can see, smell and taste the difference between "barbecue beef" smothered with sauce and roasted without as much as a puff of real hardwood smoke ever touching it, versus a genuine slice of tender, slow-smoked, lightly seasoned beef brisket kissed with real oak, hickory, pecan or other hardwood smoke. Real barbecue is what we're about, and that's what friend and barbecue buddy Brian Nowotny and I got in abundance at the 46th Annual Houston Livestock Show & Rodeo World's Championship Bar-B-Que Contest. We also devoured some top-notch barbecue at Tejas Chocolate & Barbecue, Corkscrew BBQ, Burns Original BBQ, the Texas Social Club, and on Saturday when Brian judged ribs and I judged brisket.
After de-icing in Kansas City and flying to Houston, Cousin Larry Davis met us at the Hobby Airport and took us to Cousin Alfred Davis' estate in metro Houston near Needville for a full day of family visiting with Alfred, Linda, Larry, Leon, Betty, Sherman, Tim, Calvin, Jason, Edwin, and Howard while feasting on homemade smoked venison sausage, fried catfish from Alfred's pond, Gulf shrimp, pickled jalapenos, fries and "Bohemian Apples" (aka sweet raw onions, per a Bohemian friend of Alfred).
When it was time for farewells, Larry and Tim drove us to our lodging in downtown Houston so we could get an early start on our full itinerary of barbecue judging, socializing with old and new barbecue friends, and checking out three outstanding Texas barbecue joints, plus a legendary chicken fried steak, a brewery tour of Saint Arnold's Brewery and some outstanding Mexican coastal kitchen cuisine at Caracol. The NRG Stadium/Astrodome complex and Texas Social Club was our home base. We walked, Ubered or took the Metro with a $3 day pass to our destinations.
Houston Eats
Our 4-day feast, if assembled on a Texas-size platter, would overflow with cornmeal crusted deep fried catfish and Gulf shrimp, French fries,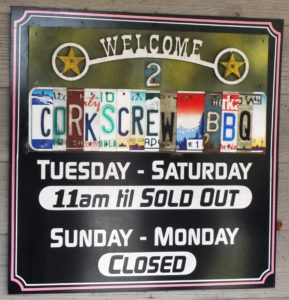 sweet onion, pickled whole jalapenos, empanadas, Mexican salad, tortilla chips, salsa, a huge chicken fried steak, more French fries, green beans, cream gravy, rolls, sliced bbq brisket, bratwurst, sausage links, spareribs, potato salad, pinto beans, chopped/sauced bbq beef, sauced bbq rib tips, sweet raw onion, dill pickle chips, Gulf oysters on the half shell, wood-roasted Gulf oysters, Mexican paella, grilled Alaskan halibut, steamed/seasoned sweet potato slices, charred broccoli, whole hog bbq pulled pork, more brisket, potato salad, beans, corn and of course some slices of bunny bread. What a feast to behold and enjoy!
Maybe the feast at Cousin Alfred's set the bar so high that nothing else would have satisfied us for dinner Wednesday night. Whatever the reason, we decided to try a downtown Tex Mex restaurant with a catchy name. It looked inviting from the outside: packed with a mix of GenXers and Millennials in business casual engaged in animated conversations over colorful plates of nachos, quesadillas, tamales, tacos, enchiladas, fajitas, margaritas and bottles of lime wedge-corked Coronas. Bottom line: nice ambiance; attentive staff; unremarkable Tex Mex fare.
Upon advice from a friend who was raised in Houston, Kansas City orthopedic surgeon, Scott Cook, we Ubered to Tomball on Thursday morning for breakfast at Goodson's Café, also known as "Ma Goodson's." Goodson's is famous for "The Best Chicken Fried Steak in Texas." Here's what Brian said: "As a native Texan Ma Goodson's Cafe was like coming home. It has all of my favorites on the menu, including a must-try chicken fried steak. Pounded thin and tender, with a crispy crunch and ready to be doused in their peppery cream gravy; it's the perfect Lone Star bite! Ma Goodson's captures the authentic feel of a Texas 'Y'all come back' diner experience, exuding the warm and friendly hospitality that we Texans are famous for." Well said. It was a memorably delicious, hearty breakfast experience. Thank goodness we halved the steak, gravy, rolls, fries and green beans, since it's unthinkable to skip Tejas barbecue while in Tomball.
We decided to walk two miles from Goodson's through mist, sprinkles and a temporary downpour for an encore graze at Tejas Chocolate &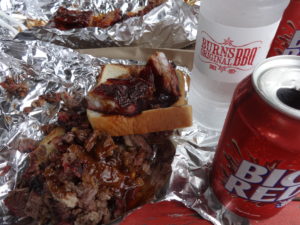 Barbecue. It was worth the trek, even though when it was our turn to order they were sold out of the Chile Relleno sausage and beef rib pastrami that we had hoped to try. Our order of bratwurst and brisket with Big Red sodas was heavenly: juicy, tender, smoke-kissed. No need for sauce, although the sour/sweet/tomato- vinegar base table sauce reminiscent of Luling City Market was perfect for dipping.
Before heading to the barbecue contest grounds on Friday, we made three stops. The first was Corkscrew BBQ in Spring. When we arrived, the large dining room was full. Sheltered picnic tables were available for overflow seating next door. A line of eager eaters stretched to the back of the building. At least a hundred hungry customers were ahead of us as the line moved steadily forward. After a worthwhile wait we ordered a moist and lean brisket combo with sausage, spareribs, potato salad and tall cans of cold Lone Star, the "National Beer of Texas." By then some indoor seating was available.
All I can say is, co-owners Will and Nicole Buckman serve outstanding barbecue. No wonder so many people line up each Tuesday through Saturday to partake of Corkscrew BBQ until they're sold out long before the sun sets. And it says a lot about their character that in the midst of another busy day they took time to holler a friendly howdy from the kitchen, and they honored my request for their autographs in my travel journal. Later, Nicole invited us to see their red oak-fueled pit and visit with Will as he loaded Saturday's trimmed and rubbed briskets. Will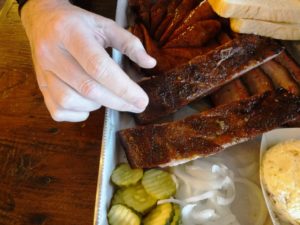 and Nicole's quelinary talents, business savvy and Texas hospitality earned Corkscrew recognition as one of Texas Monthly's Top 50 best barbecue restaurants in Texas. Put Corkscrew on your Bucket List. You'll have no regrets.
We browsed in downtown Spring, then Ubered to Burns Original BBQ in Houston's Acres Homes neighborhood. There was a late afternoon line, mostly for carryout. The line moved right along, and we were soon seated at a picnic table beneath a sheltered outdoor patio adjoining the kitchen and order/pick up counter. Our chopped beef sandwich and rib sandwiches were amply smoked, a step short of tender, and perfectly complemented with a signature house sauce made of water, black pepper, Worcestershire sauce, tomato catsup, mustard, instant coffee, unsalted butter, sugar, chopped yellow onion, chopped green bell pepper, picante salsa, barbecue sauce and peeled lemon. It was delicious. The chopped beef sandwich reminded Brian of the barbecue sandwiches from his Texas childhood and me from my Oklahoma childhood.
What was lacking in our earlier Tex Mex dining was more than redeemed at Caracol Mexican Coastal Kitchen. Since last years' experience with Chef Hugo Ortega's Oaxacan cuisine at his Xochi restaurant was outstanding, we expected similar quality at Caracol. We started with a tasting flight of 4 different high-quality mezcal samples, the last one being our favorite for its smooth, smoky flavor. Appetizers of Gulf oysters on the half shell with 2 sauces and horseradish, followed by wood-roasted Gulf oysters seasoned with chipotle butter, cheese and bread crumbs were fantastic. Brian's entree order of Mexican Paella, and my Alaskan halibut with seasoned slices of sweet potato and charred broccoli was totally satisfying, leaving no room for one of Caracol's famous desserts.
The 46th Annual Houston Livestock Show & Rodeo World's Championship Bar-B-Que Contest
Access to the barbecue contest grounds is by way of a full-on panorama of Midway-style eats, rides, and games of chance. Deep-fried Oreos, corndogs, cotton candy, turkey drumsticks, onion rings, curly fries, popcorn, basketball, beer pong, break a dish, duck derby, ring a bottle games, Ferris wheel, bumpers cars and more, compete for your dollars. We kept our eyes on the prize and headed straight to the barbecue contest, where 251 teams from the USA and other countries were set to compete for Grand Champion of the World's Championship Bar-B-Que Contest.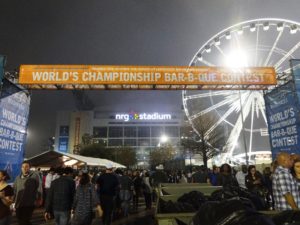 Bar-B-Que Contest Admission Tickets cover access to the carnival and the barbecue contest grounds, featuring live music, cold beer, and a complimentary brisket plate with chips and beans. Access to most of the cooking team tents is by invitation-only. Good eats and beverages plus other perks vary.
A large tent almost the size of a football field houses volunteer and judge hospitality as well as a secure section at the back reserved for judging chicken, pork ribs and brisket in that sequence. Thanks to friendly and efficient volunteers, it's a smooth operation, from turn-in table to table captains and beverage hostess.
Our table of seven judges judged 13 brisket entries, based on
Sight: 1 to 5 points
Smell: 1 to 10 points
Tenderness: 1 to 15 points
Taste: 1 to 20 points
Variance in Tenderness and Taste were the main factors in differentiating the good from the excellent.
After judging was completed I stopped by the Texas Social Club. Texas Rib Ranger Bill Milroy gave me a slice of Texas Social Club competition brisket. Although it wasn't turn-in warm, it was the best brisket I had tasted all day. It was easy pull/chew tender with a kiss of smoke and light seasonings that complemented the flavor of the meat. In other words, it wasn't shoe leather tough or pot roast tender. Nor was it seasoned so much that the flavor of the meat was overpowered.
Later it was announced that the Texas Social Club Brisket made the Finals. When the rankings were posted online, Texas Social Club brisket ranked 8th place, which is highly respectable against 250 other competitors. Congratulations to Operation Barbecue Relief, this year's Grand Champion!
Kudos and thanks to the Bar-B-Que Committee for another outstanding event! Hats off and many thanks to Bill Felder and the Texas Social
Club! After feeding 300 to 400 pounds of chicken, 300 to 400 pounds of sausage, 70 to 75 briskets and two (2) 300 pound hogs each hog with 100 pounds of pork butt inside them, to more than 1800 people a night—plus delicious sides and a full service bar, the Texas Social Club deserve a rest! Not only is that a Texas-style feast: it was all delicious!
Texas Rib Rangers Bill and Barbara Milroy, Frank Boyer, Tana Frensley, Terry Koch, Carl, Bob, Roberto, Maya, the folks at the Jack Daniel's hospitality tent and distillery tour exhibit, and many other barbecue faithful made it feel like a family reunion.
A few times each year, Barbecue Heaven makes a temporary descent to terra firma on Planet Earth to give thousands of temporary mortals a taste and feel of the barbecue hereafter. I'm thinking Memphis in May World Championship Barbecue Cooking Contest, the American Royal World Series of Barbecue and the Jack Daniel's World Championship Invitational Barbecue. Having experienced the Houston Livestock Show & Rodeo World's Championship Bar-B-Que Contest twice now, I know that it is also one of those times and places that exemplify Barbecue Heaven.