Grilled Leg of Lamb with Orange & Pomegranate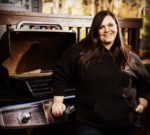 Jayna Todisco
A Mazie Q
Marinade for Lamb:
5 lb Leg of Lamb
1⁄2 C Extra Virgin Olive Oil
1 TBL Lemon Zest (approx. 2 lemons)
1 TBL Orange Zest (approx. 2 oranges)
2 TBL Freshly squeezed Orange Juice
2 TBL Freshly squeezed Lemon Juice
1 TBL Fresh Mint, Chopped
1⁄2 TBL Rosemary, Chopped
1⁄2 TBL Marjoram, Chopped
2-3 Cloves Crushed or Chopped Garlic
2 tsp Fresh Cracked Black Pepper
2 tsp Salt
Combine all ingredients and marinate lamb for at least 12 hours. Grill Lamb over high heat until desired color is achieved. Cook indirectly on the grill (covered) until desired internal temp is reached.
Mostarda:
1 1⁄2 C Dry White Wine
1 C Pomegranate Juice
2/3 C Champagne Vinegar
1 1⁄2 C White Sugar
1/3 C Mustard Powder
2 tsp Fennel Seeds
1 TBL Mustard Seeds
6 Oranges segmented (patted dry of excess juice) 1 TBL Fresh Rosemary, Chopped
1 C Pomegranate seeds
Cracked Black Pepper to taste
Over medium-high heat, simmer first 7 ingredients until thick syrup is formed, approximately 15-20 min. Let cool
and add the remaining ingredients. Can be made a day in advance and stored in the fridge but should be served at room temp. Spoon over sliced lamb.
Grilled Carrot and Leek Salad:
7 Carrots, cut lengthwise and into 3-inch portions 4-5 Leeks, cut lengthwise and into 3-inch portions 1⁄4 C Olive Oil, plus extra for grilling
1⁄4 C White Balsamic Vinegar
1 Bulb Roasted Garlic, minced Salt & Pepper
1⁄2 C Fresh Parsley, Chopped
Coat Garlic, Carrots & Leeks in oil to prevent sticking. Add charcoal to only half the grill and place garlic bulb away from fire. Heat grill to medium heat and cook carrots & leeks until they are cooked, covering as necessary. Remove from grill and place in a covered container and allow to further steam. Garlic may need longer to cook, it will be done when skin is a caramel color and cloves are easily squeezed. In a separate bowl, thoroughly combine oil, vinegar, garlic, salt & pepper. Toss with carrots & leeks and add parsley. Salad should be at room temperature.