Aaron Franklin, Smoked Standouts, and Soul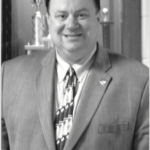 Doug Mosley
Resident Book Guru
I'm not really sure how much more can be said about Aaron Franklin that could possibly add to the legend he has become. He's already authored what I believe is one of the best-ever books on brisket. He has an Austin, Texas, brisket joint that has a waiting line around the block most every day. And he's recently been featured on a video teaching series on fixing brisket his way. So, what do you do next if you're him? Well, what he did was co-author what I think is one of the best-ever books on steak – "Franklin Steak: Dry-Aged, Live-Fired, Pure Beef" with Jordan Mackey ($29.99, Ten Speed Press, 216 pp.).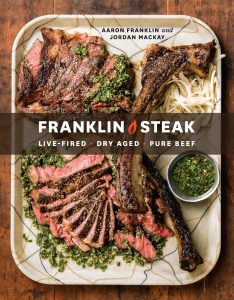 One thing we find out right away is that when Franklin goes home each day after selling out of another trainload of brisket, what he cooks for himself is steak. And he is just as obsessive about steak as he is about brisket. "Franklin Steak" is all of that put to the page, just like he and Mackay did in "Franklin Barbecue', their previous collaboration that would go on to win The National Barbecue News Barbecue Book of the Year Award in 2015. If you thought that book got into the details, wait until you see this one. It is so hyper-focused on every component of fixing a great steak – from selecting and buying the meat to the variety of fuel source to the type of grill to the construction and management of the fire.
His passion for steak comes through in every page and there is no doubt in my mind that every reader will come away with something new they will earn from this book. If you thought you were already at the top of your steak game now, read this book and come to the stark realization that there was so much more that you didn't know. So thanks, Aaron Franklin, for once again sharing your obsessiveness with us.
I love those barbecue road trip books, in part because I am completely envious of the ability to undertake such journeys but also because I love to hear from one perspective their thoughts on the variety of places to which they will visit. There have been many of these that I've brought to you through the years and the one I am really enjoying right now is "Smoked: One Man's Journey To Find Incredible Recipes, Standout Pitmasters and the Stories Behind Them" by Ed Randolph ($25, Page Street Publishing, 240 pp.).
Randolph is likely well-known to many amongst us as the proprietor/pitmaster of Handsome Devil BBQ. Having that street cred, in turn,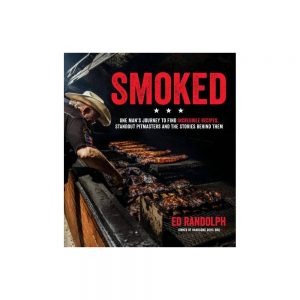 allowed him incredible access to some of the best of the best in barbecue as he assembled this book during multiple trips over several years. He lists 40 pitmasters in 15 states, literally from sea to shining sea and border to border. The book reads like a Who's Who of Barbecue and includes such luminaries as Mike and Amy Mills from 17th Street Barbecue in Murphysboro, Ill., Brad Orrison and Brooke Orrison Lewis from The Shed BBQ and Blue Joint in Ocean Spring, Miss., Jean-Paul Bourgeois from Blue Smoke in New York City, Scott Roberts from The Salt Like BBQ in Driftwood, Texas, Garry and Leslie Roark from Ubon's BBQ in Yazoo City, Miss., Jonathan and Justin Fox from Fox Bros. Bar-B-Q in Atlanta, Andy Husbands from The Smoke Shop in Somerville, Mass., Kent Black from Black's BBQ in Lockhart Texas and George Harvell from Loveless Café in Nashville, Tenn., just to name a few. Seriously, that's quite a list right there and there's still more legendary pitmasters covered in this book.
Beyond just getting time with each of these people, it is incredible the recipes that Randolph was able to pry away from their no-doubt security-locked recipe boxes. As you would imagine with this sort of book, the best of what it has to offer goes well beyond the recipes. The stories about each of these famed barbecue places would make this book a must-buy all on their own. But wrap all this up in one cover and it makes for a volume that I urge you to buy now. You won't regret it.
Soul food, like barbecue, comes from humble roots. Oftentimes barbecue is seen as a subset of soul food but the reality is the two just go together so well. And both have emerged over the last couple of decades to enjoy incredible prominence. Over the years I've had amazing soul food in a posh Washington, D.C., train station, in a Harlem, N.Y., place on a buzzing sidestreet and at the famous Weaver D's in Athens, Ga. While those meals had their similarities, they each also reflected the changes in the cuisine driven by the resourcefulness of great soul food chefs, ones just like James Beard Award-nominated chef Todd Richards who is the author of "Soul: A Chef's Culinary Evolution in 150 Recipes" ($35, Oxmoor House, 368 pp.).
Soul food and barbecue can both be described as always the same but constantly changing. What is meant by that is how each adapts to the changes in equipment and techniques or the new availability of ingredients to emerge with new twists on the dishes for which each is best known. In "Soul", author Richards draws upon these opportunities to present recipes that will surprise you for their insightful creativity. The book itself takes a fresh look on divvying up those recipes, placing them in chapters titled by their featured ingredients: Collards, Onions, Berries, Lamb, Seafood, Corn, Tomatoes, Melons, Stone Fruit, Eggs & Poultry, Pork & Beef, Beans & Rice, and Roots. You'll find recipes for about any course or breakfast/ lunch/dinner in that format.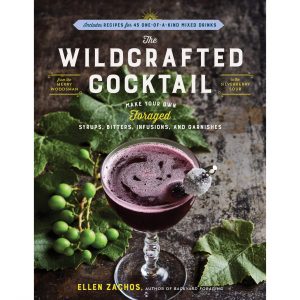 Along with its great content, this book is notable for its photography. Nearly every page has a picture of a finished dish or a related soul food setting. It's one thing to include plenty of pics in a book, it's another altogether to make them look like works of art. All in all, it makes for an excellent book that I am sure you will enjoy.
It's that time of year where just about everything is growing (especially my yard). Unless you're in the middle of a drought area, there is green everywhere. So this is likely the best time of year for me to tell you about a pretty cool book that talks about cocktails accented with items you can pick on your own from Mother Nature's bountiful harvest – "The Wildcrafted Cocktail: Make Your Own Foraged Syrups, Bitters, Infusions, and Garnishes" by Ellen Zachos ($18.95, Storey, 234 pp.).
This book hooked me immediately in the opening chapter, an introduction titled "Why Foraged Mixology?'. In just two pages author Zachos
had me ready to head out to my overgrown back yard and see what I could pluck or pick to go into my next cocktail. Whether it's a simple garnishment or a flavorful ingredient, there are plenty of ideas presented here. I'm lucky to live in a place where Meyer lemons are available to make homemade limoncello but even if all you have in your yard is dandelions then there is something in this book for you. Ideally, you'll seek farther afield at different times of the year to allow for more creativity. In my case, I'm looking forward to those fall acorns to make acorn-infused bourbon. There's definitely something for most everyone in this book so pick up a copy soon and start foraging for your nightcap.