BBQ Stickers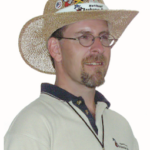 Kell Phelps 
Publisher 
My funniest BBQ sticker memory comes from an early 1990's Memphis in May sanctioned event. This was back in the day when every team had their very own sticker and they were happy to share them. It seemed that particular evening a few party-goers had gotten carried away with their placement of stickers on the opposite sex. Authorities inside the event had actually warned these guys and gals to be a bit more respectful Rumor has it that an upper-tier elected official found one of these ill-placed stickers on his wife upon returning home. He
proceeded to demand the entire park closed immediately and the event canceled.
This single event stopped most teams from sharing their stickers and the fad of having your own sticker. I am so glad to see these stickers reappear so much that I built a "sticker" board where these reminders of my #BBQfamily will be displayed permanently in our office.
We'd love to display your sticker on our board as we'll be sharing it with the BBQ World through photos, videos, and stories. Send them to us at:
National Barbecue News, 336 Phelps Road, Douglas, GA 31533 or catch us at the next event you happen to see us at.
Until Next Month…Keep It Smokin'
Kell and Crew