In The World of BBQ, It's The People You Meet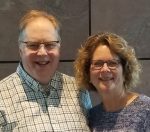 Mark & Gretchen Noordsy
Certified Judges KCBS, SCA, EAT
Photos Courtesy of Mark and Gretchen Noordsy 
Last October I attended and observed a Steak Cookoff Association (SCA) event in Albert Lea, Minnesota. I wrote about my experience in the November 2018 edition of National Barbecue News. At the end of that article I said I was ready to cook at an SCA event once the snow melted in Minnesota. Well, the snow melted and Gretchen and I have cooked at two events – Bring'n Home the Bacon BBQ event in West Salem, Wisconsin and the River City Steak Challenge in Mason City, Iowa (a two day triple contest no less). Both were held at campgrounds
that were outstanding, welcoming venues for the events.
In short, both contests were an incredible experience and one was very humbling. Yes, we have caught the SCA bug. Whether cooking, judging, volunteering or organizing, you will be seeing us at more SCA events. They are just too fun not to be a part of!
Back in October in Albert Lea, I observed a "circle of grills" manned by the extraordinary talents of Larry Dahlen, Lu and Damon Holter, Mark Hutley, Matt Ouverson and Dustin Reese. I didn't realize it at the time, but I was observing and learning the basics from some of the best SCA competitors. I learned a lot that cold, windy day and have spent the last eight months determined to hone my steak cooking craft and get "competition ready".
I started like many would be competitors. I watched YouTube videos, wrestled with forward sear, reverse sear or just plain cooking the steak. I researched equipment, marinades, spices, rubs and, of course, duck fat spray. I talked with experienced competitors and cooks about their techniques, equipment, timelines, lists and listened to any tips and tricks they were willing to share. And then the practice began.
At first I was all over the board on finding that perfect flavor profile that no one else was using. I have cooked steaks for over forty years – so I knew a thing or two about cooking steaks – or so I thought. I tried turmeric, tamarind paste, various types of pepper, cumin, various sugars, assorted salts and/or practically anything I could think of to try. I wasn't successful. In reality, it is consistently average that wins in BBQ and steak cook-offs. After wasting a month or two, my final spice mix is pretty basic – salt, pepper, garlic and a few other things. I'm pretty sure that there are probably fifty or more spice mixes out there that are similar. There is no need to "invent" anything – just learn to apply your cooking knowledge, find a seasoning profile you like and then refine your cook from there.
I then spent time at some of my local supermarkets and butcher shops trying to find the "best" ribeyes to practice on. One of the first lessons I learned is that you can try your flavor profile on hamburger or small pieces of sirloin. There is no need to use a $10-$15 ribeye for flavor profile testing. Of course, practicing trimming, tying, perfecting your grill marks and that elusive "perfect medium" steak is valuable too. I also
figured out you probably aren't going to get the best ribeyes at a competition – you are going to be choosing from a selection regular ribeyes. With that "ah ha" moment realized, I reached out to my friend, butcher and owner of Davis' Marketplace in Waterville, Minnesota, Richard Davis for help. Richard and his wife, Wendy, selected an assortment of ribeyes for me to practice with. The ribeyes where cut from different loins, from different ends, they were intentionally not all perfectly cut and had differing levels of marbling and fat even though all the steaks were choice grade. They also labeled each one so I could learn what to look for once I was faced with a table full of ribeyes. The help a knowledgeable butcher provides is invaluable. Even with that knowledge, I was like a deer in headlights at my first steak selection with only 30 seconds to make my choice. If the Davis name sounds familiar, it should. Rich Davis, their son and pitmaster for The Q Crew BBQ team, took first place in National Barbecue News' chicken rub competition with his Steak-steak house Seasoning and 5th place in the pork rub competition with his Richie D's BBQ rub earlier this year.
I started practicing on my large Big Green Egg. I soon realized that I needed to find a grill that was more portable and one that I could easily lift into the car. After a fair amount of research and a quick look into my billfold, I settled on a Weber kettle grill. I was fortunate that a BBQ friend had located one on clearance at his local "supercenter" and I was in business. Of course I added a set of GrillGrates. Grill marks are not required on SCA steak entries, but, if they are present, they will be judged. As an SCA judge, I had the opportunity to observe a large number of steaks that were turned in at competitions. I would say, in the Midwest at least, about 99% of the entries have nearly perfect grill marks made by using GrillGrates. I wasn't going to be an outlier in the 1%.
One day while practicing, I was busy juggling my phone (timer), trying to temp my steak and attempting perfectly symmetrical grill marks with
limited success. Then, out of nowhere, a second set of much needed hands joined into the flurry of motion that occurs during the final cooking process. Gretchen to the rescue! While we were critiquing my latest practice steak, I commented that I appreciated her help, but since I was going to be competing alone, she shouldn't be helping me. Dead silence. It took me a minute (well several actually), but I then realized that my partner of 36 years wanted to be part of this adventure. Gretchen has been part of "The South Dakota Land Barons Society" competition team ever since. Most SCA cook teams do not have a team name unless they are already a BBQ team. But, hey, I wanted a shirt with a logo and, who knows; we might win and might as well start the branding early. I have to give my sister, Susan, credit for the team name. There is a story behind it and I'll be happy to tell you if you ask me. As it turned out, branding wasn't necessary … yet.
In reality, it doesn't take much equipment to be a viable competitor in an SCA event. A heat source, charcoal, Grill- Grates, sharp knives, table, tongs, cutting board and seasonings will get you started. Coolers, tents, beer, marinades, etc are helpful, but optional for a first time cook.
Our quest for the perfect seasoning was both fun and interesting. As I mentioned earlier, there are likely more than 50 seasoning blends out there that could win on any given day. We developed our own – known as "Smidge". Because when you make it up on a per steak basis, it is a smidge of this, a smidge of that, a pinch of this and a grind of that. I would share the actual ingredients, but when you see our results, you will want to make your own or buy one that already has had some success. Our "Smidge" is not the Holy Grail you are seeking.
We were fortunate to have many people who were willing to help us. A huge thank you to Larry and Dick Dahlen who openly shared nearly everything one would need to win (I say "nearly" because they got calls and we didn't). To those who reviewed pictures for appearance and doneness and those who sampled our many practice steaks to dial-in our routine and flavor profile, a thank you probably isn't sufficient. Those who rallied behind us and provided a huge boost of confidence include Monica Dahlen, Don and Patti Collier, Rich Davis, Craig Hinrichs, Hilary Holm, Lu and Damon Holter, Jim and Leona Salle, Dan and Beth Salzl, Pete and Ruth Schoeppner and Duane and Linda Shores. Trust me, we needed more than a few laughs and ego boosts after round one in Mason City! There truly is a BBQ/SCA family there to support you if you want to try your hand at competitive cooking.
Well, how did we do? At Bring'n Home the Bacon, we took 12th out of 30 competitors. At that event we learned we needed to add 15 minutes to our timeline to better achieve the results we were striving for. We had a plan and we were on our way … or so we thought.
At River City Steak Challenge (a triple), we were humbled – big time! In the first contest we placed 59th out of 60 competitors. Last month, I
wrote about pro series BBQ teams mentoring backyard teams at Minnesota in May and one piece of advice that stuck with me was to continue to cook your profile and don't make knee jerk changes due to one set of scores. Following that wisdom, in our second outing, we improved to 58th out of 60 competitors.
It was eye opening to look down page one of the results, then page two and finally page three for our ticket number. Gut punched, we were at a loss at what to try next. While we had no expectation of winning, getting a top 15 call wasn't out of the realm of possibilities (at least in our minds). How hard can it be to cook a good – not necessarily perfect – steak? Well, when you are competing against a field of excellent cooks, it is very competitive and winning is earned. Congratulations to anyone who got a call. In round three, we made four changes because we really couldn't do much worse. We upped the amount of seasoning we used, and that improved our taste scores. We felt there must be a difference between the palates Wisconsin and Iowa judges. Something we now have in our notes and will adjust for in the future. We jumped to 35th out of 60 competitors. At least we could feel somewhat better about our efforts on the four hour drive home. An interesting tidbit is that in both contests a first time cook received a call – so, it is possible.
At an SCA competition you get the combined score from the judges in the areas of appearance, doneness, tenderness, taste and overall impression. Each judge can award 50.9 points, yielding a perfect score of 254.5. Our scores ranged from 213.0 to 234.3. Since you get combined scores and there are no comment cards at an SCA event, it makes it harder to determine what you did right and what you didn't. A fellow BBQ and SCA competitor, Steve Lauer, clued me in that if you have a lower doneness score, but a decent tenderness score, your steak was probably medium rare. If both are low, your steak was probably over done as steaks get tougher as they get more done. In my opinion, you need to score above 240 to have a chance of getting a call depending on the field of competitors. After we competed, I had a
number of things I thought SCA could do to improve their events. But, after thinking about it further, SCA events are just fine the way they are. A few simple rules, enough information to figure out why you ended up where you did and a very efficient use of time for all involved. We are the ones that definitely have some work do.
Are we done competing in SCA contests? Not a chance! Competition and the desire to improve gets in your blood. Plus, we had way too much fun and had such great support from friends and fellow competitors helping us be successful, we simply can't stop yet. We still have the opportunity to win a Golden Ticket earning us the ability to compete at the World Steak Championship being held in Fort Worth, Texas, October 3rd through 7th.
Visit www.steakcookoffs.com/world for more information.
In the world of BBQ … it's the people you meet … and the friends you make.