Pig Candy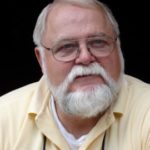 Paul Kirk
BBQ Hall Of Famer
Certified MasterJudge
One of the most popular food items that you can take to a party is Pig Candy! Here are some variations, believe you will enjoy. An addition to any of these recipes is to add a little of your own rub to the sugar mixture. You can also try these fun recipes on your grill using an indirect heat method.
PIG CANDY
Ingredients:
Bacon (several strips)
Dark brown sugar (enough to coat strips of bacon)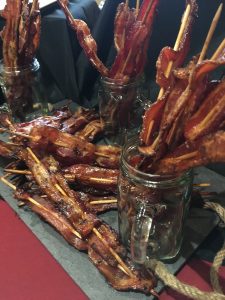 Directions:
Preheat oven to 350º – 400º degrees F.
Cover a cookie sheet with parchment paper or foil. Lay the bacon strips out and coat the uncooked bacon in the dark brown sugar. Bake for 20 minutes.
(TIP!!!) All of these recipes are easy to make, but the clean up can be messy. Parchment paper and foil solve the problem.
Candied Bacon with Whipped Cream
Ingredients:
1-pound thick-sliced bacon
1 cup sugar
3 tablespoons clover honey
2 tablespoons water
1 cup whipped cream or crème fraiche
Directions:
Fry a pound of bacon until crisp. Drain and cool. In a clean skillet, melt one cup sugar and three tablespoons honey in two tablespoons water; cook on medium-high until bubbles subside and syrup turns light amber.
Turn heat to very low and add bacon, turning strips with tongs. Place strips on oiled baking sheet or parchment paper until cool, then serve with whipped cream or, better still, crème fraîche.
This recipe is based on one from Breakfast All Day.
Spicy Oven-Baked Bacon
Ingredients:
1/2 cup packed light brown sugar
2 tablespoons chili powder
1 teaspoon ground cumin
1 teaspoon ground coriander
1/2 teaspoon chipotle powder
12 slices thick-sliced bacon
Directions:
Preheat oven to 400º degrees F. Line a large, rimmed baking sheet with foil. Place a baking rack on the foil.
In a shallow bowl, combine the sugar, chili powder, cumin, coriander, and cayenne pepper. Press each side of the bacon into the mixture to coat heavily. Arrange, barely touching, on the rack over the foil. Bake 12 minutes. Turn the bacon over. Cook 10 minutes longer, until the bacon is crisp and deep brown.
Cool on rack briefly before serving. Makes 12 slices
This sweet, slightly spicy bacon recipe is a different and delicious way to cook thick-sliced pepper bacon. An added benefit is that you can make it a day ahead and reheat it the next morning.
Spicy Brown-Sugar Bacon
Ingredients:
1-1/2 cups light-brown sugar
1/2 to 1 teaspoon chipotle powder (use greater amount if you like it spicier)
1/4 cup maple syrup
14 slices thick, pepper bacon
Directions:
Preheat oven to 350º degrees F.
Combine brown sugar with chipotle powder in a small bowl, breaking up any lumps and stirring to evenly distribute the cayenne. Transfer to a flat surface. Brush both sides of bacon slices with maple syrup and dredge in brown sugar mixture to lightly coat both sides.
Place slices on the top rack of a broiling pan that has been coated with a nonstick vegetable spray. Bake in the middle of a preheated oven for 18 to 20 minutes.
Turn slices over and bake an additional 5 to 8 minutes or until browned. As the sugar caramelizes, the bacon will turn a dark brown. Remove and cool bacon about 10 minutes. Place slices between wax paper and refrigerate until ready to reheat.
Reheat the bacon in the oven with strata, on aluminum foil, during the last 8 to 10 minutes.
Enjoy!