Smoked Pimento Cheese Burger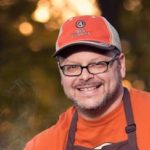 Ray Sheehan
BBQ Buddha
Ingredients:
2 ¼ lb. burger blend (chuck, prime short rib, bacon) or 80-20 ground beef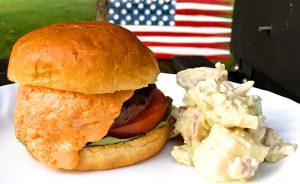 Worcestershire sauce
salt ground
black pepper
Pimento cheese
6 green leaf lettuce leaves
6 thick slices tomato
6 tbsp softened butter
6 hamburger buns
hickory wood
For the Pimento Cheese: Ingredients:
8 ounces cream cheese softened
2 cups grated extra sharp cheddar cheese
½ cup mayo
1 ½ tsp Worcestershire sauce
1 ½ tsp dry mustard
1 ½ tsp onion powder
1 ½ tsp granulated garlic
¼ tsp paprika
½ cup diced canned pimentos, drained
Directions: Place the cream cheese into a food processor and pulse until whipped. Add the shredded cheese, mayo, Worcestershire sauce, dry mustard, onion powder, granulated garlic, and paprika, and pulse to blend. Add the diced pimento and pulse a few times to combine; refrigerate for at least 1 hour or until ready to use.
Prepare a smoker to cook at 275 degrees.
To make the burgers: Using your hands form the meat into 6 burger patties. Brush the patties with a light coating of Worcestershire sauce and season with salt and pepper. Using your thumb press a small indentation into the bottom of the burger to keep it from bulging up as it cooks. Place the burgers onto a sheet pan fitted with a wire rack. Once the cooker reaches temperature add in the hickory wood and place the tray of burgers onto the grate in the smoker Cook until you reach an internal temperature of 160 degrees, about an hour.
To assemble to burgers: Butter each of the buns with 1 tbsp of the softened butter and grill or toast until crispy. Spoon 1/3 cup of the pimento cheese onto the burger, then layer with the burger, tomato, lettuce, and the top bun to serve. 
Memphis BBQ

KCBS

International BBQ Cookers

California BBQ
National Barbecue & Grilling

Minnesota BBQ

Mid-Atlantic BBQ


Originally it started as a printed newsletter to let avid barbecuers keep track of upcoming events and results from past events. Today we have evolved into a barbecue and grilling information super highway as we share information about ALL things barbecue and grilling.