[wp_bannerize group="Leader Ads" random="1" limit="1"]
BBQ Innovation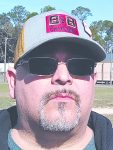 Raymond Cato
With Barbecue being thousands of years old and the addition of BBQ sauce on meat having been around since at least the 16th century, there hasn't been too many recent innovations in the sauce world. In fact other than different recipes or ingredient modifications, the most recent big innovation was probably in the 1940s when BBQ sauce was first bottled. This new product may change all that(at least in my opinion).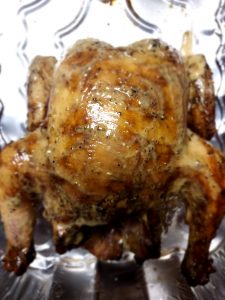 I recently had the pleasure of attending the NBBQA annual conference that was being held in Fort Worth this year. Among making some valuable connections and meeting some new friends I also got the opportunity to learn of a promising new change in how I look at BBQ sauce.
This change comes in the form of a white BBQ sauce premade mix from White Mountain Pickle Company. I couldn't wait to get home and give this a try. If you can add mayonnaise and vinegar then you can make some killer white sauce for any poultry that you can grill/smoke. I'll give you a little secret though, the sauce is also great on pork and grilled corn. Another tidbit/hack is that you can spice up the sauce to your liking by adding a bit of cayenne or maybe a bit more vinegar. Being in South Ga. though I will say that the mayo used should definitely be Duke's (as if there were any better options).
If you're like me and love pickles with your BBQ then the people at White Mountain Pickle Company have you cover with their pickle mixes too. Another easy technique by just adding vinegar, water, and cucumbers or whatever veggie you are pickling,and waiting 3-5 days and you have some amazing pickles or in my case pickles and pickled green beans. There are multiple flavors of the pickling mix available and while we didn't try them all the two that we did (Double Dirty Dill & Fire on the Mountain) were packed with flavor. A bit of a warning though, when they say the Fire on the Mountain, they mean it. It definitely packs a punch, but not so much as to where you cannot enjoy the flavors.
As of right now the sauce mix can only be found in a few stores in the New Hampshire area and at Messy Mike's BBQ & catering food truck ran by Mike Massiglia located in Derry, NH. I have received some information from a pretty good source that that may be changing soon so keep your eyes peeled. The pickling mix however is available at a number of stores in the New England area and through Amazon.com.
Believe me when I tell you that if you are a fan of white BBQ sauce or maybe you've never tried it and want to, then you will be extremely happy with this mix. The pickle mixes are extremely flavorful as well and will leave you happy that these products are around. Overall I feel the White Mountain Pickle Company has some extremely good products and I plan to keep them in my BBQ arsenal. I would like to thank Michael Massiglia for the opportunity to try such an innovative new BBQ experience.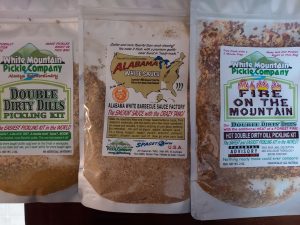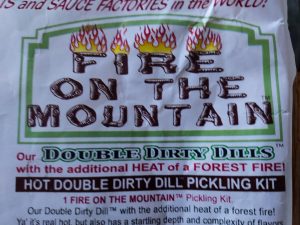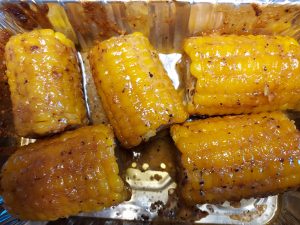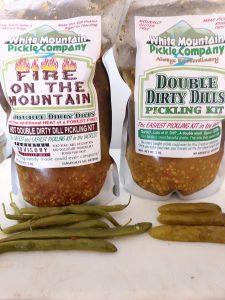 Update from Mark at WMPC: Just wanted to let you know that our Alabama White Sauce Factories are live online at Kittery Trading Post in Kittery, Maine. I have a long freindship with the buyer, and worked out a special araingement, a long time ago, for them to be my online presence, while we are busy growing production. They are the largest true trading post in the country, and quite possibly the largest family owned, single site, big (read BIG!) box store in the country. Their online store is even bigger, and the have shipping rates and incentives that I can't touch as a small start-up. You can still bring in a pelt or an old unwanted gun and walk out with something you like. That, my friennd, is Northern Hospitality. Still good but not quite as good as the Southern Hospitality we talked about. You guys got that down!
They also justed posted our newest pickle kit: The Extra Dirty Double Dirty Dill and it is doing quite nicely. It's not nealy as hot as Fire on the Mountain, but an interesting beginers heat (with lots of flavor) for those that like taking the stairs into the pool.
[wp_bannerize group="Portrait Ads" random="1" limit="1"]
READY TO BBQ?
Find your next event HERE!
Steak Cookoff Association

KCBS

International BBQ Cookers

California BBQ
[wp_bannerize group="Ending Ads" random="1" limit="1"]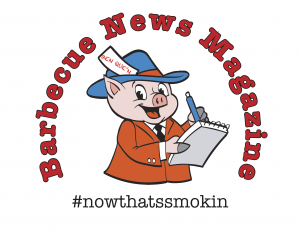 Originally it started as a printed newsletter to let avid barbecuers keep track of upcoming events and results from past events. Today we have evolved into a barbecue and grilling information super highway as we share information about ALL things barbecue and grilling.
© 2022 National Barbecue News:  Designed by ThinkCalico