BBQ Potato Chips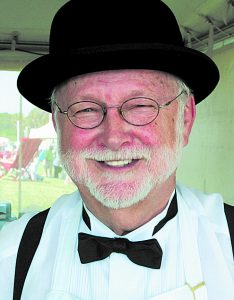 Ardie Davis
aka Remus Powers
BBQ Hall of Famer
A popular story about the invention of the potato chip sets the scene in Moon's Lake Lodge, upstate Saratoga, New York, in the mid-19th century. Lodge customers tended to be high income, with names such as Vanderbilt.
"Waiter!" "Yes sir? How may I help you?" "Please take these fried potatoes back to the kitchen. They are too thick and soggy!" "Yes sir. I will tell the chef."
The chef, George "Crum" Speck, was none too happy about the customer's complaint. His overreaction was to prepare thinly sliced potatoes fried to a crisp. The customer liked the potatoes, as did other customers; the popular "Saratoga Chip" was born, and George "Crum" was credited with inventing the potato chip. Since patent laws of that era excluded persons of color, George Crum's Native American and African ancestry shut the door to a patent.
Potato chip origin stories, like barbecue origin stories, are a mix of fact, fiction, speculation and myth. The rest of the story above is that George Speck's sister, Catherine Wicks, most likely created what became known as "Saratoga Chips." George helped popularize the Saratoga Chips. Moon's Lake Lodge wasn't the birthplace of the potato chip. Several 19th century cookbooks published prior to the establishment of Moon's Lake Lodge had recipes for potato chips.
Introducing the "BBQ Potato Chip – Jumping forward to the 20th century and the birth of "BBQ Potato Chips" in the 1950s.
Joe "Spud" Murphy, proprietor of "Tayto," a potato chip company in Ireland, is credited with developing a method of seasoning potato chips for mass market distribution with seasonings such as Vinegar/Salt and Cheese/Onion, which earned instant popularity in Ireland.
Herman Lay introduced potato chips to the United States marketplace in the 1920s. Working as a traveling salesman in the southern US, he loaded his trunk with bags of potato chips and sold them to grocers on his sales route. Eventually Lay's Potato Chips gained popularity as a national brand and the company merged with the Frito company in Dallas to form the current Frito-Lay company in 1961. Herr's, a Pennsylvania-based family-owned company established in 1946, is credited with being the first company in the United States to introduce bbq-flavored potato chips. It happened in 1958.
I noted 38 flavors of potato chips when recently visiting Herr's website. In addition to their five barbecue-flavored chips—Baby Back Ribs, Barbecue, Honey BBQ, Mesquite BBQ and Stubb's Original Bar-B-Q—they offer Honey Sriracha, Ghost Pepper, Cheese Fries, Sweet Corn and other tempting flavors that appeal to a variety of consumers.
In Search of the Best BBQ Potato Chips in the USA
Hats off to Kevin Pang for his engaging story about searching for the best regional brands of BBQ Potato Chips that are not stocked in groceries and supermarkets nationwide. Pang documented his search in the April/May 2022 edition of Cook's Country magazine. His article, "The United States of BBQ Chips," details his method, judging criteria and results. After sampling 30 different brands, he concluded with his "Sensational Six."
If you haven't found your personal best BBQ Potato Chips, DIY!
First, let's be clear about "BBQ Potato Chips." They are not barbecued. They are fried in various edible oils and flavored with seasonings typically used to season barbecue. Sometimes the seasoning is specific to a barbecue restaurant or a brand name seasoning.
If you haven't found a bag of BBQ potato chips that you like, consider (1) making your own chips with a favorite seasoning or (2) sprinkle a favorite barbecue seasoning in a bag of your favorite regular potato chips.
An easy way to make your own potato chips at home is to use a potato peeler to slice a potato into thin slices and deep fry one batch at a time in 2-inches or so of canola or peanut oil in a deep pot (I used a Dutch Oven), stirring as they fry, until crisp; remove onto a paper towel on a plate to absorb excess grease; lightly sprinkle with a favorite bbq seasoning. I tried it with 3 different seasonings: Charlie Vergos' Rendezvous, DennyMike's Chick Magnet and Jim Quessenberry's Spice Beautiful. Each yielded delicious results. Sprinkling various BBQ seasonings on plain national brand chips also yielded delicious results.
Whether your favorite BBQ potato chips are a regional brand, national brand, homemade or plain chips from a bag, seasoned homestyle with your favorite barbecue seasoning, "best" is up to the palate of the eater. To adapt a quip from the late Stan Nelson by way of what a French winemaker told him about wine: The best BBQ Potato Chip is the BBQ potato chip you like!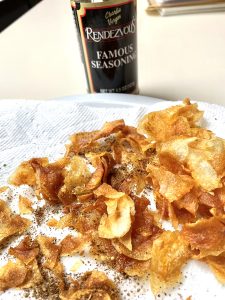 Homemade chips seasoned with Charlie Vergos' "dry sauce"
triggered fond memories of Memphis in May.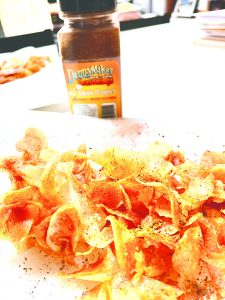 What's not to like about chips seasoned with
DennyMike's Chick Magnet!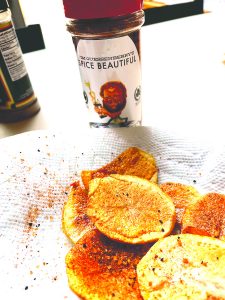 Some thicker chips seasoned with Jim Quessenberry's
Spice Beautiful lives up to the name!
Memphis BBQ

KCBS

International BBQ Cookers

California BBQ
National Barbecue & Grilling

Minnesota BBQ

Mid-Atlantic BBQ


Originally it started as a printed newsletter to let avid barbecuers keep track of upcoming events and results from past events. Today we have evolved into a barbecue and grilling information super highway as we share information about ALL things barbecue and grilling.