[wp_bannerize group="Leader Ads" random="1" limit="1"]
Chinese-Style Sweet & Sour Pork On The Grill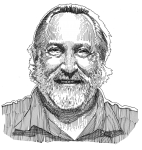 Meathead
You will be amazed at how good this riff on the deep-fried Chinese classic is when cooked on the grill, and you will be delighted by how easy it is. By grilling, you get wonderful pork flavor, and pork tenderloin remains tender and moist. Grilling fresh pineapple to caramelize the surface makes it infinitely more interesting than just tossing in canned pineapple and warming it. Oh, and unlike the fried stuff, leftovers are good straight from the fridge in the wee hours. It is also a huge hit with the kids.
Remember, pork tenderloin and loin are very different and I strongly recommend that you use tenderloin. You can, however, substitute chicken or shrimp. If you are making this with chicken, the internal temperature must be 160°F. If you use shrimp, pull them off the grill as soon as they turn pink and the centers are opaque. If you want a little heat, add a poblano to the pepper mix and garnish with a finely chopped jalapeño or two.
I dedicate this recipe to Sterling Ball of BigPoppaSmokers.com who cooks it often, and to Greg Rempe who shares 
my love of grilled pineapple.
MAKES. 4 servings
TAKES. 1 hour
Ingredients: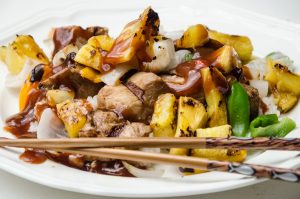 1/2 cup Sweet And Sour D.C. Mumbo Sauce (see recipe below)
1 pork tenderloin (about 2 pounds)
1 teaspoon Morton Coarse Kosher Salt
1 large onion
1 large red, orange, or green bell pepper
3 round, 1/2-inch-thick slices fresh pineapple
Vegetable oil
4 servings of rice
1/4 cup unsalted cashews
2 tablespoons chopped green onions, for garnish
Directions:
1| Prep. Make the sauce (recipe below). Cut the onion pole to pole, remove the skin, and slice into half moons. Discard the root. Cut the peppers in half lengthwise, tear out the seeds and stem, rinse, and chop into bite sized chunks. Cut the pineapple slices into bite size chunks. Trim off any ex-cess fat and silverskin from the pork. Slice the tenderloin in half lengthwise and then in half again. Salt the meat and dry brine in the refrigerator for an hour or two before cooking.
2| Oil. Coat the onion, bell pepper, and pineapple with a thin layer of oil so they won't stick.
3| Rice. Cook the rice according to instructions on the pack-age.
4| Fire up. Set up a grill with two zones and get the indirect zone to about 325°F.
5| Cashews. Put the cashews in a dry frying pan without oil and, over direct heat, toast them until they start to get brown spots.
6| Cook the veggies and fruit. Start grilling the onion, pineapple, and bell peppers over the hot part of the grill with the lid closed. Keep a close watch so nothing burns. Turn the food during grilling and take the pieces off when they are limp and grill-marked.
7| Cook the meat. Put the meat on the direct-heat side and cook with the lid open. While the pork is cooking, chop the grilled veggies and pineapple into bite-size chunks. Put them in a pot or metal bowl on the indirect part of the grill to stay warm. Remove the meat when it hits 140°F. Bundle the quarters and slice across them to make 1/2-inch chunks. Add the meat to the pot with the chopped veggies and pineapple and stir everything together.
8| Warm the sauce on the side.
9| Serve. Place a scoop of rice on each plate, top with the meat, pineapple, and peppers, and drizzle the warm sauce over everything. Garnish with the optional green onions. Add the toasted cashews right before serving so the nuts don't get soggy.
Sweet & Sour D.C. Mumbo Sauce
Washington, D.C., is the nation's most international city. Much of the population comes and goes with the political tides. As a result, there aren't many indigenous dishes, but there is one concoction the locals proudly claim as their own: Mumbo Sauce.
Theresa Vargas, in a July 2011 article in the Washington Post, wrote, "For many D.C. natives, the sauce that cap-tures the flavor of home is called mumbo. Few can tell you how it's made or where it originated, but they know this: If you grew up in one of the mostly African-American areas of the city, you've likely known the taste your entire life. If you didn't, you probably have no idea what it is."
Mumbo sauce, which is also called mambo sauce, mombo sauce, mumba sauce, mumble sauce, and even mummbah sauce, is different from joint to joint. Mumbo sauce is used on barbecue but it is most popular on chicken wings, and it works on just about anything deep-fried. That may sound odd, but remember, in the Deep South, fried chicken and fish are often served with honey.
Since there is no official recipe, I've created one inspired by the best examples I've tasted in the D.C. area. I use it on Sweet and Sour Pork Tenderloin (above). Try it on fried chicken, fish, shrimp, or egg rolls. As unorthodox as it may sound, it's pretty good on barbecued ribs and pulled pork, too.
MAKES. 2 2/3 cups
TAKES. less than an hour, even if the kids are in your hair
Ingredients:
1 cup sugar
1 cup distilled white vinegar
1 cup pineapple juice
1/2 cup (4 ounces) tomato paste
4 teaspoons soy sauce
1 teaspoon ground ginger
1/4 teaspoon hot sauce, or more if you wish
Directions:
Mix all the ingredients together in a saucepan and whisk to break up the clumps of tomato paste and ginger. Simmer over low heat for about 20 minutes to marry the flavors and thicken it a bit. Do not let the sauce boil. Taste and adjust the seasonings to your preferences. When it is time to serve, you can drizzle it on the food, serve it in a bowl for dipping, or both. Mumbo sauce can be refrigerated for months.
Meathead is the barbecue Hall of Famer who founded AmazingRibs.com, by far the world's most popular outdoor cooking website. He is the author of a New York Times Best Seller that was also named one of the "100 Best Cookbooks of All Time" by Southern Living magazine. For 2,000+ free pages of great barbecue and grilling info, visit AmazingRibs.com and take a free trial in the Pitmaster Club.
[wp_bannerize group="Portrait Ads" random="1" limit="1"]
[wp_bannerize group="Ending Ads" random="1" limit="1"]
READY TO BBQ?
Find your next event HERE!
Steak Cookoff Association

KCBS

International BBQ Cookers

California BBQ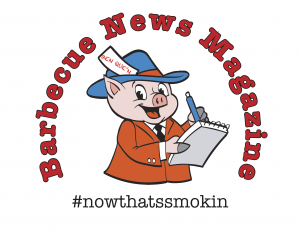 Originally it started as a printed newsletter to let avid barbecuers keep track of upcoming events and results from past events. Today we have evolved into a barbecue and grilling information super highway as we share information about ALL things barbecue and grilling.
© 2022 National Barbecue News:  Designed by ThinkCalico