Dan Pastorini's Rub Collection scores big

By NBN Cooking Crew
It's not every day you get to meet a childhood hero. We have been blessed to have several of those days and consider them some of the best days of our lives. It's an even better day when you meet and greet one of these heroes from days past but actually find out they love to barbecue, too! We met one such hero of ours in Hershel Walker a few years back and knew that the Georgia legend loved grilling…even though he doesn't eat a lot of meat. Former publisher and our chief cook Joe Phelps, Ardie Davis, and Doc Gillis once met Willie Nelson at a Ribfest and actually got to board his Honeysuckle Rose bus.

While attending the Players Tailgate for Super Bowl LI, we got to meet and chat with Dan Pastorini, who was not only a childhood football h
ro but also a hero in our teenage years as an NHRA Top Fuel Champion driver. Little did we know before seeing him that he is also a huge barbecue fan and is actually producing his own line of barbecue rubs.

Guy Fieri told us, "This is the stuff I use every day and use a lot of it." That's when we jumped at the chance to give them all a try. Little did we know all the barbecue that we got to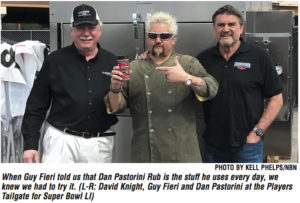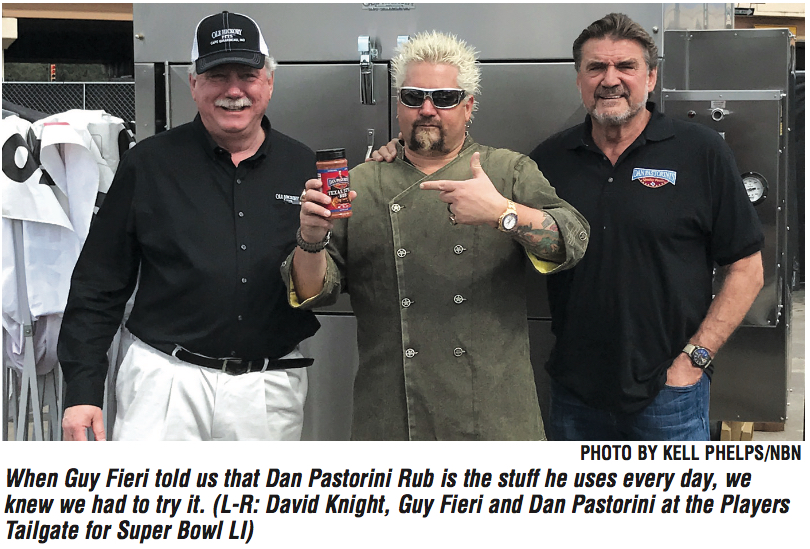 eat at the tailgate party had been seasoned with these products…including the whole hogs from the front page!
Dan is currently producing three different seasonings with his company called DP Quality Foods. His original rub is his Texas Style Rub, and Dan told us in an interview how the rub was developed.
"My parents were excellent cooks and ran a local restaurant for over 37 years in Sonora, CA, where I grew up. My business partner owned a restaurant in Simi Valley, CA. During a charity event at his place one day, I took a pile of my dad's rub and a pile of his rub and mixed it together. That was the beginning of the Texas Style rub." Dan went on to tell us about a few awards that the rub had won and told us, "We haven't found anyone that doesn't like it yet."
The first rub we started with was the Texas Style Hickory Rub. This rub is indeed spot on. Everything we tried it on turned out with massive flavor that was also balanced. The rub has no MSG and even tasting it straight from the jar is a real treat. Our favorite test item for this rub was the pork steak that we grilled up, but we found it was superb on chicken and potatoes as well. This rub had a hint of smoke seasoning, but it was also a balanced part of the rub. We did notice that the rub did clump just a tad after sitting a few days, but have you ever seen a really good rub that doesn't clump a little? We certainly put our seal of approval on this balanced flavor generator.

The second test was on the Garlic & Herb Seasoning. We were super excited to try this one on chicken, as we know these types of garlic rubs can really wake up regular chicken. We guessed right and loved how the garlic didn't overwhelm us once the
sample was completed. This stuff also showed out on some salmon, but we were too conservative with it. Our best
test with this seasoning came when we grilled potato slices with it but found it went well with every vegetable we tried on as well. Again this rub has got our seal of approval.
We saved the best for last and the Texas Style Rub is everything we knew it was after leaving the tailgate party. This by a short margin was our favorite of the three due to the overall results of our testing. Grilling, smoking, or baking everything we used it on t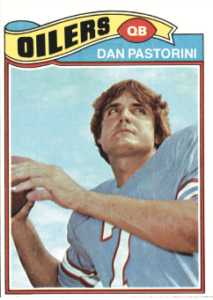 urned out to be beyond flavorful and super balanced. It's not peppery, sweet, hot, or salty, but yet it was all of these things in the perfect blend! In short, we will be buying this one for ourselves very soon, as we liked it better than our own private blend of 30 years! I'm not sure we could ever explain exactly how much we like this rub, but we will be using it to compete and cater versus our own rub in the coming weeks and months.
Dan Pastorini has been successful at just about everything he has put his time into, and we are happy to tell you that these rubs will all be a success with any true barbecue fan…regardless of what you are cooking, grilling, or smoking.  
You can buy these awesome products from Amazon now… HERE!