LET'S GET COOKING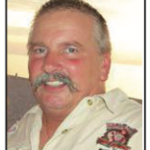 Dana "Big Papa" Hillis
BBQ From Florida
This time of year there are a lot of opportunities to cook. The SCA has a lot of contests on the schedule including a big doubleheader at the Shed restaurant, and another big doubleheader at David Hasketts Flamingo Lakes contest. The Flamingo lakes contest has changed to a GBA and has a Friday and Sunday SCA steak contest and also features the Battle at BBQ Junction. The contest has filled up and will be a huge success as usual. This contest has a lot going on and is always a good time. Flamingo Lakes is a great location for a contest and if you attend you will agree.
We just came back from the World Food Championships where we competed in steak along with about 80 other teams. The WFC is a food competitors dream competition and is a true adventure to go watch. It has grown bigger every year and they give away $350,000 and serious bragging rights. We did not place in the top 5 on our competition, so we did not get a chance to move on.
We took a road trip to Hazlehurst Georgia for an SCA contest and had a great time. I got to the big town of Hazelhurst and got to hang out with Casey and Judy Jones and Gene Skillin and eat some local chicken wings. We had some good laughs and had a good time cooking this contest. We did not get a call in steak or wings but we did get a 4th place call in dessert. This little contest was set up on a little golf course and I will definitely be back. The people at this contest made you laugh and feel at home, and I can't wait to go back.
Our next adventure was up in North Florida to a cool little contest in Monticello. I pulled in late on Thursday night and was told to park anywhere convenient. I pulled in next to Sweet Smoke Q and settled in for the night. The next morning I got up early in search of coffee and after finding my way back I was asked to move over two spots which I gladly did. A few minutes later Belly Up BBQ pulled in and took the spot I was originally in. I have been cooking for a long time but I guess if you can imitate President Trump and can host the Tim and Brian show you can make people move out of whatever spot you want. I have heard Brian Coleman do his imitation of the president and ex-presidents and will gladly move out of his way to hear him perform!
Katrina Richardson is the organizer for the Monticello contest g and everyone needs to get in touch with her and sign up for this contest. This small town deserves support for their competition and it has the down-home feel that old-time contests used to have. Show up and support this contest and you will see what a neat little town this is. I rode around town and stopped at some stores, and found that the contest was advertised everywhere and was on the radio stations.
If you have never seen a greased hawg competition you need to come to this contest. It was fun watching the kids and was even more fun watching the adult category. Brian Coleman not only can put on a show, cook some great BBQ, but he is also quite the hawg wrestler! There is a nice little contest coming up in Lake Wales that also has an SCA contest and is a contest that needs to be on your schedule. This is another one of those feel-good contests and could always use a few more teams.
There is a contest coming up in January in Naples and I need everyone to put this contest on their schedule. I know the first of the year finds everyone tired from the holidays but this contest has been around for several years and deserves support from all of us. There is plenty of power and water and room at this contest and the payout is one of the better payouts that we have. Naples in January is not a bad place to be and there is some good entertainment on the stage, and we usually have some pretty good cold beverages and Janet plans to put on one of her famous breakfast buffets. This contest is close to home for me and if anybody needs anything just let me know.
Let's all enjoy the coming year and I wish good health and good luck to all in the upcoming cooking season. Cook bbq for your neighbors and friends. It makes them happy! See everyone at a contest soon!