Pepper Crusted Teres Major Steak
with Caramelized Onion Steak Sauce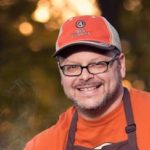 Ray Sheehan
BBQ Buddha
Photos courtesy of Ray Sheehan
For this recipe, I used a teres major steak, but you could easily use a beef tenderloin. The teres major is a seldom-used muscle in the shoulder that is second only to filet mignon in tenderness and about 1/3 of the price cheaper in most butcher shops and grocers. Teres major is also referred to as shoulder tender or petite tender.
Ingredients:
1 Teres Major Steak or Beef Tenderloin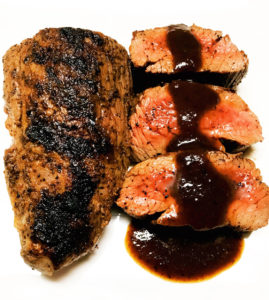 cracked black pepper
kosher salt
olive oil
Directions:
For the steak: Prepare a grill to cook at medium-high heat 400 degrees indirect cooking method. Brush the steak with a light coating of olive oil, and season with cracked black pepper and kosher salt. Let sit for 10-15 minutes. Sear the steak over direct heat for 2-3 minutes and rotate 45 degrees and sear for another 2-3 minutes. Flip over and repeat on the other side. Move the steak to the indirect side of the grill and close the lid. Continue to cook until desired doneness. Remove the teres major aka petite tender steak from the grill and allow to rest for 5 minutes. Slice and arrange on a platter to serve.
Caramelized Onion Steak Sauce
Ingredients:
1 yellow onion chopped
1 T butter
2 garlic cloves minced
1 C ketchup
1 lemon juiced
¼ C Worcestershire sauce
¼ C Balsamic vinegar
¼ C water
2 T tamari
2 T dark brown sugar
1 T Dijon mustard
¼ tsp cayenne pepper
salt to taste
black pepper to taste
Directions:
Sauté onion in a saucepan with butter over med-low heat until onions begin to brown, stirring. As the onions begin to caramelize they will turn a dark amber color. Add the garlic and cook for 1-2 minutes. Add in the ketchup, lemon juice, Worcestershire sauce, Balsamic vinegar, water, tamari, dark brown sugar, Dijon mustard, cayenne, salt and pepper, stirring to combine. Raise the heat to medium and simmer until slightly thickened about 30 minutes, stirring occasionally. Pour the sauce through a mesh strainer placed over a large bowl using a spatula to press the sauce through. Wipe any excess off the bottom of the strainer and into the bowl. Once the sauce cools transfer to an airtight container and store in the refrigerator.
Twice Smoked Potatoes: the perfect sidekick!
Ingredients: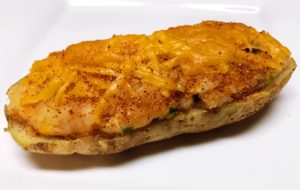 6 Russet potatoes
2 C Cheddar/Monterey Jack cheese blend shredded
4 jalapenos seeded and diced
4 oz cream cheese softened
4 T butter softened
1 T BBQ Rub (your favorite)
8 slices of bacon cooked and crumbled
½ C heavy cream
olive oil
coarse salt
Directions:
Prepare a smoker to cook at 250 degrees. Wash the potatoes and pat them dry with a paper towel. Brush each potato with olive oil and season with coarse salt. Place in the smoker and cook for 3 hours or until tender. When the potatoes are done remove from the cooker and allow them to rest until they are cool enough to handle. Cut them in half and using a large spoon scoop out the potato from the skins. Be careful not to tear the skins. Its ok to leave a small layer of potato in the skins as this will make them sturdier. In a large bowl, mash the potatoes and mix in the cream cheese, butter, bacon, jalapenos, BBQ rub, 1 C of shredded cheese, and heavy cream. Using a large spoon stuff the skins with the potato mixture and top with the remaining cheese. Place the stuffed potatoes onto a sheet tray and place back on the cooker for about 30 minutes or until warmed through and the cheese is melted.