[wp_bannerize group="Leader Ads" random="1" limit="1"]
Deep in the Heart of Texas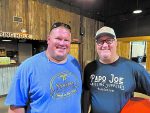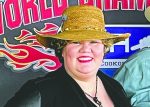 Christy Jones
The stars at night are big and bright…. deep in the heart of Texas. The sun is bright too if you decide to cook an SCA contest inthe Texas summer heat. But the heat did not stop several cooks from trying their hand at the big payouts at the 4th Annual Wagyu Roundup. Friday night's top prize for steak was $3,500. A big prize but with four former SCA World Champions competing, you had to put in the work to have a chance to walk that stage. Most cooks decided to stick around Saturday to dual compete in the SCA and Champions BBQ Cookoff.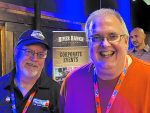 This great event is a fundraiser benefitting the Brotherhood For the Fallen. Held at the historic River Ranch Stockyards, cooks have a chance to spread across the grounds and look for a shady spot to set up. Inside, live music, steak dinners, and silent auctions entertain all who come out to support the great cause. While there, everyone had the opportunity to mingle with the event emcee, Trey Chapman of Trey's Chow Down. Trey has spent years highlighting the excellent local restaurants and chefs in the Ft. Worth area. His efforts to help ensure local restaurants thrive have now expanded nationally. You can follow his podcast and radio show on his social media pages. You won't be disappointed and might even find a few new favorite spots.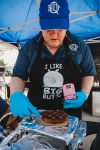 This event drew a crowd of cooks and attendees from all over. Cooks traveled down from Kansas, Illinois, Tennessee andmore. Once our cooks were set in motion, event goers were able to meander through the tents and trailers to get a first-hand view of what we do. A lucky few who timed their visits were able to taste the final dishes before they were submitted for judging. This crowd was excited to savor the flavors and excited to learn about the restaurants, seasonings, sauces, and other products cooks have created to achieve the winning flavors.
The SCA results from Friday night to Saturday saw several different cooks walk. Raymond Patterson and Danny Helms both put up dominating performances. And Team B Xtreme let everyone know they are still hard to beat, with their ambassadors walking multiple times across the SCA triple and Champions BBQ Cookoff.
I was lucky enough to manage an 8th place steak and a 2nd place beef tacos. If the recipe was good enough to walk in Texas, it might taste pretty good in your state too:
Beef Tacos
Brisket:
1. Trim excess fat and silver skin from brisket
2. Season with a layer of Big D's Q Grill Appeal, followed by a second layer of Big D's Q STEAK OUT.
3. SMOKE at 250 degrees for about 6 hours. Then wrap with butcher paper.
4. Smoke a couple more hours until 206-208 degrees. It will be tender when
probed with a meat thermometer.
5. Rest for 3 hours before serving.
Fried Onions:
1. Slice 1 onion thinly with a mandolin or sharp knife.
2. Mix flour and 3 Tablespoons STEAK OUT in a medium bowl.
3. Toss sliced onions in the flour.
4. Heat oil to fry the onion straws to 375.
5. Fry the onions until golden. Place on a plate with a paper towel to absorb the grease.
Bacon:
1. Use thick cut bacon and layer with Big D's Q Hurricane Rib Rub on both sides. Allow rub to sweat into the meat. (At least 8 slices, but you will want more once you taste it)
2. Place bacon on a cooking rack. (If using a smoker you can go straight in with the cooking rack. If using an oven, place the cooking rack in a baking sheet lined with parch- ment paper).
3. Cook at 400 degrees for 18-20 minutes. Keep an eye on the bacon as some sides may cook quicker than others.
4. Allow bacon to cool and break slices in half.
Assemble the Tacos:
1. Chop the brisket and add as the base layer on the tortilla.
2. Sauce the brisket with Big D's Q Original BBQ Sauce.
3. Add a layer of fried onions.
4. Place the sliced bacon on the side of the brisket and fried onions.
5. Top with jalapenos and pico de gallo.
6. Serve with a side of lime.
[wp_bannerize group="Portrait Ads" random="1" limit="1"]
READY TO BBQ?
Find your next event HERE!
Steak Cookoff Association

KCBS

International BBQ Cookers

California BBQ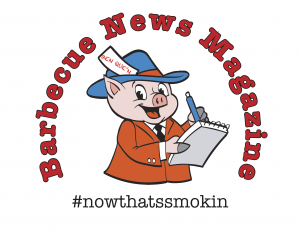 Originally it started as a printed newsletter to let avid barbecuers keep track of upcoming events and results from past events. Today we have evolved into a barbecue and grilling information super highway as we share information about ALL things barbecue and grilling.
© 2022 National Barbecue News:  Designed by ThinkCalico