Diner Pie Cake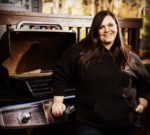 Jayna Todisco
A Mazie Q
Things to consider when making Diner Pie Cake…Don't be daunted. It can be a simple process if you stay organized. Essentially, you are making 3 pies on top of another. It's worth noting that this recipe yields a very tall pie cake. If this overwhelms you, feel free to cut the recipe in half and it will be lower; the only element that I wouldn't reduce would be the ganache. I've done it both ways and both have yielded great results. I purposely did not give a "made from scratch" pudding/Custard recipe only because that with the exception of "Instant Puddings", this really works with any recipe including store bought box mixes (technically works with instant, but it's a lumpy mess…not that I'd know…eh'hem…cough). Instant Pudding mixes have thickeners that activate when the ingredients come in contact with cold liquids, but since we are working with gelatin, that it is a no-no as gelatin blooms and needs to dissolve in warm liquids. Science aside, these are the flavors I picked because they are my favorite. You can absolutely swap one of the pie tiers out with another of your favorite pie. I've been known to make this pie with a peanut butter pie layer. Don't be afraid to get creative with it!
Yields 10 -12 Servings
Tools:
8 or 9-inch Springform Pan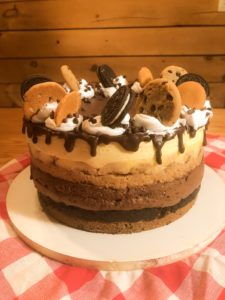 Cake Collar (Acetate),
Waxed or Parchment Paper Parchment Paper
Ingredients
Chocolate Cookie Crust
24 Chocolate Sandwich Cookies or your favorite chocolate cookie, ground
1 Stick Melted butter or 4 oz.
Vanilla Cookie Crust
2 C Vanilla Cookies or your favorite cookie/shortbread cookie, ground
1 ½ Stick butter or 6 oz.
½ C Brown Sugar (optional, but I like to use if the cookie is on the bland side)
Chocolate Ganache
12 oz Semi-Sweet Chocolate
8 oz or 1 C Heavy Cream
1 TBL Butter
Chocolate Chip Cookie Pie Layer
Cook Time – Approx 22 min
16 oz. Cookie Dough or substitute with your favorite cookie pie recipe
Chocolate Cream Pie Layer
4 C Chocolate Pudding/Custard (Your Grandma's recipe or store bought), warmed
4 TBL Dutch Processed Cocoa (optional, but if you like a more intense chocolate, this will be your new best friend)
4 TBL Unflavored Gelatin Powder, equates to 4 packets
½ C Warm Water
1 ½ C Whipped Cream or Whipped Topping – do not substitute with whipped cream in a can, topping in a tub is fine
Banana Cream Pie Layer
4 C Banana Cream Pudding/Custard (Your Grandma's recipe or store bought), warmed. Vanilla Pudding with Banana Extract is fine
4-6 Bananas, sliced
4 TBL Unflavored Gelatin Powder, equates to 4 packets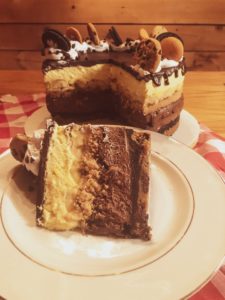 ½ C Warm Water
1 ½ C Whipped Cream or Whipped Topping – do not substitute with whipped cream in a can, topping in a tub is fine
Directions
I like to make all the crusts, cookie layer and ganache the day before. If you want to do store bought anything, go for it, no judgment. Make this as simple as possible. I make everything homemade, but there are days I regret that decision.
To get started, make crusts separately. Grind cookies to a fine crumb and then add butter and blend. Should be consistency of wet sand for both crusts. And yes, you have my permission to buy the ground crumb.
Make the Chocolate Chip Cookie Layer. Preheat oven or smoker to 350 F degrees. Line the bottom of your springform pan with parchment paper (you can use foil too). Press the cookie dough to the bottom of the pan until the bottom is completely covered. Now put in oven or smoker. A cookie is done with the edges are slightly brown and the top feels almost airy to the touch. It will still be soft, just resist the urge to cook until hard as this cookie needs to be soft. Once done, set aside to cool while still in the pan.
Next, prepare the ganache. To make the ganache, put ganache ingredients in a pot and heat over low, stirring constantly until a smooth mixture is formed. If you want to add a layer of ganache on top of the cookie, go ahead and do so and allow to set up. Save some ganache for the top of the "Cake". When cookie and ganache layer has cooled and set up, remove cookie from springform pan. Wrap cake collar or acetate sheet around the cookie base and secure with tape, this will form a wall around cookie. If you are using parchment paper, be sure to butter or use non-stick spray.
It doesn't matter what custard pie layer goes first, but I chose chocolate for this recipe. So, I then pull out my cookie base and add my chocolate cookie crust on top of set ganache and gently push crust in and all the way to the edge of cake. Begin your first pie filling layer.
For both the Chocolate and Banana pie fillings, the same technique applies. The pudding/custard pie filling should be warmed, doesn't have to be super hot, just warm to the touch. Working with one pie filling at a time, fill small cup or container with warm water and while stirring slowly add gelatin a little at a time until all gelatin is incorporated. Strain and stir gelatin mixture into pie filling. If you are working with chocolate, add cocoa powder now. If you are working with banana and want to add bananas and/or extract to pie filling, do so now.
Allow pie filling to cool slightly and add whipped topping. Should be cool enough so that it won't completely deflate whipped topping. Your pie filling should not be soupy but almost pudding-like at this point. If so, it is ready to be added on top of the crust. Once added, refrigerate for at least an hour or until the pie filling bounces back upon touch. Repeat the process for the next crust and pie layer. After the top pie layer is added, let set in the fridge for at least 2 hours or overnight. When set up, pour ganache on top, allow to set. Slice and serve!
Note: if your cake collar or acetate is not tall enough, repeat another layer secured with tape and extend up.