Lovin' The Smash!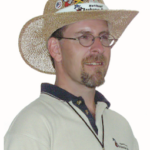 Kell Phelps
Publisher
A few months back I watched my good friend Mark Lambert do a video on how he does the popular "Smash Burger." The recipe and
technique became a must for me as I am always searching out those burger chains like Freddy's and Steak & Shake that offer this style of hamburger joy.
Mark has perfected his technique using an outdoor griddle, which is one of the very few outdoor cooking devices that I do not own. Instead of adding to my already countless number of pits and grills, I decided to figure out a way to do this from the tools I already have at my disposal. After several months of playing around with this new found love, I have come up with a simple and delicious Smash Burger of my own.
Below is my Smash Burger that is featured on the front cover this month. My most excellent adviser, helper and boss lady Janet Phelps also gets credit for helping with both the recipe development and photo on the front page. Her personal touch transformed our beloved Smash Burger into a heart shape as there is a ton of love contained inside this February 2019 issue.
Phelps Paradise Smash Burger
Ingredients
1 lb ground hamburger
2 teaspoon Salt, Pepper, Garlic seasoning 
1 teaspoon Dale's liquid marinade
diced onion
Instructions
Thoroughly mix the SPG (Salt, Pepper, and Garlic) and Dale's seasoning into the hamburger meat. Divide meat into two-ounce portions and roll into a ball. Prepare a charcoal grill for high heat. Place cast iron skillet on the direct flame to get to a searing temperature. Once hot, add meatball and cook for 30 seconds. Next, smash the ball into a flat patty using a bacon press or similar flat tool. Cook until seared before flipping and searing the other side.
Add diced onions to top of burger after flipping and cook until done. This will add another flavor dimension.
ENJOY!
Until Next Month…Keep It Smokin'
Kell and Crew