Smokin' Recipes For Your Valentine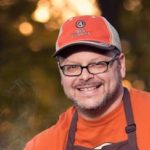 Ray Sheehan
BBQ Buddha
Photos courtesy of Ray Sheehan
Love is in the air…err..well, um no that's smoke. Smoke is in the air. Who says that BBQ can't be romantic? Not me…that's for sure. It doesn't take much to get me cooking outdoors and this is an excellent menu for Valentine's Day that is perfect for a double date or a romantic dinner for two with plenty of leftovers. You can cook the prime rib and the beans together in the smoker while you prepare the chocolate bread pudding on the grill. Your meal will be sure to impress…after all food is love.
Smoked Prime Rib
Ingredients
1 4-5 lb standing rib roast, bone in
Tuscan Herb olive oil or extra virgin
1/4 C steak seasoning
5 T butter, unsalted
6 cloves garlic crushed
Instructions
Trim the roast of any excess fat. Rub the meat all over with the olive oil and season liberally with the steak rub, cover and refrigerate for 12 hours or up to overnight.
Remove the roast from the refrigerator and allow the meat to come to room temperature, about two hours. Prepare a smoker to cook at 275 degrees.
Heat a large sauté pan over medium-high heat. Add in olive oil and sear meat on all sides for 6-8 minutes to form a crust. Transfer the meat to a roasting pan bone side down and top with butter and garlic. Place roasting pan with meat in smoker and cook until you reach desired doneness, 2 ½ – 3 hours for medium rare 125-130 degrees.
Baste with the garlic butter juices that accumulate in the bottom of the pan every 45 minutes. Remove the roast from the cooker and discard garlic. Tent loosely with foil, and let rest for 30 minutes before slicing.
Brown Sugar Bacon Beans
Ingredients
8 slices bacon chopped
1 medium onion chopped
2- 28 oz cans pork n beans
¾ C BBQ sauce
¾ C brown sugar
¼ C cider vinegar
2 T Dijon mustard
1 tsp chipotle chili pepper
salt to taste
black pepper ground to taste
Instructions
Prepare a smoker to cook at 275 degrees. Cook bacon in a large Dutch oven over medium heat until the bacon is mostly cooked, and fat is rendered but not crisp.
Transfer the bacon to drain on a paper towel-lined plate and reserve. Sauté the onions in the bacon grease until soft and translucent. Pour the pork n beans into the pot, stirring in the BBQ sauce, brown sugar, apple cider vinegar, Dijon mustard, chipotle chili powder, salt, and pepper to combine. Stir in the reserved bacon. Transfer the bean mixture to an aluminum 1/2 pan and place uncovered into the smoker. Cook for 2 ½ hours or until beans reach desired smokiness and thicken up. Serve warm.
Grilled Chocolate Bread Pudding
Ingredients
1 stale baguette loaf cut into ½ inch cubes
2 C half & half
1 C milk
1 ½ C semisweet chocolate chips
¾ C sugar granulated
½ C unsweetened,
Dutch-process cocoa powder
4 eggs
½ tsp salt
2 tsp vanilla extract
Garnish:
whipped cream
chocolate sauce
fresh strawberries
Instructions
In a large saucepan over low heat whisk together milk, half & half, eggs, and sugar until warmed and sugar is dissolved, being careful not to scramble the eggs.
Add in the chocolate chips and cocoa powder, mixing until the chocolate is melted and thoroughly combined. Remove from heat and add in salt and vanilla, stirring. Place the bread cubes in a lightly greased aluminum ½ pan and pour the chocolate mixture evenly over the bread. Press down where needed to submerge the bread. Cover the pan with plastic wrap and allow to rest for 30 minutes so the mixture has time to absorb into the stale bread.
Preheat a grill to cook at medium heat about 350 degrees-Indirect method. Unwrap the pan and place on the indirect side of the grill without the flame, close the lid. Cook for about 35 minutes or until the custard is set. Remove from the grill and let rest for 5 minutes. Serve warm garnished with whipped cream, strawberries, and chocolate sauce.