[wp_bannerize group="Leader Ads" random="1" limit="1"]
GBA Contest At Atlanta Motor Speedway
Beef may be what's for dinner, but as a category in a Georgia Barbecue Association Contest?  Well, it was for the inaugural Georgia Beef Board BBQ Showdown held in association with the GBA at Atlanta Motor Speedway on July 9, 2022. 
To make it even better, the whole event was held in the infield of Atlanta Motor Speedway as part of all the festivities surrounding the running of the Alsco Uniforms 250 NASCAR Xfinity Race and Quaker State 400 NASCAR Cup Series Race.
Included in the standard contest entry fee, each competing team got a 40 x 40 foot space in the infield for their cook equipment and camping, and two passes good for infield access from Thursday afternoon through Monday morning.  The track hosted a full slate of events over the weekend, including quarter mile races, an Xfinity Series Race, a Cup Series Race, fireworks, and concerts by Candlebox, Blackberry Smoke, and Flo Rida.  GBA judges also got complementary infield access for the weekend, and everyone had the ability to purchase additional passes and grandstand seats at a discount.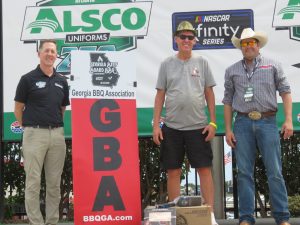 In cooperation with the Beef Board, it was decided that the categories for this event would start with a standard beef brisket.  Things got more creative from there as teams also had to submit their best race day beef recipe, which could be any entry in which beef was a primary ingredient.  Finally, the Sponsors' category could be any beef entry that also included Coca-Cola and/or Pit Boss products as a prominent ingredient.  
As you can imagine, the creativity and skills of the teams were unbelievable, with entries including steak tacos, sliders, mac & cheese with beef, stuffed potatoes, and beef jerky.  Of course, there were also plenty of steaks with sauces that ranged from chimichurri to mushrooms.  
When the racing and cook smoke cleared, the awards ceremony was held in the track's Victory Lane.  Dale Sandlin, Executive Vice President of the Georgia Cattleman's Association, Michael Ziegler, Vice President of Sales for AMS, and Greg Sebastian with the GBA announced the winners and presented the top three teams in each category with Pit Boss prize packs.  
The Overall Champion, who had the highest combined scores in all three categories, won a Pit Boss prize pack that also included a grill, and will receive four VIP Pit Passes, four VIP Suite Passes, and a VIP parking pass for the next NASCAR race at Atlanta Motor Speedway in March 2023.  Finally, the overall champion was also introduced from the main stage as part of the pre-race driver introductions on Sunday.
Smokin' Rack out of Jacksonville, Florida won the brisket category.  Dang Good BBQ from Gadsden, Alabama finished second, followed by Lang BBQ Smokers of Blackshear, Georgia.
In the race day beef category, Blood Smoke and Beers BBQ finished first with the highest score of the entire day.  Lang BBQ Smokers was close behind in second place, and Smokin' Rack came in third.
Free Smokes BBQ took top honors in the Sponsors' category, followed by Dang Good BBQ.  Bronwood Barn & Grill was third.
Smokin' Rack claimed the overall championship with the highest combined score of the day.  Dang Good BBQ was second overall, and Lang BBQ Smokers took the third spot.  
As if there were not already enough excitement, one-man team Randy McKnight of Smokin' Rack dropped a knife and suffered a nasty leg injury while building his brisket box.  In true BBQ family fashion, however, his competitors rushed to his assistance and made sure his entry got turned in while he got medical attention.  As a result, some of them had to break into a full sprintto get their own entries in before the deadline.  
While the GBA sometimes has brisket as an ancillary in addition to its traditional pork categories, this event featured beef in all the judged categories.  This was possible because the GBA recently created a new "In Association With" option that allows the GBA and event organizers to agree under certain circumstances to customize certain aspects of a contest to best meet everyone's needs.  Although these events are not formally sanctioned and no team of the year points are awarded, everyone benefits from the added flexibility not always available in fully sanctioned events.  
This whole event came together in about 2 months once the decision was made to hold it.  What started with "What is a BBQ contest, and how do we do one?" quickly became a reality thanks to the hard work and commitment of Atlanta Motor Speedway, the Beef Board, and the Georgia Barbecue Association.  With more lead time and the benefit of this years' experience, next year will be even bigger and better.  Beef ribs anyone?
[wp_bannerize group="Portrait Ads" random="1" limit="1"]
READY TO BBQ?
Find your next event HERE!
Steak Cookoff Association

KCBS

International BBQ Cookers

California BBQ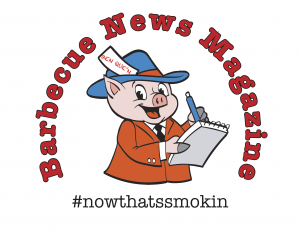 Originally it started as a printed newsletter to let avid barbecuers keep track of upcoming events and results from past events. Today we have evolved into a barbecue and grilling information super highway as we share information about ALL things barbecue and grilling.
© 2022 National Barbecue News:  Designed by ThinkCalico