Grill Rescue Brush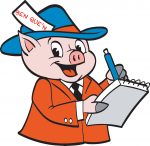 Ben Que'n
Product Reviews
No more wire-bristle brushes please! The horror stories about these death traps are real and could happen to anyone. It's honestly like playing Russian roulette if you use those to clean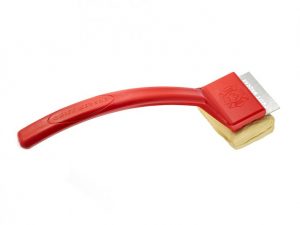 your grill grate.
The Grill Rescue Brush is a perfect grate cleaner for any grill or pit. The brush is used on a hot surface and it uses steam as the main cleaning source. Simply wet the cleaning head in water and swipe over the hot surface to create a steam cleaning that is safe and very effective.
The cleaning head is a sponge totally wrapped in super durable aramid fiber which is the same material found in firefighter gear. The extra-long angled handle is super strong and helps you add pressure to the grill surface when cleaning. The added heat from the grill turns the water into steam that helps take away grease and grime. They even offer an optional head that has a built-in scraper blade for really tough buildups.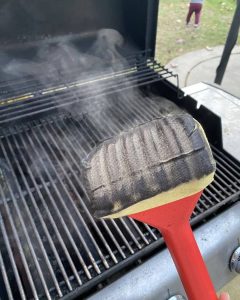 We actually used our test unit while cooking the Steak Cookoff Association World Championship and it preformed perfect during that task. Upon returning home we tried to abuse the brush. We cleaned three different pits and grills that needed some major attention. Every grate we cleaned with the unit performed perfectly as advertised. The brush head has held up great also. After each use we did a simple cleaning in some soapy water and sink. It is advertised as dishwasher safe but after our abuse test we didn't want to risk messing up the dishwasher with the crud caught up in the brush head.
The fact this brush cleans really well without unseasoning the grill is a major plus to us as well. We flipped one of the racks over and cleaned both sides just to see if it would strip off the seasoning from the metal but once the grate heated back up the patina returned.
This is our new grate cleaner for sure. The fact that it is simple to use and easy to clean up has sold us. You can find more about this super safe and effective grill brush at their website www.thegrillrescue.com.
READY TO BBQ?
Find your next event HERE!
Steak Cookoff Association

KCBS

International BBQ Cookers

California BBQ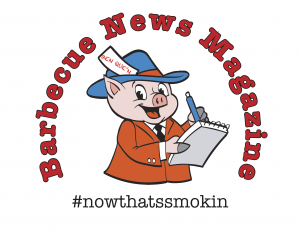 Originally it started as a printed newsletter to let avid barbecuers keep track of upcoming events and results from past events. Today we have evolved into a barbecue and grilling information super highway as we share information about ALL things barbecue and grilling.
© 2022 National Barbecue News:  Designed by ThinkCalico