Honey Sesame Grilled Chicken Thighs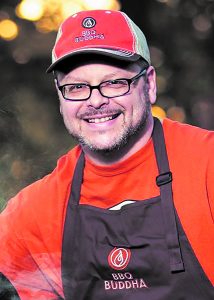 Ray Sheehan
Published Author
BBQ Buddha
Ingredients: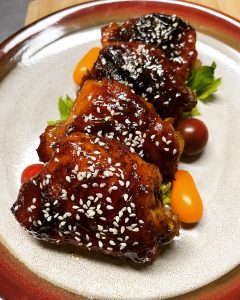 1 tbsp sesame oil
2 tsp minced garlic
1 tbsp rice vinegar
2 tbsp honey
2 tbsp sweet chili sauce
3 tbsp ketchup
2 tbsp light brown sugar
¼ cup low sodium soy sauce
8 bone-in chicken thighs, skin on
Olive oil
Kosher salt
Freshly ground black pepper
Granulated garlic
Directions:
Set up a charcoal grill for 2-zone cooking, about Light a charcoal chimney, and when the edges of the charcoal at the top of the chimney begin to ash over, dump the pile of hot coals onto 1 side of the grill to form your hot side (direct cooking), leaving the other side empty to form your cool side (indirect cooking), form-ing 2 zones.
Prepare the glaze:
In a medium sized saucepan, combine all the glaze in-gredients. Bring to a gentle boil over medium heat, stirring to dissolve the sugar. Lower the heat to low and simmer, stirring occasionally, until it is slightly thickened, about 5-7 minutes. Remove from heat and set aside. Keep warm until ready to use.
Trim the fat from the thighs and cut away any loose hanging skin to make them all about the same size. Using a meat tenderizer such as a Jaccard, pierce holes in the chicken skin by placing the unit over the meat and pressing down. Repeat until you have pierced both sides of the thighs. Coat the chicken all over with a thin layer of olive oil. Season the meat with a light layer of salt, pepper, and garlic.
Once the grill is up to temperature, about 375F to 425F, place the thighs, bone side down on the grate over the indirect heat side of the grill. Close the lid and cook until the chicken begins to brown, about 40 to 45 minutes. Flip the chicken and baste the bottom side of the thighs with the glaze. Cook for 5 minutes, flip the chicken, and baste the top of the thighs. Sprinkle with Sesame seeds and continue to cook until the sauce is set, and the internal temperature of the chicken reaches 175F, about 10 to 15 minutes. Remove the thighs from the grill and place on a platter to serve.
Memphis BBQ

KCBS

International BBQ Cookers

California BBQ
National Barbecue & Grilling

Minnesota BBQ

Mid-Atlantic BBQ


Originally it started as a printed newsletter to let avid barbecuers keep track of upcoming events and results from past events. Today we have evolved into a barbecue and grilling information super highway as we share information about ALL things barbecue and grilling.