Lot Of Smoking Going On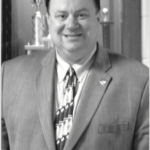 By Doug Mosley
I don't know that I'd ever come across a book like this one. I should start by saying that generally when I first receive a book I will flip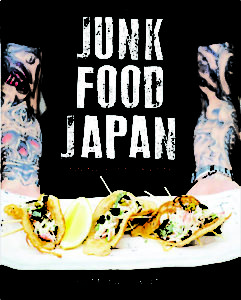 through its pages to get a sense of what it is about and how it is constructed, not just in terms of how the book is arranged but also designed. But I have to admit that when I first opened "Junk Food Japan: Addictive Food from Kurobuta" by Scott Hallsworth ($40, Absolute Press, 272 pp.), I really didn't know what to think of it. It was brash, edgy, risky and delectable all rolled into one. There was coarse language paired with beautiful pictures; raw layout holding exquisite prose. It was as if the square peg had been jammed into the round hole and somehow it fit perfectly.
The best way to understand what you'll have at hand when you read this book is to first take in the four-page autobiography that the author shares in the introduction. I can't promise you that I always read every word of each book's introduction but in this case it seemed to be a wise move. Once you learn the story of an athletically skilled boy from Western Australia who drops out of school and leaves home at 16 to begin a journey that would cover three continents in varying roles in kitchens that ranged from French to Chinese to German to ultimately pan-Asian cuisine. Through countless misadventures and wild gambles, Hallsworth eventually arrives as the chef of a London-based Japanese rock'n'roll restaurant. Somehow he crammed all that into this amazing book.
The recipes are incredible – Barbecued Pork Ribs with Sticky Honey, Soy and Ginger Glaze, Miso Grilled Hot Wings, from a chapter on BBQ and Fire Pits there is Fire Pit Quail and Tea-Smoked Lamb with Spicy Korean Miso. There's a great section on kushiyaki grilling, which is carefully explained as grilling on skewers except it's not simply sliding something onto a stick but rather involves much more with key details being how many skewers and in what angle they are placed to create different dishes. And also kombu roasting, which is sort of like planking except for the plank is edible kelp, with Kurobuta's renowned Kombu-Roasted Chilean Sea Bass recipe.
Even as I work in these prerequisite recipes I have to tell you this: It's the story that is remarkable in this book, not just the food. Hallsworth's story is about the pursuit of great flavors and I know the cook in every one of us is going to be moved by what he shares on these pages. Enjoy this book and then go cook something amazing.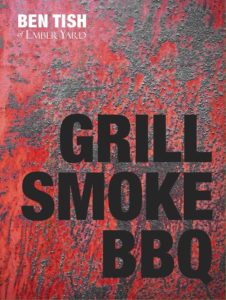 While we're on the topic of international restaurants and London in particular, let me also tell you about a British barbecue restaurant (or grill restaurant in their vernacular) called Ember Yard and its chef director, Ben Tish, who has authored the book "Grill Smoke BBQ" ($35, Quadrille Publishing, 256 pp.). This book is fully committed to cooking all over an outdoor live fire, whether it be (according to the chapter titles) Breakfast, Brunch & Bread; Tapas & Small Plates; Large Plates; Sides; or Desserts.
It is a richly illustrated book of full-color pictures, some of finished dishes and others of some artful outdoor cooking settings. The inspiring pics will have you cooking outside all day long, whether it be for hearty breakfast (Charcoal-Grilled Pancetta and Sausage with Fried Morcilla Sandwiches, Eggs and Chorizo Ketchup), light snack (Grilled Octopus with Mojo Verde and Peperonata) or a sumptuous dinner (Barbecued Pheasant in Lardo with Porcini, Crispy Garlic and Truffle Butter). Hope you saved room for dessert (Smoky Bitter-Chocolate Puddings with Melting Whipped Cream).
I always enjoy the international books and seeing how they do it over there, wherever that might be. This one is well-written and beautifully done. Just be sure to have your metric conversions handy for the recipes.
Since we're all avowed fans of barbecue here and in turn smoked meats, it is likely that at some time or the other you have wondered what else you can do with that smoker you have on the deck in or in the driveway. I'd dare even say many of you have conducted some rudimentary experiments on your own, finding that some things lend well to the taste of smoke and other…maybe not. I have a book for you to satisfy that curiosity and direct those efforts into dishes that will be truly spectacular – "Smoking Hot & Cold: Techniques and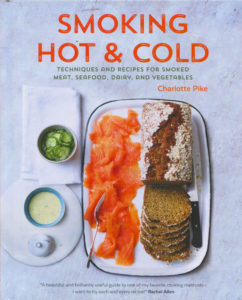 Recipes for Smoked Meat, Seafood, Dairy, and Vegetables" by Charlotte Pike ($24.95, Kyle Books, 144 pp.). This book was originally published in the United Kingdom and has a bit of a European feel to it without being too exotic. So while the standards are covered – Homemade Bacon, Spice-Glazed Smoked Ham, Maple-Smoked Pork Ribs – they don't get bogged down in listing so many recipes for the familiar at the expense of variety. Instead we're offered Asian-Spiced Smoked Beef Ribs, Hot-Smoked Duck Breasts and Smoked Rabbit Casserole, among others. But the smoked meats section isn't even the largest chapter in this book (just under 40 pages). Instead it is the outstanding opening chapter on Fish that goes almost 50 pages and covers a wide array of dishes – Cold-Smoked Side of Salmon, Skagenrora (Scandinavian smoked shrimp), Hot-Smoked Herring Fillets (Kippers), Hot-Smoked Trout Pate with Sourdough Toasts, Smoked Monkfish with Prosciutto and Rosemary and more. There's also a great chapter on Dairy (smoked cheeses and butters) and another on Vegetables & Salt.
All that and it has a nice back cover blurb from the famed Remus Powers. An endorsement like that ensures this book will be pretty good. I have no doubt it will jumpstart your creativity when it comes to what goes on your smoker next.
Harvard Common Press has been successfully printing its "25 Essentials…" series of cookbooks for nearly a decade. It's a great concept where they have an established author write about cooking techniques for either a type of food or a cooking apparatus. As an example, Karen Adler and Judith Fertig authored "25 Essentials: Techniques for Grilling Fish" in 2010 and Ardie Davis (a.k.a. the abovementioned Remus Powers) wrote "25 Essentials: Techniques for Grilling" in 2009. There have been others in the series (Planking, Gas Grilling, Smoking) and they've all been fun books that will take you through a beginning-to-expert primer on the topic.
The newest book in this series is now available: "25 Essentials: Techniques for Wood-Fired Ovens" by A. Cort Sinnes ($18.99, 128 pp.). Sinnes had previously written "25 Essentials: Techniques for Gas Grilling" but has now changed his focus to a different type of cooker. Having a wood-fired oven on the patio might be a dream for many but who can claim to know what to do with it once you attempted that compulsory pizza. Sinnes takes us through the possibilities in these pages with topics like roasting chicken parts and whole turkeys, grilling steaks, roasting mixed vegetables and potatoes, making risotto, slow-cooking beans, and – yes – making wood-fired pizza, calzones, bread and even pretzels. As with the previous editions in the series, the techniques are explained in necessary detail and accompanied by illustrating pictures. It all makes for another excellent book in this very worthwhile line.
It will be heating up soon. Really it will. For those of you in the northern states who've had to put up with this winter and spring of one blizzard after another this has no doubt taken a serious toll on your precious barbecue time. Even for the hardiest of all y'all, just the time you've had to divert to shoveling out your driveway over and over and over again had to have seriously cut down your available cook time.
But as I was saying, it truly will be getting warmer soon and that calls for some hot and spicy accompaniments to go with those hot-off-the-grill creations. I have the perfect book to recommend to you – "Fiery Ferments: 70 Stimulating Recipes for Hot Sauces, Spicy Chutneys, Kimchis with Kick and Other Blazing Fermented Condiments" by Kirsten K. Shockey & Christopher Shockey ($24.95, Storey Publishing, 264 pp.). This book strives to be that one-stop resource and the recipes seem to run the gamut, from sauces to pastes to pickles. But what I really liked about this book is the all the introductory content provided before even getting into the recipes. The first 75 pages is spent telling the reader about equipment, techniques, tips and helpful hints. Let's face it – the recipes are usually the easy part of the book and mostly can be effectively handled by presenting them in the same way over and over again. But it's the content that leads to those recipes that often proves most valuable and in "Fiery Ferments" the authors have nailed it. I really believe someone who knows nothing at all about the topic could take this book and feel well-informed and confident to try making their own dishes after reading it. Ultimately isn't that the test of a great cookbook? "Fiery Ferments" aces that test.
After you've created that perfect batch of kimchi from "Fiery Ferments", you're going to be looking for something to use it with, right? Good news – I've got you covered but it likely won't surprise regular readers when I offer you something a bit off-the-wall.
When you think of food from Hawaii (beyond the luau, that is) SPAM may be the dish that first comes to mind. SPAM's roots aren't truly Hawaiian but I can suggest to you something that is – poke (pronounced PO-kay). The true Hawaiian dish (which pairs well with that kimchi) seems to be popping up more often on mainland menus and how there's a great book on how you can DIY: "Poke: Hawaiian-Inspired Sushi Bowl" by Celia Farrar and Guy Jackson ($19.99, Hardie Grant Books, 144 pp.). This book does a nice job of demystifyng poke to those who likely have little idea about it. The authors straddle nicely between introducing the reader to the cuisine and demonstrating how it doesn't require exotic ingredients, but also provided enough advanced information on some over-the-top poke dishes and explaining how to obtain what's needed. The book is nicely illustrated with full-color, even a bit kitschy, pictures of many finished dishes and is written in a succinct manner. I have no doubt that if you have an interest in poke then this is the book that you should purchase. When it comes to beer these days, the small craft breweries have the big breweries in full consolidation mode to try to hang onto market share. For beer drinkers, that good AND bad news. The good news is you have loads of new options; the bad news is how increasingly difficult it's become to keep up on what it great and what isn't. After all, life is too short to drink bad beer.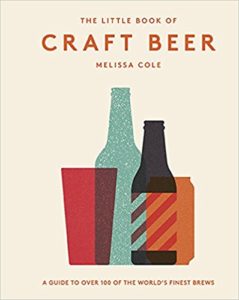 Fortunately, there is a new book that can help in sorting out the proverbial wheat from the chaff: "The Little Book of Craft Beer: A Guide to Over 100 of the World's Finest Brews" by Melissa Cole ($14.99, Hardie Grant Books, 176 pp.).
Author Cole does a very nice job of supplying plenty of interesting and unique details about each of the 100 beers that made the list (ABV, Country of Origin, Try It If You Like, Great With, Also Try) as well as individual narratives about the beers and their breweries. The job of selecting them and assembling all this info must've been grueling (wink, wink), but Cole is legit as she is an award-winning writer who'd previously written the book, "Let Me Tell You About Beer" and is an internationally recognized beer competition judge. In this book, she groups the beers into chapters by styles but then conveniently provides a listing of each country in the index. All in all, it's a very nicely done book.
OK, so maybe craft beer isn't so much your thing since you find yourself to be more of a cocktails drinker. And the one spirit that equals craft beer for its current popularity and breadth of variety is rum. I remember when it seemed like the corner package store only carried Barcardi and one other choice. Now there are so many great small-batch rums that have become available that understanding the differences and nuances to each can be exhaustive. Fortunately, there is a great reference at hand – the new book, "Rum Curious: The Indispensable Tasting Guide to the World's Spirit", by Fred Minnick ($25, Voyageur Press, 240 pp.). Minnick draws upon his experience as a spirits expert in the media (CBS This Morning, New York Times, Esquire, NPR) as well as a judge in competitions to author a complete and very useful guide. He opens with nearly 80 pages of background information that includes chapter on history and production as well as an interesting take on what different nations declare to be their regulations on rum (trust me when I say there's a lot of differences). Following that he plows into a definitive listing of rums with notes that include ABV, aroma, palate, how to drink and a numeric score that Minnick explains in the beginning. In the section on fine aged rums, he even included suggestions on what cigars to enjoy while sipping them.
This book is a valuable purchasing guide for any rum aficionado and a great resource for anyone who wants to look like they know what they're talking about when the topic is good rum. Either way, no doubt you're going to drink better rum just from reading this book.