Barbecue Community Spotlight
Paying tribute to those barbecuers who give back
BBQ "Hall of Famer" still cares about the Seniors'
Info and photos courtesy of Mike Tucker
Some would say he's getting close to the age of cooking for his own peers, but Speed Herrig of Cookies bbq still provides a great spread for seniors in northern Iowa every year. Speed feeds hundreds of seniors annually, and has fed thousands over the years. He does it in recognition of senior q, and the continued importance of seniors in our society. This has been going on for around 12 years or so. The residents of numerous care facilities enjoy the event, and look forward to getting a visit from the man himself every year. Speed is an Iowa icon, a devoted family man, and a person who is always figuring out new ways to help his community. No wonder he was an original inductee into the national bbq hall of fame. Keep on doing what you're doing Speed, don't let us slow you down!
Operation BBQ Relief is a CNN HERO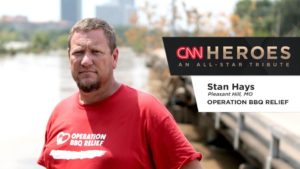 Congratulations to Stan Hays on being name a CNN HERO. This national tribute to 10 of America's finest volunteers is held annually with the opportunity for each volunteer to win $100,000 for their designated charity of choice. Stan and his partner Will Cleaver have taken their barbecue skills and turned that into a lean mean feeding machine when any disaster strikes. Thank you guys and Operation BBQ Relief for making a way so the entire BBQ world can now give back in the time of need!