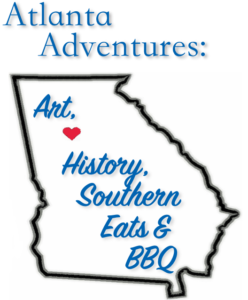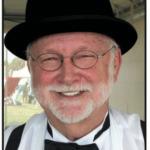 Ardie Davis aka Remus Powers
BBQ Hall of Famer
Photos courtesy of Ardie Davis
We may have all come on different ships, but we're in the same boat now. – The Reverend Dr. Martin Luther King, Jr. Born, January 15, 1929 – Atlanta, Georgia Died, April 4, 1968 – Memphis, Tennessee
Neighbors we must have, be they few or many, near or far. We have no choice in the matter. The profession of hermitry, if one may call it so, is a lost art… – Joel Chandler Harris Born, December 9, 1845 – Eatonton, Georgia Died, July 3, 1908 – Atlanta, Georgia
Our earth is only one polka dot among millions of stars in the cosmos. 1968 – Yayoi Kusama, Born 1929
After General William Tecumseh Sherman scorched the business district of Atlanta prior to launching his March to the Sea more than 150
years ago, the City of Atlanta arose from the ashes to become far more than General Sherman ever could have imagined.
Metropolitan Atlanta today is a thriving mix of Old South, New South and Global Village—a cornucopia of art, history, popular culture, information technology, aircraft production, transportation, higher education, medical science, filmmaking, and culinary diversity that includes old-school Southern barbecue and contest-style barbecue as well as Korean-accented/Georgia/chef-driven barbecue.
Thanks to guidance from Atlanta native and friend, Jim Auchmutey, Gretchen and I recently spent three days of memorable adventures in Metro Atlanta. I hope these highlights whet your appetite for some urban Georgia South in your mouth:
ART
Yayoi Kusama's retrospective exhibit, "Infinity Mirrors," at the High Museum of Art lured us to Atlanta. It's the final stop of a six-city tour, from Washington DC, to Seattle, Los Angeles, Toronto, Cleveland and Atlanta. Gretchen has been a Kusama fan for years. I've been so-so about Kusama ("What's with so many polka dots?") until we saw a documentary about the 89-year-old artist's life, then experienced her art and her
outlook on life firsthand in the Atlanta exhibit. Not only is she a major talent whose work resonates with a huge international audience of all ages, she is still fully engaged in life as a prolific artist. Kusama's repetitive patterns of dots, webs, figures, faces, plants and geometric patterns on large canvas, globe and sculpture formats pulled me into her reality. Her art affirms what a walk along sandy beaches on either coast always whispers to me through the ebb and flow of waves: "You're a tiny grain of sand among trillions and trillions. You're a tiny permanent part, in one form or another, of the amazing infinite universe. Maybe you'll stand out with a twinkle once or twice (call it 'fame'), but what's most important is your connection with all of the other grains of sand. We're all in this together." Of course the thoughts go on and on, but I'll spare you more musings. Yayoi Kusama's remarkable art and her life is making a positive impact in millions of lives today.
HISTORY
What we call Metropolitan Atlanta today was originally home to the Native American Creek Nation. How it came to be occupied by European settlers in the 19th century, then becoming a major transportation and commerce hub is a fascinating story laced with pain and glory, but too lengthy for this brief column.
On a personal note, Atlanta was home to two individuals who are major influences on my life: The Reverend Dr. Martin Luther King, Jr., and Joel Chandler Harris. It was an honor and fulfillment of two items on my Bucket List to visit the Martin Luther King, Jr. National Park, as well as Joel Chandler Harris' Atlanta home, The Wren's Nest, where Mr. Harris wrote many Uncle Remus tales and where he took his last breath.
Southern Eats
The Atlanta culinary scene for sure goes beyond barbecue. Besides traditional Southern favorites such as fried chicken, cornbread, biscuits, pork roast, country ham, fried okra, fried green tomatoes, cornbread stuffing, greens, and Brunswick Stew, you can get gourmet Southern, Chinese, Japanese, Korean, Thai, French, Brazilian, Indian, Mexican, Farm to Table, whiskey bars, wine bars, craft beer bars and much
more. We enjoyed a gourmet Southern dinner at Miller Union in Atlanta's former stockyards district. Jim told us that at one time, "it was one of the largest mule markets in the South."
We sipped a Southern Son cocktail while reviewing the Miller Union menu. One sip was enough for Gretchen—too much bourbon to her liking. That was okay with me, as I found it to be a masterful re-do of the Old-Fashioned: bourbon and bitters sweetened with maple shrub and a kiss of vanilla with a lemon swath instead of an orange slice and cocktail cherry garnish. As one who prefers whiskey or bourbon neat, Miller Union's Southern Son was surprisingly friendly to my palate.
Expecting that our hunger would be fully satisfied with two entrees, we didn't order starters. Our server noted that the farm egg baked in celery cream, with grilled bread is a standout favorite at Miller Union. Maybe next time. Miller Union vegetables and apples were our favorites. Gretchen's seasonal vegetable plate entrée of sautéed greens, broccoli seasoned with chili oil & parmesan, butternut squash and roasted apple, new potato & roasted radish, with roasted brussels sprouts was artfully presented, flavorful and fully satisfying.
I ordered grilled pork loin with butternut squash, sautéed greens, apple, ginger and chili oil. The pork loin was neatly sliced, with grill marks and diced apple garnish, atop sautéed greens. Ironically, pork lover that I am, I liked the greens and squash a lot better than the pork loin.
Since it's unthinkable to miss out on a Southern meat & 3, Jim pointed us to the 70+-year-old Atlanta staple, Mary Mac's Tea Room. We paced ourselves with fried chicken, pork roast, cornbread dressing with gravy, sweet potato soufflé, fried okra, fried green tomatoes and the "table wine of the South," sweet tea. Pecan pie a la mode for dessert topped off a Mary Mac's dinner of excellent food and exemplary Southern hospitality.
BBQ
Atlanta has enough noteworthy barbecue restaurants to fill a heavenly week or two of full-time swine dining. Today, thanks to some rising meat fires stars, Atlanta's reputation for barbecue excellence is growing. B's Cracklin' Barbeque, DAS BBQ, and Heirloom Market are among the most notable new places.
We met Jim Auchmutey for lunch at B's Cracklin' Barbeque, and it did not disappoint. We started with pulled pork tacos featuring smoke-kissed meat from heritage hogs, followed by a sampler plate of pork, chicken, ribs and brisket, with Brunswick Stew, collard greens, bbq beans and hoecake cornbread on the side. Each meat was tender, smoke-kissed, juicy and delicious—and that includes the sliced beef brisket, the best I've ever had in Georgia or Tennessee. Kudos to pitmaster/owner Bryan Furman, out of Savannah, a rising star in Southern barbecue.
We couldn't finish the sampler plate—not for lack of trying—and had no room for dessert. There was enough left over to share with Melissa
and Carla at The Wren's Nest, our next destination.
To literally stand in the house where Martin Luther King, Jr. was born and spent his childhood—the parlor, bedrooms, dining room, kitchen, downstairs and upstairs, and later to experience The Wren's Nest with Wren's Nest Board Member, Jim Auchmutey, as our guide, was a priceless fulfillment of a longtime dream.
My one regret is that we missed seeing the "Barbecue Nation" exhibit at the Atlanta History Center. On the upside, however, it gives me good reason to return to Atlanta before the exhibit closes next September.
Atlanta, like all cities, has infrastructure and social issues to continuously address, but my bottom line impression of today's Atlanta is this: I love it! Kudos to all who make it one of America's greatest cities.
Happy New Year! Let's make 2019 a memorable year of growth and fun!