New Years Traditions Done Right!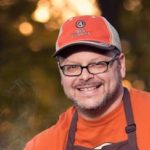 Ray Sheehan
BBQ Buddha
Photos courtesy of Ray Sheehan
Bourbon Glazed Pork Chops
Ingredients:
For the Chops:
4 bone-in center cut pork chops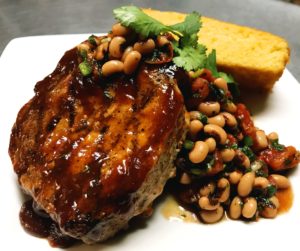 2 tsp kosher salt
2 tsp black pepper; ground
2 tsp garlic; granulated
1 tsp dried thyme; ground
olive oil
For the Bourbon glaze:
1/3 C molasses
¼ C bourbon
3 T Dijon mustard
1 T brown sugar
Directions:
In a small saucepan combine the molasses, bourbon, mustard, and brown sugar. Bring to a boil over medium-high heat. Reduce to medium-low and simmer for about 10-12 minutes or until the glaze thickens to lightly coat the back of a spoon. Remove from heat and set aside until ready to use.
Prepare a grill to cook at medium-high heat, about 400 degrees direct cooking method. In a small bowl mix together salt, pepper, garlic, and thyme. Brush each chop with a thin coating of olive oil and season with the spice mixture.
Grill the chops until an instant-read thermometer registers 140 degrees. Brush each pork chop with the glaze and return to the cooker until the internal temperature of the meat reaches 145-150 degrees and the sauce is set. Transfer meat from the grill to a platter and let rest for 5 minutes before serving.
Black Eyed Pea Relish
Ingredients:
15 oz can black-eyed peas drained, rinsed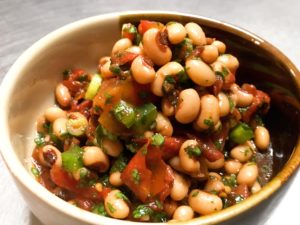 14.5 oz can diced tomatoes or 2 plum tomatoes seeded and diced
4 green onions; sliced
2 cloves garlic; minced
2 T cilantro; chopped
2 T olive oil
2 T Balsamic vinegar
1 Jalapeno; seeded and minced
kosher salt to taste
black pepper; ground to taste
Directions:
Mix all ingredients thoroughly in a medium bowl. Cover and refrigerate. Let come to room temperature before serving.
Collard Greens with Bacon
Ingredients:
8 slices Bacon diced
1 onion chopped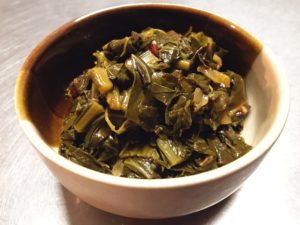 3 C chicken broth
1 lb collard greens; stems removed
2 cloves garlic; minced
2 T apple cider vinegar
1 T brown sugar
1 pinch red pepper flakes
salt to taste
black pepper ground to taste
Directions:
Heat a Dutch oven over medium-high heat. Add bacon and cook till crisp. Add onion and sauté until soft. Add garlic and cook for 1-minute stirring. Add in collard greens and cook until they begin to soften. Stir in chicken broth, apple cider vinegar, and brown sugar. Season with salt, pepper, and red pepper flakes. Reduce heat to low, cover and simmer until greens are tender…about 1 hour.