Real Americana from Jayna Todisco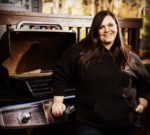 Jayna Todisco
A Mazie Q
Photos courtesy of A Mazie Q
Jayna began attending barbecue competitions as a spectator over 15 years ago and as her enthusiasm grew, she then decided to judge contests. After five years of judging she decided to get busy smoking! Supported by her husband Pete and two sons they formed a competition team named A Mazie Q. They've been on the circuit for over 9 years and hope to be around for many more!
Meatloaf Bombs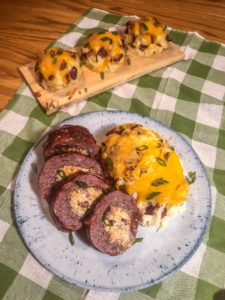 Yields 8 Large, 16 small individual meatloaf bombs
Ingredients:
Meatloaf:
5 lbs. Ground beef (preferably chuck & brisket with a high-fat content)
3 Cloves minced or crushed fresh garlic
6 eggs
2 ½ C Bread Crumbs
2 C Shredded Cheese blend – I like a sharp White & Orange Cheddar, Gouda & Colby mix
4 TBL BBQ Rub (balanced, nothing too salty or sweet)
Meatloaf filing:
2 8oz Cream Cheese Packages
2 Cloves minced or crushed fresh garlic
2 TBL BBQ Rub
1 C Shredded Sharp White Cheddar Cheese
1 C Sharp Cheddar Cheese
1 C Shredded Pepper jack or Colby Cheese (feel free to use your favorite type)
1 ½ C Bacon Crumbles (Optional)
½ Small Onion grated
(Optional) Prosciutto slices, approx. 10 for large bombs and 18 for small
Bacon Slices for Wrapping (approx. 2-3lbs)
2 C BBQ Sauce, plus ¼ C Honey
Directions:
Combine all Meatloaf ingredients in a large bowl or full pan and set aside to refrigerate until filling is ready. In a separate bowl, mix together all filling ingredients. Both the filling and the meatloaf mixture can be made a day ahead.
Heat Smoker to 275 F.
To assemble, grab a golf ball sized spoonful of the filling (approx. 2 oz.) and roll out to resemble a tube. Take a piece of prosciutto and wrap to cover filling. The prosciutto will help prevent the filling from bleeding out. It may still bleed, but not as bad. Flatten out about 4oz of meatloaf mixture and place filling tub in center and wrap the meatloaf mixture to complete encompass filling. Take a bacon slice and wrap around. These should make approx. 16 small individual meatloaf's. If you would like bigger ones, simply double the size on filling and meat.
Put on Smoker and glaze with BBQ Sauce when cooked. Return to smoker to set sauce.
Smoked Loaded Smashed Potatoes
Yields 8-10 Servings
Ingredients:
5lbs Potatoes, white or red bliss
1 C Sour Cream
1 Stick of butter or 4 oz. ¼ C Heavy Cream or Half & Half
1 TBL Chicken Base (optional)
 1-2 Cloves Fresh Crushed Garlic (optional)
Salt & Pepper to taste
1 C Sharp White Cheddar
1 C Cheddar
1 C Monterey or Colby
1 ½ C Crumbled Bacon
Scallions (sliced) or (snipped)
Chives
Directions:
Heat smoker to 325- 350 F
Simmer Potatoes until soft and prepare to mash. Mash or mix together potatoes with sour cream, butter, heavy cream or half & half, chicken base, garlic, salt & pepper. After mashed, fold or gently stir in cheese and bacon. Setting about 1 C aside to sprinkle on top. Note that there is not a lot of liquid in this recipe, as when you add the cheese it will soften and you don't want to be too loose.
Scoop out potatoes on to a sheet pan or wood plank and form into mounds. Sprinkle cheese on top of each mound. Put on smoker and cook through until cheese on top is melted. Remove from heat and garnish with scallions or chives. Serve immediately.