Bacon Wrapped Jalapeno Popper Chicken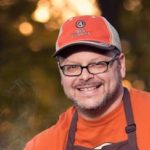 Ray Sheehan
BBQ Buddha
Photos courtesy of Ray Sheehan
Ingredients:
4 chicken breasts Poultry Rub
2 jalapenos roasted, diced
¼ cup cream cheese softened
¼ cup Colby jack cheese shredded
8 slices bacon
BBQ sauce (your favorite) warmed
For the Poultry Rub:
½ cup brown sugar packed
¼ cup paprika 3 tbsp chili powder
1 tbsp garlic powder 1 tbsp onion powder
1 tbsp salt 1 tsp ground cumin
½ tsp dried thyme
½ tsp ground black pepper
Directions: Combine all rub ingredients in a medium bowl and set aside. Leftover rub may be stored in an airtight container for up to 6 months.
Prepare a charcoal grill for two zone cooking. Lay the chicken between 2 pieces of wax paper and using a meat mallet, pound to ¼ inch thickness. In a small bowl mix jalapeno, cream cheese, and Colby jack to combine. Spread ¼ of the jalapeno cheese mixture onto each of the chicken breasts and roll up. Wrap the chicken with 2 slices of bacon and secure with toothpicks if necessary. Season the bundles all over with an even layer of the poultry rub. Place the chicken breasts directly on the rack over the indirect heat side of the grill with the lid closed, and cook until you reach 165 degrees, about 20-30 minutes. Brush the chicken with the BBQ sauce during the last 5 minutes of cooking to glaze. Remove the chicken from the grill and let rest for 5 minutes before serving. The filling will be hot. 
Bread & Butter Pickles
Ingredients: 2 lbs. Kirby cucumbers rinsed and sliced
2 medium onions sliced
2 tbsp kosher Salt
2 cups cider vinegar
1 ¼ cups sugar
2 tsp yellow mustard seeds
½ tsp. celery seeds
¼ tsp ground turmeric
Directions: Toss cucumbers, onion, and salt in colander set over a bowl. Let stand for 1 hour.
In a large pot bring vinegar, sugar, mustard seeds, celery seeds, and turmeric to a boil. Reduce heat and add cucumbers. Simmer for about 5 minutes or until cucumbers are a darker green color but still crisp. Remove cucumbers from heat and place into a stainless bowl set over a bowl of ice water to cool. Refrigerate when cool enough. This may take about an hour.
When cold, package into ball jars and store in the refrigerator for up to 3 weeks. 
Memphis BBQ

KCBS

International BBQ Cookers

California BBQ
National Barbecue & Grilling

Minnesota BBQ

Mid-Atlantic BBQ


Originally it started as a printed newsletter to let avid barbecuers keep track of upcoming events and results from past events. Today we have evolved into a barbecue and grilling information super highway as we share information about ALL things barbecue and grilling.