Brisket Chronicles, Burgers, & S'mores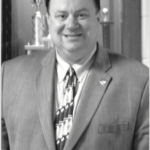 Doug Mosley
Resident Book Guru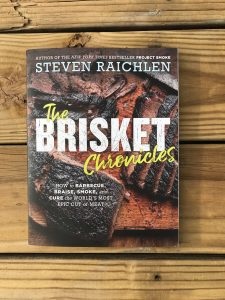 For me, Steven Raichlen is on the Mount Rushmore of barbecue book authors. He has written some of the most important and culture-guiding books on the topic. He's written so many outstanding books that it has become impossible for me to say that this book or that book is his best book ever. So let's just say there is an expected Raichlen standard of excellence and judge each subsequent book from there, OK?
With that in mind, Raichlen's new book "The Brisket Chronicles: How to Barbecue, Braise, Smoke and Cure the World's Most Epic Cut of Meat" ($19.95, Workman Publishing, 278 pp.) easily exceeds that standard. This book is one of the two best books I've ever read that featured brisket with the other one being written by Aaron Franklin, who gave a cover blurb quote for this book, saying "…Brisket Chronicles will surely spark new enthusiasm in even the most seasoned brisket fan…". Pretty heady words coming from the guy who has people waiting in lines for hours to sample his brisket.
Raichlen somehow has a vision for what is on the horizon in barbecue trends and the background to be able to produce books that boast an incredible range of styles and details. I'm continually impressed by his research and how he presents stories and recipes drawn from the far corners of the Earth.
In this book he presents brisket in just about every way it can be presented in chapters titled in part Barbecued and Grilled; Cured; Braised; Boiled, Stewed and Fried; For Breakfast; To Begin; and Sandwiches. The recipes are mostly accompanied by stories and background information as well as plenty of full-color pics. They are also selected in a way that gives the reader a very broad spectrum of dishes featuring many different styles and flavors.
Raichlen has been well known for his Barbecue University classes. In this book, we practically have Raichlen conducting Brisket University for us on the pages. At 20 bucks, the tuition is a bargain.
I am probably one of America's Test Kitchen's best customers. I DVR all of their TV shows – America's Test Kitchen and Cook's Country –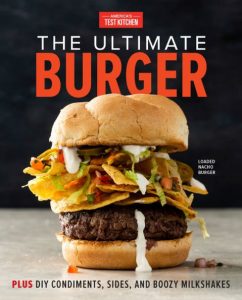 and love the magazines – Cook's Illustrated and Cook's Country. I've also long enjoyed the cookbooks released under the America's Test Kitchen brand. I find them to be incredibly well written and done in a very clean and easy-to-follow graphical style that runs similar from book to book. There's always plenty of pictures to illustrate techniques and loads of pertinent information and tips. I also really enjoy how they focus on regional influences in many of their books. One of their latest releases, "The Ultimate Burger: Plus DIY Condiments, Sides, and Boozy Milkshakes" ($26.99) is completely shaping my backyard grilling this summer. I don't seem to have enough evenings to try out all the interesting recipes in this book! Grilled New Mexican Green Chile Cheeseburgers, Grilled Juicy Lucy Burgers, Thai-Style Turkey Sliders, Grilled Bayou Burgers with Spicy Mayonnaise – I could go on and on. There's also a great chapter of sides as well.
To me, the America's Test Kitchen brand stands for quality and integrity. This book is right up there were all their previous great books and it should be on your bookshelf.
Here's a fun little book that takes a subject we're all very accustomed to and pushes it beyond the limits of what any of us likely thought. "S'mores!: Gooey, Melty, Crunchy Riffs on the Campfire Classic" by Dan Whalen ($14.95, Workman Publishing, 138 pp.) is a collection of super-creative recipes for that simple treat we've all likely enjoyed about every time we've been around an outdoor fire.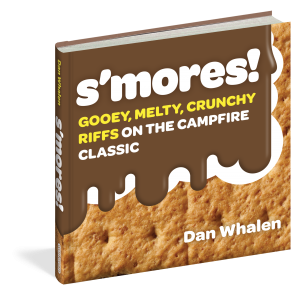 I'm sure you're like me – you wondered how you could improve on a toasted marshmallow with a slab of chocolate between two graham crackers. I've tried different chocolate (those Godiva filled squares offer some interesting variety) as well as subbing cookies for the graham crackers. But no matter how creative you've gotten with this dish, you've likely never pushed it to the extremes that author Whalen does in this book. How does PB&J S'mores sound? Or Cookie Dough S'mores or Caramel Apple S'mores? Those are all riffs off the basic idea but Whalen goes well beyond with offerings such as Baklava S'mores (baklava replacing the graham crackers) and Sch'murros made with homemade churros. The creativity really gets out there once the "who says s'- mores have to be a sweet treat?" question is posed. Caprese S'mores are toasted pearl-size mozzarella balls with grape tomatoes on focaccia crackers. There's no doubt with this book your next campfire will get a whole lot more tasty.