Memphis On My Mind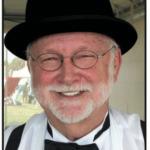 Ardie Davis
aka Remus Powers
BBQ Hall of Famer
Photos by A. Davis 
Kansas Citians recognize Memphis' major influence on Kansas City barbecue. Henry Perry, known as the Father of Kansas City Barbecue, brought his barbecue talents and marketing savvy from Memphis' Shelby County to Kansas City when he decided, after17 years of working in steamboat restaurants on the Mississippi and Missouri Rivers, to settle in Kansas City at the age of 32. Mr. Perry first got a job as a porter. Only a year later, in 1908, he was selling smoked meats. Thus began his enduring legacy and influence on Kansas City barbecue. Going to Memphis has therefore become an oft-repeated pilgrimage to me.
The Memphis in May bug bit me more than three decades ago when a caravan of Kansas City barbecue faithful ventured forth to Memphis at sunset for an all-night journey to Bluff City, towing barbecue rigs, meat, fuel, and equipment, hoping to return to Kansas City with a trophy or two. Trophies didn't happen, but there was memorable fun, camaraderie and good eats. The theme of this year's 42nd Annual Memphis in May World Championship Barbecue Cooking Contest was "Game of Bones." The contest, by design or happy coincidence, happened the weekend of the "Game of Thrones" finale.
Instead of the traditional salute to a country such as Japan, Canada, Australia or many other trade partner countries, the Memphis in May International Festival saluted the City of Memphis on the 200th anniversary of its founding. While much of the nation's central states and eastern states were being pounded by heavy rains and flooding, daytime Memphis was sunny, humid and hot during the entire stretch of contests and events from Wednesday through Saturday. And the Mighty Mississippi rolled peacefully past Tom Lee Park with nary a hint of flooding.
The 42nd Annual was especially memorable to me because my son, Lee, experienced it with me. Lee had never been to Memphis, so I
wanted to make sure he got a taste of the city as well as the barbecue contest. Here's what we accomplished on my to-do list:
Memphis Eats
Breakfast at Arcade, Memphis' oldest restaurant. The friendly, competent staff was in the weeds due to demand exceeding available staff that morning. When it finally arrived, breakfast was delicious!
Barbecue at:  Charlie Vergos' Rendezvous. Charlie's spirit is very much alive there, while his real flesh and blood presence is dearly missed; same goes for Silky at Silky O'Sullivan's on Beale Street. Service was outstanding. Charlie's charcoal grilled pork loin ribs smothered in his "dry sauce" were superb.
 A&R: chopped pork sandwich topped with slaw; fried peach pie. Yum!
The Bar-B-Q Shop: barbecue spaghetti, of course; delicious, as always.
Payne's: truly a Memphis classic not to be missed; chopped pork sandwich, mustard slaw, beans; rib sandwich: a taste of barbecue heaven. Lee was reaching his limit on barbecue by then, but he persisted, until:
Cozy Corner: We met up with longtime friend whom I hadn't seen for years, Steve Stark and a couple of his buddies on their first MIM adventure, Todd and Scott. Although the post-fire interior makeover is different from the original, the food and friendly service would make the late co-founder Raymond Robinson proud. Thankfully, Desiree Robinson and other family members continue the Cozy Corner legacy. Steve and company grazed on pork entrees and sides. Lee had a baloney sandwich. I had the Cozy Corner classic Cornish game hen. Great food and great company.
Our favorite non-barbecue stop was Pearl's Oyster House on Main Street. The fresh Gulf oysters and the charcoal grilled oysters with Parmesan cheese and chipotle sauce were a perfect complement to mucho barbecue.
We ran out of time for TOPS, Central, Germantown Commissary, Uncle Lou's fried chicken, Bryant's breakfast and other good eats places. All the more reason for a return visit.
Places
We skipped Sun Studio, Graceland and the Peabody lobby, for lack of time. Aside from Beale Street and the massive Bass Pro Shops at the Pyramid, our major place highlight was the National Civil Rights Museum at the Lorraine Motel. It has been extensively upgraded since Gretchen and I visited there years ago. Starting with an exhibit of paintings, themed found objects compositions, and sculpture by local artists, we moved through rooms commemorating historical milestones in the ongoing struggle for civil and human rights, ending with the emotional impact of seeing, from the perspective of his Lorraine Motel room, the balcony where Dr. Martin Luther King, Jr. stood when a shooter in a boarding house across the street took Dr. King's life.
People
There were so many people I wanted Lee to meet. We simply ran out of time to meet them all. Never did make it to Andy King and the Bastey Boys, Megan and Jason Day at Burnt Finger, Mitch Benjamin and his friend from Paris at Meat Mitch, Pat Burke at Pat's BBQ, and Moe Cason at Moe Cason BBQ and Clint Cantwell, to name a few.
Lee did meet Myron Mixon and the Jack's Old South team, Tuffy and George Stone at Cool Smoke, Melissa Cookston, Winningest Woman in Barbecue, Chris Lilly, Don McLemore and family at Big Bob Gibson Bar-B-Q, Charlie and Quito at Lillie's Q, Daddy-O, Linda "Mama Shed" Orrison, Brad Orrison at The Shed Barbeque, Joellyn Sullivan at Silky O'Sullivan's BBQ, Darrin Warth at Smoky D's BBQ, Craig Whitson and the Norwegian Bar-becue Team, Amy Mills at Apple City BBQ, Carey Bringle at Peg Leg Porker BBQ, plus Michael Quessenberry, Marge Plummer, Wayne Lohman, Ron Childers, Ken & Sue Fluker, R.D. Davis, Bruce Downing, Dr. BBQ Ray Lampe, and Paul Dahlstrom.
If you've never been to this contest, I urge you to experience it at least once. If you're like me, you'll be back.
A hearty congratulations to Tuffy Stone's Cool Smoke team, this year's Grand Champion! Kudos to all who competed and judged!