2018 Sauces of Honors Sets Record for Entries
Queing It Up right!
By National Barbecue News Cooking Crew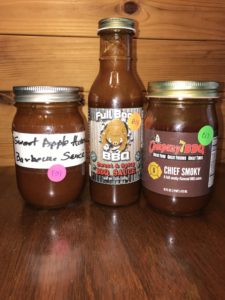 Our 2018 event had a record total of 206 entries. 51 beef entries, 68 chicken entries and 87 pork entries made this the biggest Sauces of Honors event to date. The Sauces of Honor contest is the only barbecue sauce contest in the world that welcomes homemade sauces to compete with commercially made sauces.
The contest is very unique as the goal is really simple; find the best sauce entered that accompanies beef, chicken or pork. Your National Barbecue News hosts this event every spring and they also host the Rubs of Honor event as they go looking for the best barbecue rub for the same three proteins as the Sauces of Honor. Here are the top 10 winners for each of the three categories. Winners in each category will have their choice of a $750 advertising contract with the National Barbecue News or a $750 bottling contract with the Saucery from Ocean Springs, MS.
Huge thanks to all who entered to make this our biggest event to date and we are looking forward to the 2019 already!
BEEF CATEGORY
NAME OF SAUCE –  NAME OF COMPANY 
1. SWEET & SPICY –  FULL BOAR BBQ
2. CHIEF SMOKY –  COMPANY 7 BBQ
3. KYB SWEET & SPICY – KICK YO' BUTT BBQ
4. DELTA Q –  JONESY Q BBQ CO., LLC
5. CHIPOTLE Q   – URBAN Q SMOKEHOUSE
6. SWEET BBQ SAUCE – HOLY SMOKE, LLC
7. WIREMAN'S BBQ SAUCE  –  WIREMAN'S BBQ
8. MEDIUM SAUCE  –  PA PAW'S KILLER BBQ SAUCE
9. ROSCOE'S BBQ SAUCE –  ROSCOE'S ROOTBEER & RIBS
10.HISTORIC SPICY –  HISTORIC BBQ
CHICKEN CATEGORY
1. CHIEF SMOKY  –  COMPANY 7 BBQ
2. ROSCOE'S BBQ SAUCE  –  ROSCOE'S ROOTBEER & RIBS
3. CRAN-B-CUE SAUCE  –  CROIX VALLEY FOODS
4. HISTORIC ORIGINAL – HISTORIC BBQ
5. SWEET & SPICY –  FULL BOAR BBQ
6. KYB SWEET  –  KICK YO BUTT BBQ
7. THICK & BOLD BBQ SAUCE – GRILLA GRILLS
8. ORIGINAL BARBECUE SAUCE  – VETERANS Q
9. TANGY MUSTARD BBQ  –  SAUCY MINX BBQ
10.BIG AWESOME SAUCE  – BIG AWESOME BBQ, LLC
PORK CATEGORY
1. SWEET APPLE HONEY  –  PIG IN A PIT/MIKE ANTONEN
2. CHIEF SMOKY –  COMPANY 7 BBQ
3. APPLE 'Q'  –  OLE HICKORY PITS
4. SWEET & SPICY  –  FULL BOAR BBQ
5. KONGO KICK BBQ SAUCE – GRILLA GRILLS
6. FIREFIGHTER SWEET –  COMPANY 7 BBQ
7. MEMPHIS SAUCE  –  L & R SPICES
8. SWEET GEORGIA SOUL –  SOUTHERN SOUL BARBEQUE
9. HOLY SMOKE BBQ SAUCE – HOLY SMOKE, LLC
10.ROSCOE'S BBQ SAUCE – ROSCOE'S ROOTBEER & RIBS