2019 Memphis In May World Championship Barbecue Cooking Contest Results
The sights and smells of World Championship Barbecue Cooking Contest have been smoking out Memphis since 1978. The history of the competition is as rich as the sauce smeared over each piece of barbecue – and it only gets better every year.
Whether you attended in 2016 when they were "Smokin' In the Boys Room" or in 2005 when they had "Bountiful Butts," America's most prestigious barbecue cooking competition draws the best of the best vying for the highest title in barbecue – World Championship Barbecue Cooking Contest World Champion.
2019 AWARDS – PORK DIVISION
Grand Champion: Cool Smoke
SHOULDER – 
1st: – Cool Smoke
2nd: Big Bob Gibson Bar-B-Q 
3rd: Red Hot Smokers
4th: Shine & Swine
5th: Woods Custom Cookers
6th: Moonlight Smokers
7th: Sweet Cheeks
8th: Sweet Swine O'Mine
9th: People's Republic of Swina
10th: The Grandmasters of Cooking Disasters
WHOLE HOG – 
1st: Hometown BBQ
2nd: Smokemaster Championship BBQ Team
3rd: Steamboat BBQ
4th: Yazoo's Delta Q
5th: Hanks BBQ
6th: Boars Night Out
7th: Peg Leg Porkers
8th: Ubons
9th: The Shed BBQ
10th: 17th Street BBQ/Apple City BBQ
RIBS –
1st: Nutt's N Butts
2nd: Rub Me Tender
3rd: Bluff City Smokers
4th: Bacon Care of Business
5th: Love Meat Tender
6th: Born in the Que S A
7th: Traeger
8th: Full Moon Smokers
9th: Auto Be Grillin'
10th: Smoked N Spiced
PATIO PORKERS – 
1st: Southern Smoke
2nd: BamBQ
3rd: Deez Butts
4th: Backyard Southern Style
KINGSFORD TOUR OF CHAMPIONS –
1st: Big Bob Gibson Bar-B-Q
2nd: The Shed BBQ
3rd: Swine & Dine
4th: Shine & Swine
GREEN GRILLING AWARD – Awarded to the team that collected the most recyclables
2019 ANCILLARY AWARDS – ANYTHING BUT CATEGORIES
BEEF – 
1st – Salty Rinse BBQ
2nd – Big Bubba's Bar-B-Q-N Crew
3rd – Swinos
POULTRY – 
1st – Smokin with an Attitude
2nd – M&W Smokers
3rd – BAMBQ
SEAFOOD –
1st – Ribdiculous Bar-B-Krewe
2nd – Memphis Barbecue Supply
3rd – Mississippi Meat Mafia
EXOTIC – 
1st – Porkin' in the Park
2nd – CG's Backyard BBQ
3rd – UBONS
FRANKS RED HOT HOT WINGS – 
1st – Fat Side Up
2nd – Big Bob Gibson Bar-B-Que 
3rd – Rubbin' the Money Muscle BBQ
TURKEY SMOKE –
1st – Grilla Grills
2nd – Smoking Jokers Australia
3rd – Porkville Justice League
Photo gallery below courtesy of Frank Boyer and Daren Proctor.
READY TO BBQ?
Find your next event HERE!
Steak Cookoff Association

KCBS

International BBQ Cookers

California BBQ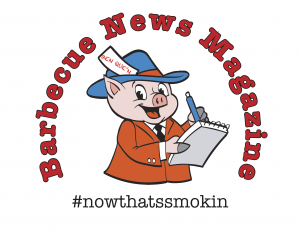 Originally it started as a printed newsletter to let avid barbecuers keep track of upcoming events and results from past events. Today we have evolved into a barbecue and grilling information super highway as we share information about ALL things barbecue and grilling.
© 2022 National Barbecue News:  Designed by ThinkCalico