In the World of BBQ, It's the People You Meet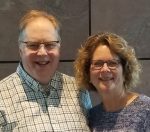 By: Mark & Gretchen Noordsy
Certified Judges
KCBS, CBJ, CTC, SCA, EAT
Photos Courtesy of Mark Noordsy
It takes a coordinated effort to have a successful BBQ contest.  The roles are many – organizer, sponsor, judge coordinator, cook teams, judges, volunteers and, of course, the KCBS contest representatives or reps.  I thought it would be interesting to learn more about the role of the reps and I had an opportunity to sit down and talk with KCBS Contest Reps Ralph and Karen Williams from Fort Smith, Arkansas.  I have been to contests where they were reps, and I have seen them in action teaching and preparing new judges to join the sport.  Their love o what they do is evident.
Ralph and Karen's love of the sport began in 2002 when they first became BBQ judges.  It didn't take long before their true talents were recognized by the reps at the contests they judged.  So, in 2005, they made the transition from judging to being contest reps.  You don't just get to raise your hand and become a rep. You first complete four "training" contests with seasoned reps that evaluate your performance after each contest. Assuming that goes well, the chairman of the KCBS Rep Committee determines your readiness and makes a recommendation to the KCBS board of directors.  The board of directors gives final approval to your recommendation, and if approved, you are an official KCBS contest rep.  The process is intentionally not easy.  KCBS requires two reps for contest up to 50 teams, three reps with between 50-75 teams and an added rep for each additional 25 teams.  Being a rep isn't just about knowing the rules, walking around with a clock, playing an MP3 and doing data entry … it is about being able to understand and work with people.  Frankly, it IS all about working with people and if you don't enjoy that, being a rep probably isn't for you.  KCBS is always looking for candidates to be reps as more and more reps are thinking about retiring from the sport.
The Williams' backgrounds made them ideal candidates to be reps. Ralph was a successful principal, has 30 years of high school referee experience and drives race cars.  Karen was a successful teacher.  Plus, being retired, they are able to handle a schedule of 23 to 33 contests per year, spending 40 to 50 nights on the road and traveling over 10,000 miles annually. Their schedule literally takes them from coast to coast.  Typically, their time at a contest starts at noon on Friday and runs through late Saturday afternoon when awards are completed and they have had a debriefing with the contest organizer.  Then there is the ride home, where they discuss what went well, what didn't and how they will improve at the next contest they rep.  They take their responsibilities very seriously.  You might think this is a lucrative retirement gig. While they do get their expenses reimbursed, their mileage is paid and they earn a stipend for each contest they rep – but, it is far from lucrative.  So why do this?  Well, they love the sport of BBQ and, in the end, it's their love of the BBQ family that they have met and enjoyed over the years.  As we all know, BBQ people are pretty darn special!
Their mantra of making things run smooth and looking for ways to improve have served them well during their rep careers.  The reps' primary client is the contest organizer.  They are there to make sure that the contest is fair and runs smoothly.  The contest organizer may choose their KCBS rep and have the option on inviting them back or not.  They also have a wealth of knowledge to share to help the organizer with their contest. Second, they are there for the cook teams.  It takes time, but once a rep earns the trust of a cook team, a rapport is built that helps them tap into the reps' vast amount of contest experience.  Cook teams also recommend reps to organizers, so having their trust is important.  Finally, they are there for the judges to make sure their questions are answered, the judging rules are followed and a fair contest is achieved.
Ralph and Karen are fond of the Kids Q program which is essential to the formation of future cook teams, provides a life skill and lastly, is
fun, if handled properly.  They encourage the parents to let the young cook do as much as possible, except in areas of safety concerns such as cutting or being too close to the heat source.   If Kids Qs are done properly, there are many skills learned such as measuring, weighing (if needed), food safety, cleanliness and how to handle cooking utensils. Ralph and Karen encourage having the parent watch and let the kids come to the table and make their own meat selections.  How better to learn meat selection?
There are down sides:  Parents who want and will do everything for the child.  As for judges, they tell them they are kids and they shouldn't judge them as adults.  Too often this falls on deaf ears and the kids are scored too harshly.  On the upside, the kids receive recognition within their peer group.   
Their KCBS Rep Career
They recalled the first contest they were reps at Will Rogers Downs in Claremore, OK.  It was at a horse racing track and when it came time for awards, a race was underway. Ralph applied his "monitor and adjust" approach and the awards went off without a hitch – he simply waited for each race to end and would do a portion of the awards until the next race started. While they truly enjoy all contests, Artesia, NM is one that stands out.  Held the last weekend in June, it has more going on than most contests, with a total of 13 turn-ins.  That is a busy weekend!  They also mentioned a 3-day contest in Bedford, TX, one in Kenosha, WI and one in Shawnee, OK as contests to check out as a cook team or a judge. 
Both Ralph and Karen echoed their concerns about the future of BBQ competitions as we know them today.  There is not only the expense of competing that cook teams face but also the amount of time it takes away from other activities.  It is tough to make a house, car, kids, and BBQ all fit within family financial and time budgets.  Organizers and judges are also seeing higher costs and time conflicts that are impacting contests.  Ralph is active at KCBS as well.  He has been on the Rep Committee and is currently serving on the CBJ Committee and Instructors Committee through 2019.
Sharing Their Experience
They feel that organizers need to listen to the cooks and address the problems they identify.  It's pretty simple – no cooks, no contest.  As for cook teams, they should be open to suggestions and comments, especially those from experienced teams.  Cook teams need to remember that the meat they put in the box likely comes from different animals and different parts of their smokers.  It may be difficult, but they should be open and receptive to the comment cards they receive.  Judges need to realize that long after they have left, it is the reps that are left to justify their score or comment card.  And, that isn't an easy task, since they didn't score the entry or write the comment card and they are the ones fact-to-face with a cook that didn't win.  That is why it is important that comment cards provide constructive feedback and don't provide cooking advice.  A judge should be open to change as the rules are changing and may differ from how they were trained when they first started judging.  Ralph is fond of the saying "don't be an oak tree".  And then there is the sauce question.  For Ralph, the answer was easy, "you judge the appearance because you can't judge the inside until I get to know you". In other words, judge the appearance and then taste and score the entry accordingly.
They both commented on how much they enjoy being reps – it is a great fit or them.  It's the camaraderie of the BBQ community that keeps their role from feeling like work. They believe in thanking all the people who play a role in what they do.  That simple act is impressive in my book – a sincere thank you.  Even when celebrating their 50thwedding anniversary, it was around the world of BBQ as they celebrated at the SCA Cookoff held in the Bahamas this year.
As an avid diver, Ralph relayed a little wisdom that everyone can use. Divers need to be "patient, calm, breath, think and remember that bubbles always go up".  I like that thought.  Karen offered some practical and relevant BBQ contest advice for judges.  "Remember, this isn't a cracker eating, water drinking contest … save room for brisket".  You will find Ralph and Karen being a rep on the competition BBQ circuit or teaching judging classes as long as they continue to have fun and it doesn't feel like a job.  If you do, please take a minute to say "Hi" – you will be glad you did!
In the world of BBQ … it's the people you meet … and the friends you make.