Winners Share Their Secrets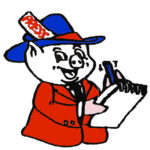 Mr. Ben Que'n
Product Reviews
Lambo Combo is a proven winner in a bottle
If you have followed competition barbecue for any period of time then chances are really good that you have heard of Mark Lambert and you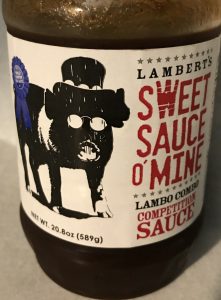 probably also know that along with his Sweet Swine O' Mine and Operation Barbecue Relief teammates have won a ton multiple World Grand Championships.
We have known Mark for a long time and have seen his successes create his entire brand that is doing very well. His brand, Sweet Swine O' Mine, is part of the very popular BBQ Spot distributors that can be found in Lowes and a ton of barbecue hot spots throughout the entire country. Both of these brands make doing great barbecue very easy with their selection of products.
Mark's latest creation is the exact blend of several sauces he uses in all of his competitions. This sauce was blended especially for competition BBQ. Use the Lambo Combo Sauce to put that shiny succulent finish on all of your competition BBQ meats.
You can buy this award-winning sauce here: https://amzn.to/2jLywSH
The Slabs taking BBQ to another level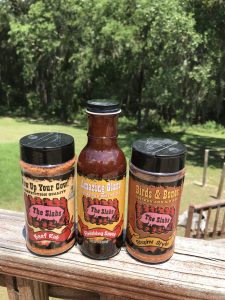 The Slabs and their killer BBQ products are certainly not a new batch of products but, unfortunately, they have yet to grace our taste buds and these pages until now. After trying the Stephy and Kyle Style rubs and sauces we knew it was a big misfortune that we had not given them a while until now.
The Slabs have been a competition barbecue team since 1996 and to this day Stephanie Wilson keeps the flames burning for her brother Tom who passed back in 1998. Tom and his cousin Josh Wilson were originally called Tom and Josh's Orgasmic Slabs and graced the pages of this magazine a ton during back in their hay day. After watching a rerun of Stephanie almost winning the Food Network's Chopped "barbecue-themed" competition reminded us we needed to get busy and see what we were missing from this epic group of pitmasters.
Our first test was chicken wings with the Birds & Bones rub and finished off with the Amazing Glaze. Wishing we would have been competing somewhere that afternoon as those babies would have surely won first place. Our next test was a pork butt with the "Kyle Style" Pork Rub and Sauce. The combination was super good and really worked in unison with one another on the pork. Our beef test came on a simple chuck roast that ended up melting in our mouths! We are looking forward to our next brisket cook where we will surely be using the rest of our samples on it.
The end result we came away with after trying all of these products was exactly what we expected; Super good and super easy! You can find more about these awesome flavor makers at their website at http://www.theslabs.com.
All Things Beef
If you're looking for a change up in your beef preparation process then you will certainly want to give this combination a try. The Q-Rub is a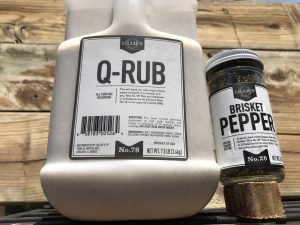 product that comes from Charlie's dad Quito McKenna who originally developed the rub for Tri-Tip. The second part of this beef maker is the Brisket Pepper that is all about the Texas style of flavor.
We combined the two while testing some Ribeye steaks and found our new competition steak recipe. Our mix of two parts Q-Rub to one part of the Brisket Pepper yielded one of the best steaks we have ever tried.
You can find these seasonings as part of the Lillie's Q massive store of all things barbecue at their website https://www.LilliesQ.com.
You can also buy these products from Amazon by clicking HERE
National Barbecue & Grilling

Minnesota BBQ

EVENTS

Aug. 1, 2020:  B-Dale BBQ Contest, Roseville, MN

Aug. 15, 2020:  Knights of Columbus BBQ Rib & Chicken Back Yard Competition

Aug 21-22, 2020:  13th Annual Big Island BBQ, Albert Lea, MN CANCELED

Mid-Atlantic BBQ

EVENTS

July 3-4, 2020:  I Love BBQ and Music Festival, Lake Placid, NY.

July 10-11, 2020:  Auburn Rotary Party in the Park, Auburn, NY.

July 17-18, 2020:  Chillin' and Grillin' in the Glades, Wise, VA.


Originally it started as a printed newsletter to let avid barbecuers keep track of upcoming events and results from past events. Today we have evolved into a barbecue and grilling information super highway as we share information about ALL things barbecue and grilling.
© 2020 National Barbecue News:  Designed by ThinkCalico