Myron's BBQ&A, Burgers and More!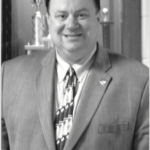 Doug Mosley
Resident Book Guru
Let the summer begin! Now that we've had that traditional kickoff to summer – I'm referring to the yearly Memphis in May (MIM) World Championship Barbecue Cooking Contest – it is time to enjoy what naturally comes with the longer hours of sunshine and warm weather. Which, of course, is cooking barbecue, albeit without a coat and/or gloves on and with plenty of light to see by. So let's touch on a few books to add to your summertime reading list.
Speaking of MIM, a second round of congratulations go out to Tuffy Stone on the incredible double he's now pulled off. In December, his book "Cool Smoke: The Art of Great Barbecue" ($29.99, St. Martin's Press, 288 pp.) was named The National Barbecue News (NBN) Barbecue Book of the Year. Pairing that with his MIM title, he becomes the first to achieve that double which I am sure is right up there in prestige with Brooks Koepka winning the US Open and PGA in the same year, right? (wink wink) If you haven't yet picked up "Cook Smoke", now's the time to get it, knowing it was authored then by a soon-to-be world champion.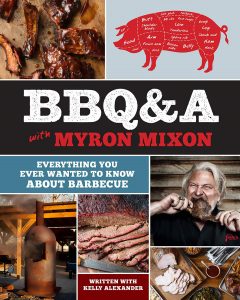 Speaking of world champions (I promise the next paragraph won't open this way), Myron Mixon's Jack's Old South team is a four-time winner of the top title at MIM and he bills himself as "the winningest man in barbecue", which based upon those world championships plus another eight team of the year honors, 11 national championships and over 200 grand champions (and counting) would be pretty hard for anyone else to dispute. He is additionally an honored author, having also won the NBN Barbecue Book of the Year Award in 2011 for "Smokin' with Myron Mixon: Recipes Made Simple from the Winningest Man in Barbecue" by Mixon and Kelly Alexander ($22, Ballantine, 192 pp.). That book, his first, was fairly standard when compared to other books in the genre but what set it apart was Mixon's personal style that was on full display throughout – his brashness and confidence that combined with his talents and knowledge sets him apart. He followed up that with another excellent book, "Everyday Barbecue: At Home with America's Favorite Pitmaster" by Mixon and Alexander ($25, Ballantine, 320 pp.) in 2013. With two good books to his name, Mixon had established a solid reputation as an author.
But I suspect that being a "solid" author just didn't sit well enough with Mixon because his next book went in a direction that was entirely different from the first two. His 2016 book,"Myron Mixon's BBQ Rules: The Old-School Guide to Smoking Meat" by Mixon and Alexander ($24.95, Stewart Tabori & Chang, 240 pp.), was without a doubt a significant turn away from the tried-and-true (and stale) formula of barbecue books that go intro-to-techniques-to-recipes-to-close with a few stories and tips thrown in for good measure. This book was without a doubt nothing like that. "BBQ Rules" dovetailed with the title of the TV show on which he's featured and the book likely paralleled that show in bringing out more of Mixon's personal style. That polarized readers, even to the point where it was mildly surprising how many pegged it with less-than-favorable personal reviews in forums and online stores. Honestly though, it shouldn't have been much of a surprise because that's what comes with that "winningest man in barbecue" title – an ample list of haters. The book was truly unique, something that is harder and harder to achieve in this world of copying others success.
So that brings us around to Mixon's latest book, "BBQ&A with Myron Mixon: Everything You Ever Wanted to Know About Barbecue" by Mixon and Alexander ($29.99, Abrams, 320 pp.). This one is practically like no other as well, with the premise this time basically being a hardbound version of a Reddit AMA (ask me anything). While I'm sure there have been others who've had the idea of doing a book like this, there's really very few who have the chops to pull it off like Mixon does. Further, in a day and time when cookbooks must always be chock full of full-color pictures and detailed illustrations, this one has a few pics and illustrations but is mostly just pages of text. However, one could make the argument that this isn't really a cookbook. Rather, it's a first-person account of competition barbecue with a few recipes and a lot of talk about technique and tips. Frankly that's what makes this a must-read for all of us. While I am sure there are many NBN readers who personally know Mixon and have probably had the chance to ask him many of these very same questions, this book is all of those questions in once place; it is a compendium of what makes Myron Mixon tick, from the written words on the physical pages to the unwritten ones between the lines. You will get a feel for how he thinks about barbecue and what leads him to make the decision he does. And then you'll probably also realize that even with all this knowledge and familiarity, Mixon will still find a way to keep on being "the winningest man in barbecue".
Remember DJ BBQ, aka Christian Stevenson? His first book, "Fire Food: The Ultimate BBQ Cookbook" ($22.99, Quadrille Publishing, 192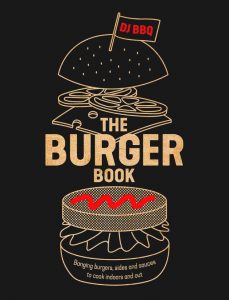 pp.) was positively reviewed in these pages about a year ago. Well, DJ BBQ is already back with a new book, "The Burger Book: Banging Burger, Sides and Sauces to Cook Indoors and Out" ($19.99, Quadrille Publishing, 176 pp.).
DJ BBQ is very much a multimedia personality, having developed his persona online with a popular YouTube channel with nearly 180,000 subscribers as of this writing. In his first book he mixed great barbecue with his advanced music knowledge and this time he's done the same with burgers and tunes. There are 40 off-the-wall burger recipes to try out, each of them with one of those lick-the-pages pictures of the finished dish. He also adds a lots of useful info on tips and technique as well. Plus, there's those great songs and albums lists to reference so that you'll be rocking out to the right music for the perfect burger.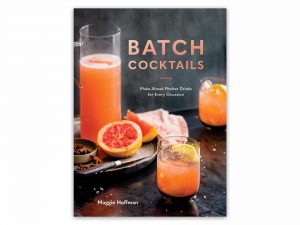 Since summertime is here and you'll no doubt be hosting plenty of family/friends/envious neighbors for cookouts, it makes sense to maximize your time at the grill or cooker instead of running back and forth making drinks for everyone. The more well-heeled among you may question this advice and counter that you appoint someone to be the bartender for the evening, but if your friends and family are like my friends and family, there's no way I giving them unfettered access to the liquor cabinet. So here's a book to solve that problem – "Batch Cocktails: Make-Ahead Pitcher Drinks for Every Occasion" by Maggie Hoffman ($19.99, Ten Speed Press, 154 pp.).
There's a lot to choose from here in chapters organized by taste and potency: Herbal & Floral, Fruity & Tart, Spicy, Savory & Smoky, Bitter, Boozy, and Alcohol-Free. There are 65 recipes so the one that best fits your occasion is sure to be within.