[wp_bannerize group="Leader Ads" random="1" limit="1"]
Keeping Up with the Joneses: 4th of July Edition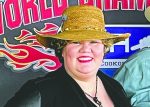 Christy Jones
Colors rising through the air, waiting to burst into a cloud of excitement. That burst is the same sensation you hope to experience when you take your first bite at a cookout. We will make it easy for you this 4th of July by sharing some of our families' favorite recipes. Sure to please your guest whether they want the meat sweats or are trying to cool off.
Tips:
• The bacon bits for the Smoked Cream Cheese, Broccoli Salad, and Loaded Baked Potato Salad can all be made in advance using the same recipe.
• The American Flag Pie and baked potatoes for potato salad all smoke at 400 degrees.
• Grill the chicken for the kabobs and the grilled corn at the same time.
• Make the strawberry lemonade, pepper jelly slaw, loaded baked potato salad, and broccoli salad the day before.  
No celebration is complete without smoke rings. Hit them with this brisket recipe to get their tastebuds tingling. 
 Brisket: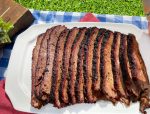 1.
Trim excess fat and silver skin from brisket.
2.
Season with
a layer of Big D's Q Grill Appeal, followed by a second layer of Big D's Q STEAK OUT.
3.
Smoke at 250 degrees for about 6 hours. Then with butcher paper.
4.
Smoke a couple more hours until 206 -208 (probe tender).
5.
Rest for 3 hours before serving.
In less than 10 minutes you can have a great new slaw. This Lottie's Pepper Jelly slaw will go great with a brisket sandwich!
Pepper Jelly Slaw: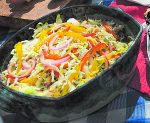 Ingredients:
1 bag coleslaw mix
1 cup thinly sliced yellow bell pepper (from 1 bell pepper)
1 cup thinly sliced red bell pepper (from 1 bell pepper)
1/2 cup thinly sliced red onion (from 1 onion)
1/2 cup chopped fresh cilantro (optional)
1/4 cup Lottie's Pepper Jelly Original Flavor
3 Tablespoons Olive Oil
2 Tablespoons fresh lime juice
1 1/2 teaspoons kosher salt
1/2 teaspoon STEAK OUT
Directions:
1.
Toss together coleslaw mix, bell peppers, onion, and cilantro in a bowl.
2.
Whisk together pepper jelly, oil, lime juice,
and
Big D's Q
STEAK OUT in a small bowl.
3.
Pour pepper jelly mixture over coleslaw mix and toss to coat.
4.
Enjoy!
(Can make ahead and refrigerate)
Need something to snack on while all the guests arrive and the brisket rests? Make this fruity, smoked cream cheese.
Blueberry Pepper Jelly Smoked Cream Cheese with Bacon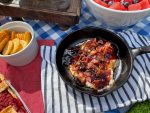 Directions:
1.
Score the top of a block of cream cheese with a knife in two directions. Sprinkle with Big D's Q Hurricane Rib Rub.
2.
Smoke at 200 degrees for 2 hours.
3.
Spoon two large
spoonfuls
of Lottie's Blueberry Pepper Jelly on top of cream cheese.
4.
Sprinkle with bacon bits (see Loaded Potato Salad recipe for Candied bacon instructions)
5.
Serve with your favorite cracker.
Cool down these hot temps with some refreshing strawberry lemonade. This simple trick will have everyone thinking you squeezed the lemons by hand.
Strawberry Lemonade: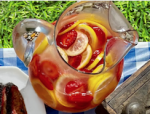 Directions:

1.
Buy 1 gallon Simply Made Lemonade.
2.
Pour into your favorite pitcher.
3.
Clean 2 lemons and 6 strawberries.
4.
Slice fruit and pour in pitcher.
5.
Let set in fridge for at least 1 hour before serving.
 Trying to eat a balanced diet, while balancing all the food on your plate can be hard. Salads often get left off plates because they take up so much room. This skewer trick can help.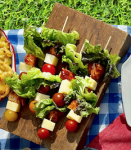 Grilled Chicken Salad Kebabs:
Directions:

1.
Season chicken breast with a light coat of Big D's Q G2 BBQ. Let sweat in for 10 minutes.
2.
Grill or smoke the chicken to 165 degrees.
3.
Cut Chicken into cubes
and brush with Big D's Q Original BBQ Sauce.
4.
Wash green leafy lettuce, grape tomatoes, and any other veggies you desire in your salad.
5.
Alternate layering leafy lettuce, veggies, and chicken on the skewer.
6.
For a great dressing, mix 2 parts ranch dressing with
1-part
Big D's Q
Original BBQ
sauce.
Loaded Baked Potato Salad

Ingredients:
6 lbs of Russet Potatoes
Olive oil
1 + ¼ cup Dukes Mayonnaise
1 cup sour cream
1 Tbsp Big D's Q STEAK OUT
1 + ½ pound Thick Cut Bacon
5 green onions (thinly sliced)
2 cups cheddar cheese (shredded)
Directions:
First, make the bacon bits by cutting thick cut bacon slices in half. Sprinkle with Big D's Q Hurricane Rib Rub and let sweat in. Spray a cooking rack with non-stick spray and spread the bacon across. Smoke back at 400 degrees for 18-20 minutes. Keep an eye on the bacon while it cooks as the rack may need to be rotated for even cooking (If making the other dishes, you can double the amount of bacon you cook to have enough bacon bits for all recipes.)
1.
Clean 6
lbs.
of
Russet
potatoes
.
2.
Poke each side 3-4 times with a fork and brush with olive oil.
3.
Smoke russet potatoes at 400 degrees
for 45 minutes. Until tender when you place a knife in the middle.
4.
Cut the potatoes into 4 pieces. Let the potatoes rest for 10 minutes to cool.
5.
Remove the skins and cut into bite sized pieces.
6.
In a bowl,
mix together
Duke's
Mayonnaise
, sour cream, and Big D's Q STEAK OUT.
7.
Pour wet mixture over the potatoes
and gently fold the ingredients together.
8.
Add the bacon, green onions, and cheddar cheese and gently fold together with a spatula.
9.
Refrigerate 1-2 hours before serving.
 Add a little green to your cookout with this broccoli salad. This dish is easy, and if you are making the Loaded Potato Salad or the Smoked Cream Cheese with Blueberry Pepper Jelly and Bacon recipes above, you can cut down on the steps by making extra bacon that works in all three dishes.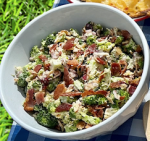 Broccoli Salad w/ Smoked Candied Bacon
1.
First, make the dressing by whisking 1 cup mayonnaise and 3 Tbsp. apple cider vinegar until smooth. Then
mix in
3 Tbsp. granulated sugar and 1 teaspoon Big D's Q STEAK OUT.
2.
Clean 2 heads of broccoli and cut off florets into small pieces.
Add to the dressing mixture and coat broccoli.
3.
Combine with 1 cup dried cranberries, 1 cup shredded cheddar cheese, 1 cup sliced almonds (*you can place these on a baking sheet and smoke for a few minutes for extra flavor), 6 slices candied bacon (see Loaded Potato Salad recipe for instructions), and ¼ cup chopped red onion.
4.
Refrigerate at least 1 hour before serving.
Grilled Corn:
Directions:

1.
Peel back the husk, but leave it attached to the cob. Thoroughly clean the corn silk. Replace the husks and soak the whole cobs in clean water for at least 1 hour.
2.
Place the cobs on the grills and turn every few minutes for about 15 minutes.
3.
Push husks away from cob. Butter the cob and sprinkle with Big D's Q Grill Appeal.
No cookout is complete without something sweet.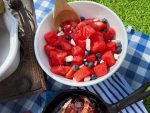 Watermelon- Berry- Feta Bowl
Directions:

1.
Cube 2 watermelon and
palce
in bowl.
2.
Wash Strawberries and blue berries. Mix in with watermelon
3.
Top with one container of Feta cheese. (Best served cold)
Smoked American Flag Pie
 Ingredients:
2 refrigerated pie crusts
5 cups strawberries (sliced)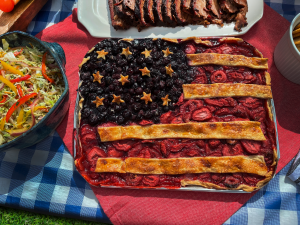 3 cups blueberries
½ cup corn starch
¾ cup sugar
1 lemon
1 egg
1 Tbsp heavy cream
Directions:
1.
Preheat smoker to 400 degrees.
2.
Roll out one pie crust into a 15 x
12 inch
rectangle.
3.
Place the dough in a 12 x 9, x 1 inch baking sheet. Press edges and refrigerate.
4.
Roll out 2
nd
pie crust. Cut ¼ of the crust into start shapes. Cut remaining crust 1 in thick stripes lengthwise. Refrigerate
5.
Make the filling by adding the blueberries, with ¼ cup sugar, ¼ cup corn starch, a small amount of lemon zest and juice from 1 half of the lemon.
6.
In separate bowl, combine strawberries, ½ cup sugar, ¼ cup cornstarch, and a small amount of lemon zest and juice form 1 half of the lemon.
7.
Build the pie by making a square in the top left corner. Use aluminum foil to make a right angle. Put the blueberry mixture in the square.
8.
Spread the strawberry mixture in the remaining portion of the crust.
9.
Place the stars over the blueberries. Place the stipes over the strawberries about an inch apart.
10.
Mix 1 egg and heavy whipping cream together. Brush over pastry. Sprinkle with sugar.
11.
Bake for 50 minutes until crust is golden brown. Let cool before serving.
[wp_bannerize group="Portrait Ads" random="1" limit="1"]
READY TO BBQ?
Find your next event HERE!
Steak Cookoff Association

KCBS

International BBQ Cookers

California BBQ
[wp_bannerize group="Ending Ads" random="1" limit="1"]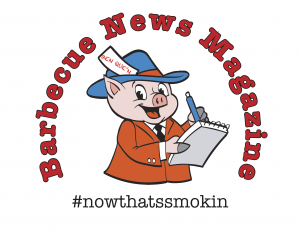 Originally it started as a printed newsletter to let avid barbecuers keep track of upcoming events and results from past events. Today we have evolved into a barbecue and grilling information super highway as we share information about ALL things barbecue and grilling.
© 2022 National Barbecue News:  Designed by ThinkCalico