BBQ Is Now: Legendary Recipes From BBQ Giants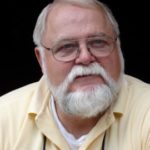 Paul Kirk
BBQ Hall Of Famer
Certified Master Judge
On February 7th I had the pleasure to be featured on the BBQ Nation with Jeff Tracy, The Cowboy Cook. Here is a link goo.gl/iow1Fz
I was asked who I looked up to while I was starting out in barbecue in 1980. I'm going to list some individuals most of you have never heard of. Especially since most of the barbecuer's of today only know the current Kings and Queens of BBQ. They don't know the long trail that started many years ago to get where we are today with barbecue competition. This issue our recipes come from John Ravin, Billy Bones and Brian Heinicke.
Pasties are a traditional Michigan treat! Billy "Bones" Wall was a master at making them and would make them with BBQ beef, pulled pork and chicken. A good way to use leftover competition meat.
Billy Bones Barbecue Pasties

Yield: 8 pasties
Ingredients
1/2 pound barbecue brisket, diced
2 tablespoons all-purpose flour
1/2 to 1 teaspoon barbecue rub
1 tablespoon minced fresh parsley leaves
1 teaspoon beef bouillon granules
1/4 cup water
1 cup diced peeled potatoes
1/2 cup diced carrots
2 tablespoons finely chopped onion
2 packages (11 ounces each) pie crust mix
Water
Directions:
In a skillet, heat brisket over medium heat until it is warm. If there is any moisture; drain. Add flour, barbecue rub and parsley; stir until well coated. Dissolve bouillon in water; stir into meat mixture. Add potatoes, carrots and onion. Cover and cook over medium heat until vegetables are crisp-tender. Cool.
Meanwhile, prepare pie crusts according to package directions. On a floured surface, roll each pie crust mixture into a 12-inch square. Cut each square into four 6-inch squares. Place about 1/3 cup meat mixture in center of each square.
Moisten edges of pastry with water and fold over meat mixture to form a triangle. Press the edges with a fork to seal. Make a 1-inch slit in the top of each triangle. Place on two ungreased baking sheets. Bake at 400° degrees F for 20-25 minutes or until golden brown. Serve with barbecue sauce.
John Ravin (Big Bad Mc Fade) of Johnson, Texas. John started the first BBQ club or tried to start a BBQ organization, which didn't take off, he was also a great chili cook, among other things. One of them was he would blow himself up with dynamite at intermission at rodeos and car races, that's where he became Big Bad McFade. One of John's favorite is also one of mine Apple Smoked Pastrami with Colcannon.
Ravin's Apple Smoked Pastrami
Ingredients
1-12 to 14-pound corned brisket, trimmed
1/2 cup mustard slather or yellow mustard
Pastrami Rub
1/3 cup cracked or course ground coriander
1/4 cup coarse ground black pepper
2 tablespoons light brown sugar 1
tablespoon granulated garlic
Directions:
Soak the corned beef brisket in cold water overnight to purge some of the salt from it. Drain and pat dry with paper towels. Combine the rub ingredients and blend well. Cover the lean side with mustard slather and sprinkle with rub, repeat on the fat side.
Preheat your smoker to 250º degrees F using apple wood. Place pastrami in the smoker and cook until the internal temperature reaches 190º to 205º degrees F. Remove from the smoker, cover loosely with foil and let rest for 20 to 30 minutes. Serve with spicy mustard and Colcannon.
Colcannon
2 pounds floury potatoes
1-pound chopped cabbage
4 scallions
1/2 cup butter
1 cup milk
Salt and pepper to taste
Directions:
Steam or boil the potatoes until tender. Drain well and let them dry out for a few minutes. Melt half the butter in a pan and sweat the cabbage for a few minutes.
Boil the milk and the remaining butter. Add in the chopped scallions and the sweated cabbage, then mix in on top of the potatoes and mash the lot together. Season with salt and pepper and serve like the song suggests by making a well on top and adding a flake of creamy butter to it and watching it melt.
Brian Heinicke was an Ambassador of Barbecue, a Judge and many other things when it came to barbecue. He was retired and lived a life of BBQ from judging and helping any and everyone he could help with barbecue. He was a true Gentleman of Barbecue! His passion was Barbecued Pork Steak and he even wanted them to be a category.
Barbecued Pork Steak
Ingredients
2 cups vinegar
1 stick butter
1 tablespoon Worcestershire sauce
2 tablespoons red hot sauce
2 tablespoons brown sugar
1/4 cup ketchup
Juice of 1/2 lemon
1 teaspoon salt
1/2 teaspoon pepper
3-pounds Boston Butt steaks, 1/2 inch thick
2 tablespoons garlic salt
1 tablespoon fine grind black pepper
Directions:
Mix first 9 ingredients in a saucepan. Simmer over medium heat for 5 minutes. Combine the garlic salt and pepper and blend well. Season the steaks all over with the garlic salt mixture and place steaks on grill over medium or low coals. Sear on both sides, 8 to 10 minutes per side. Begin basting steaks upon placing on grill and turn steaks every 10 minutes. Keep lid closed during cooking. Cook approximately 30 minutes.