Tasty New Sauce Trend
Rufus Teague, an independent maker of craft BBQ sauces announces the addition of two new sugar-free options to their product line. According to Rufus Teague's CEO, John McCone, the sauces were a direct result of customer demand.
These new creations reflect a recent report from Dow, highlighting that one in seven Americans now follow a specific eating diet plan. Demand for healthier, lighter food options is skyrocketing and consumers are hungry for better-for-you options in BBQ sauces. Families across the country are turning to leaner meal ingredients and utilizing sauces to amplify flavor without adding calories.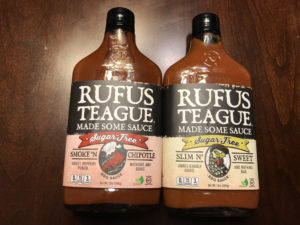 "We know people who have an aversion to sugar and also received a lot of feedback from our customers that they wanted a sugar-free option of our BBQ sauces, but that's easier said than done," Said McCone. "After some intense testing, I am confident we have created the best sugar-free BBQ sauces available."
About the Sauces: Slim 'N Sweet has the rich, tangy bite and texture of classic authentic KC BBQ sauce without the sugar. With hints of citrus and chock full of sweet, smoky flavor this sauce is chicken's best friend, and the perfect way to dress up even the simplest of sandwiches. Smoke N' Chipotle has the perfect mix of smoky and sweet, with a deep, complex and pronounced heat. The included real chipotle hits all the right spots without being overwhelming. The sauce takes pork to the next level and is just as good on brisket, burgers and veggies too.
National Barbecue News got the opportunity to sample both of these sauces and think they are worth a try if you are looking for a"health conscience" product. Both labels show that Stevia is used instead of sugar. There is no doubt these guys are on to something as these are much better than the majority of other sugar-free offerings we have tried.
We liked the Slim N' Sweet over the Smoke N' Chipotle. The latter of the two was a bit hot for our taste buds on the grilled chicken we used to sample for our tests. (We also recommend this option for anyone who is fighting high blood sugar counts but also know that both sauces do contain "trace amounts" of sugar as noted on their ingredients labels.)
You can buy these sauces HERE!