Wooden Smokers: Introduction To The Most Unique Barbecue Cookers In The World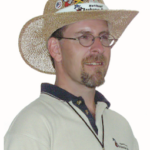 Kell Phelps
Publisher
In the mainstream barbecue community, if you asked someone about wood, I am betting that most pitmasters would answer by talking about burning the wood to produce that unmatchable flavor of pure smoke. Our great friend Rocky Danner found a team who uses the wood for a much different reason but their use of the wood still produces that sought after flavor that is only found in true barbecue. They use large stumps as the backbone of their barbecue cookers.
This story was lightly introduced back in 2002 when Rocky was asked to travel to Estonia so he could help judge the World Barbecue Championships that were being held there. Only a few photos of these cookers got published as the article focused on the trip and contest itself versus the treasured cooking devices that are gracing the front cover this month. Rocky has been gracious enough to share these super rare photos with you and is going to be documenting these smoking marvels in the upcoming months inside this magazine.
In these articles, you will learn a great deal about Rein Ruus and his barbecue team that builds these cookers..and do it while setting up for events! This is not a typo, and the August 2002 cover of the National Barbecue News featured one of Rocky's photos of these guys building their cookers at the World Championship event.
If you enjoy seeing and reading about different types of barbecue methods and cookers, then this story will surely be a must see for you. I am personally looking forward to seeing all the details and history behind these remarkable works of art myself. Until Next Month…Keep It Smokin' Kell and Crew