BBQ Is Now! May 2019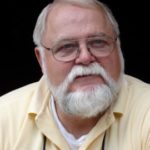 Paul Kirk
BBQ Hall Of Famer
Certified Master Judge
I want to thank all who sent me their prayers and good wishes about my son's stabbing.  He was in ICU for 14 days and is recovering.  Again, I thank all of you!
It's that time of year National Barbecue Month so t's party time and get serious about BBQ competition.
This recipe will surprise you as it's tasty and cheaper than brisket and makes great burnt ends.
Barbecued Chuck Roast
Ingredients:
2/3 cup cider vinegar
1/2 cup ketchup
1/4 cup canola oil
1/4 cup soy sauce
2 tablespoons Worcestershire sauce
2 teaspoons garlic powder
2 teaspoons salt
2 teaspoons prepared mustard
1/2 teaspoon pepper
1 boneless beef chuck roast (2 1/2 to 3 pounds)
1/2 cup unsweetened applesauce
Instructions:
In a large bowl, combine the first nine ingredients. Pour half of the marinade into a large resealable plastic bag; add roast. Seal bag and turn to coat; refrigerate for at least 3 hours. Cover and refrigerate remaining marinade.
Drain and discard marinade. Grill roast, covered, over indirect heat for 20 minutes, turning occasionally.
Add applesauce to reserved marinade; brush over roast. Continue basting and turning the roast several times for 1 to 1-1/2 hours or until meat reaches desired doneness (for medium-rare, a meat thermometer should read 145º degrees F; medium, 160º degrees F; well-done, 170º degrees F). 
6-8 servings
Here is another fun, easy and delicious.
Chicken with Firecracker Barbecue Sauce KBB
Ingredients:
1/4 cup chipotle peppers in adobo sauce 
Nonstick cooking spray 
1/3 cup finely chopped onion 
3 cloves garlic, minced 
1 cup ketchup 
3 tablespoons white wine vinegar 
3 tablespoons full-flavored molasses or sorghum 
1 tablespoon Worcestershire sauce 
6 skinless, boneless chicken breast halves 
Instructions:
For sauce, remove any stems from chipotle peppers. Place peppers and adobo sauce in a blender. Cover and blend until smooth. Set aside.  
Lightly coat an unheated medium saucepan with nonstick cooking spray.   Cook onion and garlic in saucepan until tender. Stir in chipotle pepper mixture, ketchup, and vinegar, molasses, and Worcestershire sauce. Bring to boiling. Reduce heat and simmer, uncovered, about 10 minutes or until sauce is slightly thickened.  
For a charcoal grill, grill chicken on the rack of an uncovered grill directly over medium coals for 12 to 15 minutes or until chicken is no longer pink (170º degrees F), turning once halfway through grilling and brushing with sauce during the last 5 minutes of grilling. (For a gas grill, preheat grill. Reduce heat to medium. Place chicken on grill rack over heat. Cover and grill as above.) Bring remaining sauce to boiling; pass with chicken. Makes 6 servings
 This is good for miscellaneous category, and a party.
Flour Tortilla Pizza 
Ingredients:
For each pizza:
1 (8-inch) flour tortilla
4 tablespoons tomato sauce
1-2 tablespoons finely chopped vegetable toppings of choice (i.e. bell pepper, onions, sliced mushrooms, etc.)
1 tablespoon meat (i.e. pepperoni, cooked hamburger meat, Canadian bacon, etc.)
1/2 cup shredded mozzarella cheese
Salt, garlic powder, pepper, and dried oregano, to taste
Instructions:
Preheat cooker to 475º degrees F. Spread tomato sauce over flour tortilla. Sprinkle salt and pepper, garlic powder and dried oregano to taste. Cover with cheese and add toppings (meat-vegetables) of choice. Bake at 475º degrees F for 10 minutes on a cookie sheet sprayed with non-stick spray. 
Enjoy and Thank You again!