BBQ Life As Done By "Big Papa"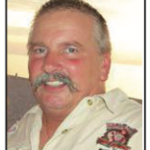 Dana "Big Papa" Hillis
BBQ From Florida
We have been busy cooking some BBQ. This time of year has our schedule busy with all kind of events. We went to Clermont for Pig on the Pond and it was cool cooking next to the BBQ Shack Crew. They work hard at putting out good food and we have a lot of laughs working next to each other. The weather was perfect and the crowds were back this year. It was good to see the uncle Kenny crew doing well and seeing all our old friends from Clermont.
We always look forward to our weekend back in Venice and seeing all our longtime friends there. We cooked with the kids again this year and changed venues to a horse farm and had a fantastic time. I cooked with a very nice young lady named Isabella and we had a really good time. She really got into cooking our burgers and we turned in some awesome sliders and won the tastiest burger. The trophies the kids won brought smiles to their faces and I always sign the team billboard and give to my teammate and Isabella was proud to take her awards home. The kids also get to take home the grill they cooked on so it is a big weekend for these kids. It is truly the highlight of the year for me to get this opportunity to make some kids smile. If you have not been to one of these kids cooks you need to make it next year. Smiles are guaranteed.
We got invited back to the Grant BBQ festival and sure enjoyed seeing Timmy Vee again. They work hard at this festival and all the proceeds go towards toys for tots for Christmas. Grant is a beautiful area and this is a great place to come see us, have some good bbq and help some great kids have an awesome year. Hearing Timmy's stories of shopping for these kids will make your heart feel good.
We went to the Frostproof event and had a good time cooking steaks, bbq, and Cabo Wabo infused grilled items along with some Margaritas. I love cooking steaks and ancillaries and it's a good thing because my flavor profiles in bbq have not been scoring well with the judges. I have been lucky with the judges recently cooking steaks and if Judy Jones is not cooking ancillaries I sometimes get a call! My favorite part about This years event was seeing some good friends and laughing really hard. I got to park next to Vic and Kitty Virbickas, Jady Hill from Florida Boys, the Wolfe Brothers came to town to cook steaks, Mike Leonardo was here cooking and my good friend and partner in cooking crime John Sweeney was with me and we had a great time. John is only in Florida for a couple more weeks and then he heads back north to Michigan.
We cooked steaks on Friday night, bbq and ancillaries on Saturday. It was a cooks dream weekend and sampling the margaritas is never a bad thing. Kell Phelps was in town to do some judging and it is a true pleasure to see him. Always a smile and a good story or two. Speaking of good stories, Jady Hill had quite a few for us. We also had Brett Gallaway in for the night Friday night and Steve Carrington hung out with us Friday night. It was a fun night and everyone laughed hard. Steve had sore ribs and said he had never laughed so hard. It was truly a good time and I want to thank Tim Maloy for the new stickers for our Yeti cups!
A group called Luvu (pronounced love you) played Saturday night and this girl Beatrice put on quite a performance. If you ever see them playing go watch them because she puts on an energetic show. The variety of music at the Frostproof event provided a little bit of music for everyone. We truly enjoyed the entertainment and thanks to the Frostproof folks and to Angela Iversen for working hard to bring a nice event to this area. You gotta make it to Frostproof next year. I was sitting around Friday night and saw some familiar faces from home. Some of my friends were heading to River Ranch Friday night and came to the contest to find us. Timmy Mugavero, Joe (BooBoo) Smirnoff and Skory all stopped by. I have watched these guys grow up for years (or at least attempt to grow up) and was glad they stopped by. These three characters are good friends and they are married to three sisters who are three of the prettiest girls I know. How these girls hooked up with these characters I will never know.
We have another really cool event coming up in Fort Myers called Smoke on the Water. It is one of our favorite events and is well known for the musical talent they bring to the stage. You need to come visit the downtown Fort Myers location and come see us for some really good BBQ. There are some great places to stop and get a beverage in the downtown area but save room for some BBQ!
Please come see us and enjoy the Fort Myers contest. Keep an eye on the local news stations and we will update you on the events of the weekend! Everyone travel safe and keep on smokin!
Feed people BBQ- it makes them happy!
Fire It Up Frostproof FUN!
Frostproof Florida is the definition of small-town USA and their town has totally embraced their new BBQ festival. I love it when we travel around to events like this and the entire town comes out to support and enjoy the festivities. I believe this event could turn into something beyond special for this town in the very near future as it has that hometown type feel to it and I know that I was not the only one who enjoyed attending this year. Here are a few snapshots from this up and coming event that was held on April 12-13th, 2019.
Photos courtesy of Kell Phelps
Memphis BBQ

KCBS

International BBQ Cookers

California BBQ
National Barbecue & Grilling

Minnesota BBQ

Mid-Atlantic BBQ


Originally it started as a printed newsletter to let avid barbecuers keep track of upcoming events and results from past events. Today we have evolved into a barbecue and grilling information super highway as we share information about ALL things barbecue and grilling.
© 2020 National Barbecue News:  Designed by ThinkCalico