Cured Pork Belly BACON!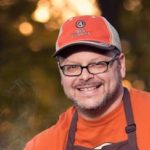 Ray Sheehan
BBQ Buddha
Photos courtesy of Ray Sheehan
Ingredients:
3-4 lb. slab pork belly, skin removed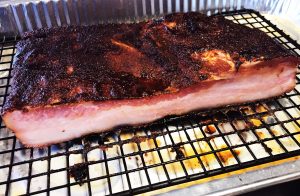 1/2 C kosher salt
1/4 C packed light brown sugar
2 T ground black pepper
1 tsp pink curing salt, such as Prague Powder #1
1/2 C your favorite Rib Rub
Instructions:
Combine the kosher salt, brown sugar, black pepper, and pink salt in a medium bowl. Place the pork belly on a sheet tray and apply the cure evenly to both sides. Transfer the meat to a large resealable bag. Seal up the bag and place on a clean sheet tray in the refrigerator for 7 days. Turn the bag over once a day.
After 7 days, remove the pork from the bag, discarding any accumulated juices. Rinse the belly thoroughly with cold water and pat dry. Apply the Rib Rub liberally to the pork belly and place on a sheet tray in the refrigerator for 1 hour.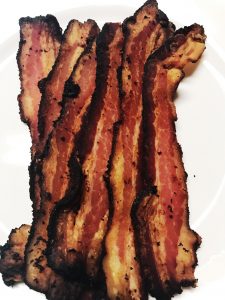 Prepare a smoker to cook at 250 degrees. Place the pork belly on the smoker and cook until it reaches an internal temperature of 150 degrees, about 2 ½ hours.
Remove the belly from the smoker and place on a wire rack set over a sheet tray to cool. Once cooled wrap the bacon in plastic wrap and refrigerate overnight. This will help to firm it up for easier slicing. Slice to your desired thickness and cook as you would store-bought bacon.
Store remaining uncooked bacon in the refrigerator for up to 10 days or in the freezer for up to 3 months.