Operation BBQ & Grill Seeker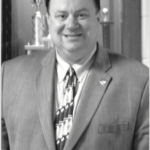 Doug Mosley
Resident Book Guru
There's a lot to love about folks who jump up to help others in their times of greatest need, offering whatever they have to help someone.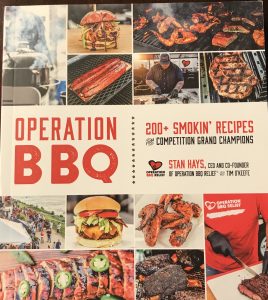 While I believe we all inherently have that trait within us, there are some among us who are able to go to almost superhuman lengths to provide when people have experienced devastating losses, such as a natural disaster. Living in Alabama, Louisiana and Florida for over two decades, I've had a first-hand look at the wrath Mother Nature can bring with these monster hurricanes and awful tornadoes. I'm blessed to have been personally fortunate but have known many others who've lost most or all of their worldly possessions to one of these storms. When someone has experienced such a loss, sometimes just a good, hot meal can make a big difference in how they are able to get back on their feet and deal with the challenges at hand.
That's the idea behind Operation BBQ Relief – helping those people and providing that meal in their times of need. The organization has been covered in these pages frequently, but to reiterate it is the competition barbecue community rising together to aid in times of greatest need to the disaffected and first responders as well. Founded in 2011 in the wake of the massively destructive tornado outbreak that raked through Joplin, Mo., Operation BBQ Relief has since provided nearly three million meals in 25 states. The volunteer-led efforts has cumulatively spent just short of a year in days deployed at disaster sites.
Under the name of the Operation BBQ Relief, a new book has been released that in part will support the organizations ongoing efforts through a portion of the proceeds – Operation BBQ: 200+ Smokin' Recipes from Competition Grand Champions ($30, Page Street Publishing, 352 pp.). Written by one of the OBR founders, Stan Hays, and longtime competition barbecue judge and cook Tim O'Keefe, the book is a collection of recipes submitted by over 70 grand champion and world champion teams. There is a lot of quality content shared here – actual competition recipes and techniques rather than just some one-off experiments. The recipes are offered in a standard arrangement of chapters – Pork, Beef and Lamb, Poultry, Burgers and Sandwiches, From Sea to Sea, Casserole and Stews, Appetizers and Sides, Desserts, and Rubs, Sauces and Brines – and there are full-color photos of finished dishes for many. Along with the recipes for the competition category dishes there are dozens of others that will surely stoke your creative fires, such as Cornbread-Stuffed Pork Loin with Raspberry-Chipotle Sauce, Beef Tenderloin Over Mushroom Risotto with Lobster Cream Sauce, Shredded Chicken-Stuffed Poblanos, Slow-Roasted Pork with Brown Gravy and Bacon Sauerkraut on a Fresh German Roll, Maryland Barbecued Blue Fin Crabs, Texas Brisket Enchiladas, Amped-Up Chile Con Queso and Light as a Feather Canteloupe Pie, as well as many more. It's all presented in a graphically well-done way that makes this truly a quality book.
My favorite part of the book, however, is the interspersed vignettes titled "Operation BBQ Relief In Action". These are heartfelt stories told by the volunteers who responded to Operation BBQ Relief calls for help, such as Mike Boisvert, David Marks, Dana Reed, Steve Raab, and Eric and Cindi Mitchell who all took part in the deployment following Superstorm Sandy; Marc Mangano and his experience during the Hurricane Irma deployment; and OBR co-founder Will Cleaver and the deployment that began it all, the Joplin tornado. Each of these are told in their own words and you can't help but be moved to hear of their experiences. What do you have to lose here? It's a great book that your peers contributed to and some of what you spend goes to support an outstanding cause, Operation BBQ Relief. Go buy the book now.
Take a former Marine with a penchant for grilling and 'cue and direct him to write a book – you'll no doubt end up with "Grill Seeker: Basic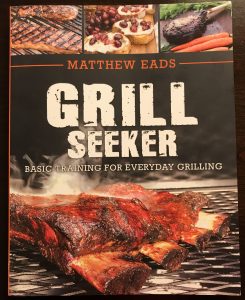 Training for Everyday Grilling" ($18.99, Cedar Fort Publishing, 170 pp.).
Matthew Eads, who spent 13 years in the USMC, turned out a great book for a first-time author. He didn't exactly go directly from grunt to scribe, though; he first turned his grilling endeavors into social media outlets with thousands of followers and then launched the web site GrillSeeker.com. But once he did get around to old media (books), he did an excellent job of developing a theme and creating plenty of relevant content. Eads idea is to present his book much in the way he'd spent his time developing his grilling chops – without fancy equipment, expensive ingredients or trained culinary experience. What comes of that is probably as close to the roots of the genre as you can get. The book offers plenty of interesting recipes – Brazilian Rotisserie Picanha; Smoked Eggs and Chorizo Sausage; Grilled Pears with Gorgonzola, Honey and Walnuts – without the need to gather up a lot of exotic ingredients. It makes for a fun book that no doubt will give you plenty of new ideas.